In recognition of National Coming Out Day, Lipscomb's LGBTQ+ students painted the Bison rainbow colors, standing around it from early morning until evening on Thursday in support of the LGBT community on campus.
Throughout the day, doughnuts were handed out, faces were painted and conversations took place.
"This is about the freedom to be who you are, especially on this campus," student Aria Bartley said. "There's a difference between acceptance and supporting, and although not everyone is going to be supportive, this is about learning to accept everyone for who they are."
The students had conversations with the student body and sought to educate outsiders on what it means to be a part of the LGBT community to anybody who stopped by the community gathering around the Bison.
"This is a day where we get to be outwardly who we are and celebrate that," student Lis Leudemann said. "We also encourage other people who are too afraid of the Lipscomb environment to come out and join."
Last year on Coming Out Day, the Bison was painted over by a different student after it had already been painted rainbow colors by students in the LGBT community. This year, the gesture went over more peacefully.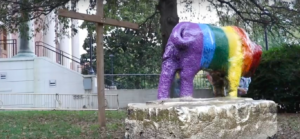 Multiple students who quietly disagreed with the message of the rainbow-colored Bison declined to comment to Lumination. But as people passed the Bison, multiple students pointed and captured pictures in secret from afar.
LGBT students said this day was also an attempt to encourage students not to fear their sexual identities, as some people say they find their sexuality and spirituality in conflict.
Lipscomb's 2013-2014 handbook reads: "Sexual immorality of any kind, including homosexual behavior, whether intercourse is or is not involved, will be subject to discipline." However, the current handbook states: "All students should practice the Biblical standards of sexual morality. Sexual immorality of any kind is prohibited."
Dr. Paul Prill, director of the Honors College, is an unofficial advocate for these students. Prill was outside with the students throughout the afternoon, sporting a rainbow bowtie. President Randy Lowry attended a dinner for the students on Wednesday night in order to have conversation about their experiences on campus.
Student life representative Dannie Woods also acts as an LGBT student liaison.
For further information, visit Woods at the Student Life Office located in the Bennett Campus Center.
Additional reporting by Anna Rogers