Music City has been beautifully transformed into the City of Light this week.
The anticipated production of An American in Paris has officially come to the Tennessee Performing Arts Center, featuring a jaw-dropping array of color, dance, music and emotion, sure to delight any hopeless romantic or musical-enthusiast.
A ballet set in Paris right after WWII, An American in Paris tells most of its story through striking musical numbers, complete with big sets and authentic-looking costume work by Bob Crowley that will take you straight to 1940s Paris.
Real-life husband and wife duo Matthew and Kirsten Scott steal the show as Adam Hochberg and Milo Davenport, who both convey a groundedness to round-out the overall mysterious and lush-nature of the show. K. Scott's timing is spot-on, and M. Scott gives an endearing and down-to-earth performance as an ex-GI living in Paris.
The story centers on an American soldier, Jerry Mulligan (McGee Maddox), who decides to stay in Paris after the war and focus on his artwork. Here, he meets Adam and Henri (Ben Michael), and the three immediately become the "Three Musketeers," as they aptly put it during one of their song and dance numbers.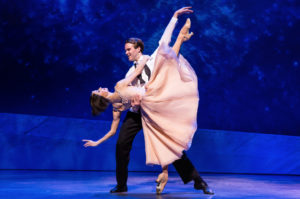 Although intending to focus on his artwork, Jerry is, after all, in one of the most romantic cities in the world, so of course he meets Lise (Allison Walsh, who served as the Lise alternate in the Broadway production), a mysterious yet beautiful ballerina who has an interesting and complex past with Henri. Meanwhile, Milo, an American heiress, also joins the picture, and a complicated love triangle ensues, which will keep unfamiliar playgoers guessing.
Maddox and Walsh are both superb ballet dancers, truly bringing light to the stage with the epic musical numbers. Maddox joined the National Ballet of Canada and became a principal dancer in 2014, and his graceful movements paired with Walsh's enchanting performance in An American in Paris are a delight to watch.
Newcomer Maddox was outshone in terms of character likability compared to his fellow players, perhaps because his acting chops are not yet as refined compared to his more experienced counterparts. However, Maddox's dancing expertise made up for his lack in the first.
More than a love triangle in a carefree 1950s Hollywood musical, this production of An American in Paris introduces complex themes, delving beyond a simple and nonchalant post-war attitude as it shows the aftermath of the Holocaust through Lise's Jewish heritage, yet at the same time showing the healing nature of art.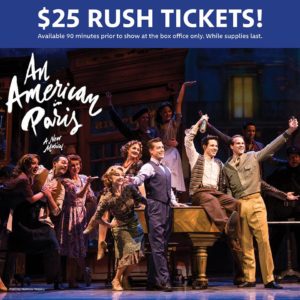 The play features the music and lyrics of brothers George and Ira Gershwin and includes songs such as "I Got Rhythm," "'S Wonderful," "Shall We Dance," and "An American in Paris." Originally a 1951 film and only made into a Broadway musical in 2015, An American in Paris won the Tony for Best Choreography in 2015, and director Christopher Wheeldon was nominated for Best Direction of a Musical.
Overall, An American in Paris is a "'S Wonderful" way to spend your weekend. To purchase tickets, visit TPAC's website or call 615-782-4040. $25 rush tickets are available for each show this weekend.
The production is showing through November 5.
Photos by Matthew Murphy