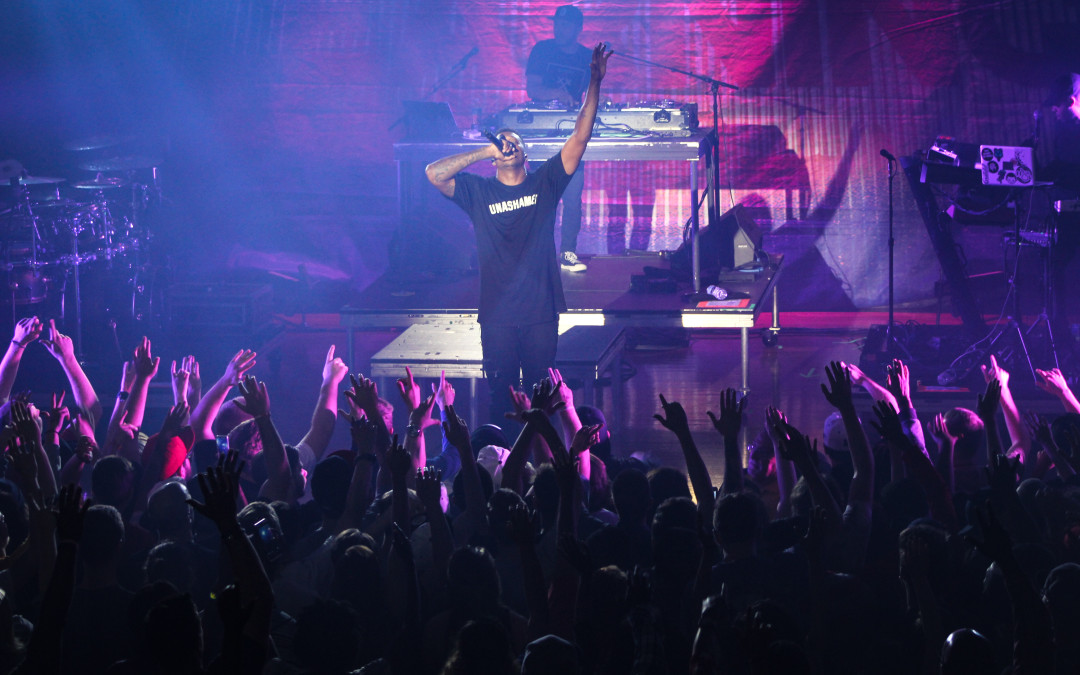 Class was back in session as two-time Grammy Award-winning hip-hop artist Lecrae dropped by Collins Auditorium Thursday night as part of his 2016 Higher Learning Tour. In a speech to the audience, Lecrae said that the purpose of this college-only tour was to inspire all walks of life. The theme of the night was Unashamed. "Being unashamed is more than just wearing a t-shirt," Lecrae said. "Being unashamed is saying that you can, without a doubt, stand up for what you believe in. Being unashamed is saying, 'I'm willing to go to the hard place, and do the hard thing.'" For the Higher Learning tour, Lecrae partnered with Food for the Hungry, an organization that travels to and provides food to impoverished third world countries. "One of the reasons I partnered with them is that they're unashamed to go to places that no one wants to go," Lecrae said. Lecrae challenged the audience to spend $35 and invest in the lives of children in Uganda and East Africa. For every $35 donated, one child is taken care of physically and financially. "They're giving us an opportunity to feed the soul, the bodies, the kids that nobody is caring for," Lecrae said. "If all of us do this for one kid, we'd change an entire city, an entire country. "There's no way I'm going to ask people to do something I'm not doing. I'm a part of this too." During his performance, Lecrae performed hits from his 2011 album Rehab, the 2014 album Anomaly and consecutive singles from Church Clothes 1, 2, and 3. Lecrae alternated between sharing personal anecdotes...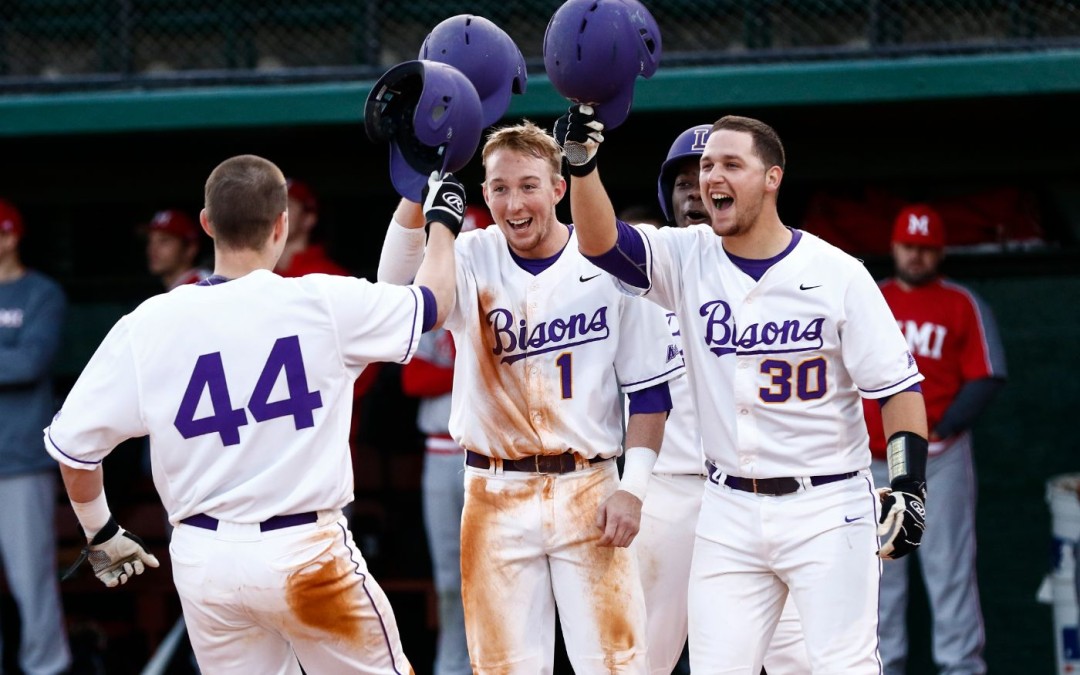 The Bisons' bats paved the way to victory as they swept NJIT 11-2, 12-11 and 22-12 at Ken Dugan Field at Stephen L. Marsh Stadium. Due to concerns of rain this weekend, the Bisons played a doubleheader on Friday and moved their start time to 3 p.m. to not have any weather delays. To open up the series in the first game, the Bisons scored a total of 11 runs. One of Lipscomb's contributors was junior Hunter Hanks who had two home runs and a RBI single. "He played his best series of the year," Lipscomb head coach Jeff Forehand said. "I think him focusing so much on studying for exams this weekend caused him to be able to play loose and relax." Lipscomb rallied in the second game. Down by four runs in the ninth, the Bisons ended up winning the game in extra innings. They got a walk-off two-run RBI single from Lee Solomon to win the game in the bottom of the tenth. The final score in the second game was 12-11. In the final game of the series, the Bisons put up a school record of 22 runs to take the final game of the series 22-12. The biggest hit of the game was a grand slam by freshman Cade Sorrels for his first college-career home run. "I think we are maturing as hitters," Forehand said. "We were able to put up some good at-bats and some great approaches at the plate, which led to all those runs." This is the first sweep in Atlantic Sun play for the Bisons this year. "Any sweep in the conference is hard to...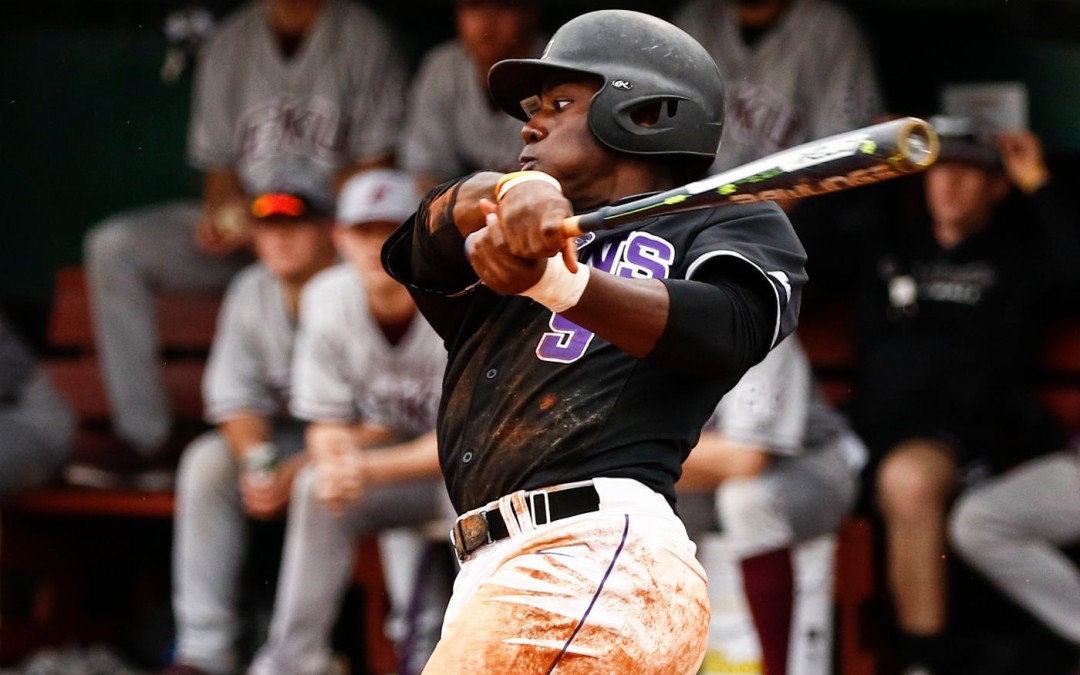 The Lipscomb baseball team lost 4-3 against Western Kentucky University Tuesday night at Ken Dugan Field. It was a back and forth game, but runners left on base and hitting mistakes late in the game cost Lipscomb the win. The Hilltoppers scored early in the second inning starting off with a double from Steven Kraft. A fake bunt from Harrison Scanlon moved Kraft to third, before Paul Murray hit a flair single to right field to score Kraft. The Bisons gained momentum in the bottom of the third inning on Lee Solomon's solo homerun. In the top of the sixth inning, a single by Western Kentucky's Kraft turned into what would be déjà vu for Lipscomb. Scanlon hit a double to right field, and Murray followed up with a two-run RBI single, making it 4-3. Lipscomb made seven pitching changes throughout the night making Western Kentucky unable to get comfortable in the seventh through the ninth innings. "If you look at how they scored and how we scored, they had three hits after two quick outs to score in the sixth, and we left men in scoring position with opportunities," head coach Jeff Forehand said. The pitching staff combined allowed one walk and had eight strike outs. "Defensively, that's the kind of game we are looking for," Solomon said. "We had some good plays — we just have to execute, get counts and put people away. We can't leave pitches over the plate. I think that's what really hurt us tonight." The Bisons fall 20-21 on the season. Michael Gigliotti is still out with a hand injury and will not...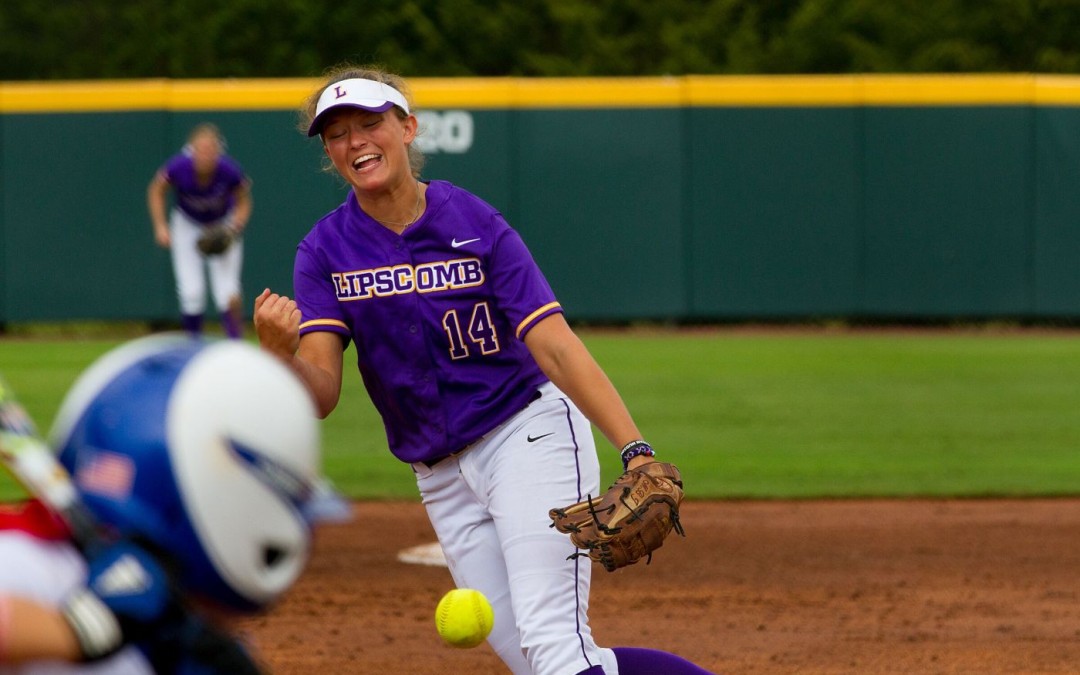 The Lipscomb Lady Bisons' (25-24) strong bats run-ruled the Tennessee State Tigers (10-40) 10-1 Tuesday evening at Draper Diamond at Smith Stadium. Lipscomb put on its annual "Think Pink" and "Strike Out" cancer fundraiser. All proceeds went to cancer research and allowed the Lady Bisons to sport their pink tops for the game. In the first inning, freshman Mandy Jordan got rolling early and struck out the side to start for Lipscomb. "I thought Mandy had a great first inning to set the tone," head coach Kristin Ryman said. The Lady Bisons' offense helped her by drawing three walks and collecting four hits that turned into five runs and a commanding 5-0 lead. One of those hits was by freshman Malorie Giere, who hit a shot off the wall that scored three of those early runs for Lipscomb. Senior Dee Baddley made a leaping grab to steal a homerun from Danica Gleason and record the last out of the top of the third. "We've talked so much this year about staying in attack mode, not just offensively but defensively too," Ryman said. Caitlin Plocheck got the bottom of the inning started by smashing a solo homer to add another run for Lipscomb to increase the lead to 6-0. "She's [Plocheck] been in a real groove," Ryman said. "Having Plocheck doing what she's doing right now is such a key for our lineup." Freshman Abi Stephens got the Tigers on the board with a solo homerun of her own in the top of the fourth inning, cutting the lead to 6-1. "One of things we're trying to work on with her is...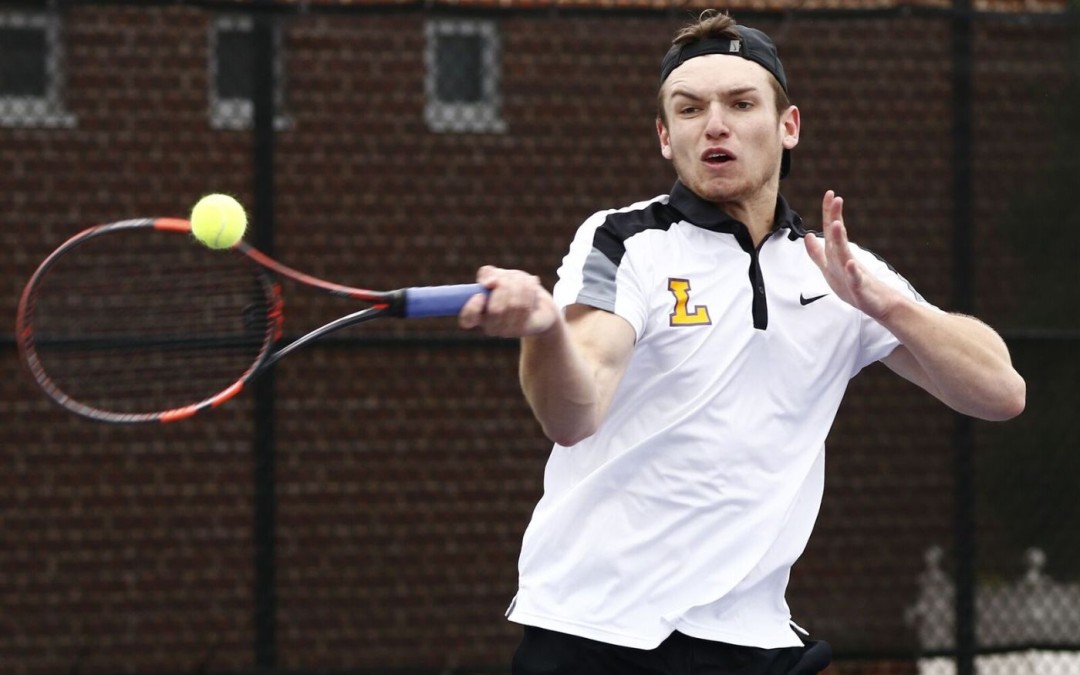 For the first time since 2013, the Lipscomb men's tennis team will compete in the Atlantic-Sun quarterfinals Friday in Spartanburg, South Carolina. "The conference season started slow but has finished well with two conference wins at the end," said Coach Mario Hernandez. "I am proud of how the guys stayed mentally tough when we were struggling at the start of the conference." Hernandez said he hopes the Bisons will continue their two match conference winning streak as they go into the championship as the No. 5 seed. "As long as individually we do what we need to do and play within ourselves we will be fine," said senior John Tougher. "We must stay together from the first to the last ball and bring a lot of energy." The Lipscomb men's team will play against the hosts USC Upstate on Friday at 8 a.m. where the winners will take on top-seed FGCU. "We have played a very hard schedule and have learned a lot this year," Tougher said. "We will use the tough matches to push through the last portion of conference strong." The Spartans have beaten the Bisons on their last five meets, including a 6-1 defeat at home in Nashville. However, the team has seen improvements in the last couple of weeks and Hernandez said he hopes they take the momentum into this weekend. "I expect the guys to be excited and to fight extremely hard tomorrow," Hernandez said. "These opportunities don't come around everyday, so you have to be prepared to take your opportunities when they come." On top of a successful season, the Bisons made All-Conference...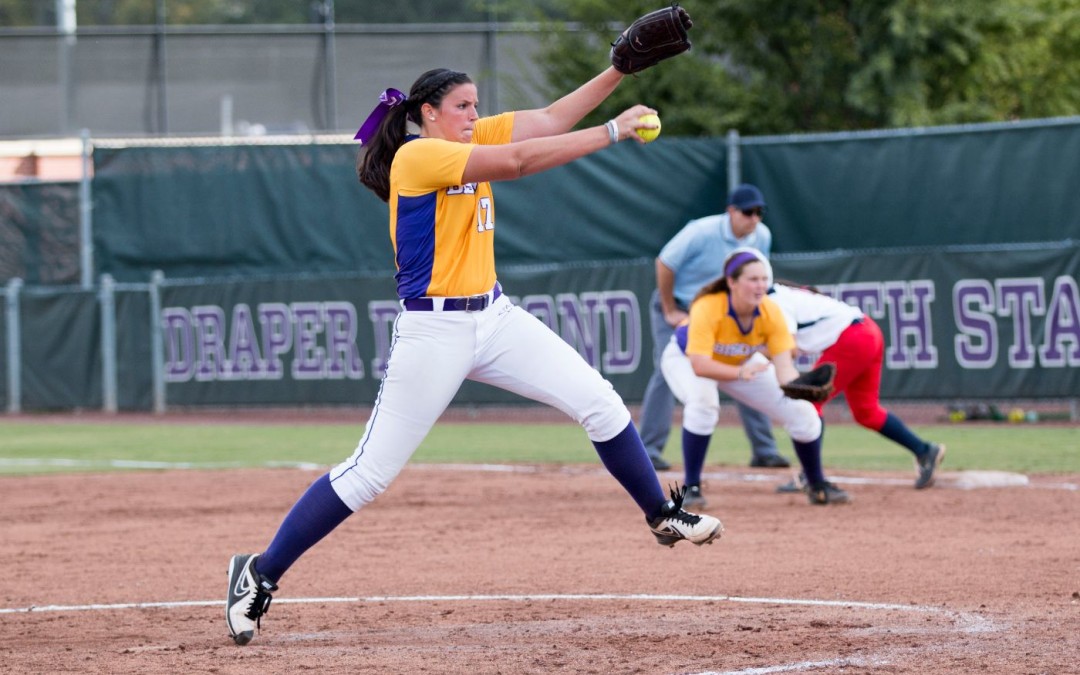 The Lipscomb softball team used strong pitching and a four run first inning to take the 6-0 win over Murray State on Wednesday at Draper Diamond. In her first career start McCarley Thomas allowed just four hits on her way to a complete game shutout. The junior pitched four no-hit innings to start the game before surrendering her first hit to the first batter of the fifth inning. "McCarley, certainly, great performance out of her," Lipscomb head coach Kristin Ryman said. "It was exactly what we needed in a midweek to get a big performance out of someone who maybe hasn't had as much time. Really, really proud of what she did tonight." Despite only having two strikeouts, Ryman said she liked the way her pitcher was able to gets outs and stay composed on the mound. "She only had two strikeouts but was still extremely effective," Ryman said. "When you don't have many strikeouts but are still able to be effective. She's worked so hard to get to this point." The top of the order boosted Lipscomb's offense as their first two hitters, Brittany Elmore and Destinee Brewer, reached base a combined six times, scoring three runs. Lipscomb (23-22, 7-8) jumped out to a 4-0 lead in the first inning as they sent 10 batters to the plate. With a big lead after the first inning, Thomas was able to pitch with confidence the rest of the night. "Any pitcher, whether it's their first start or not, that's going to be a huge relief to you," Ryman said. "For her especially, I think any nerves she did have...
Sights of spring and summer on campus. Photos by Ben Davis ...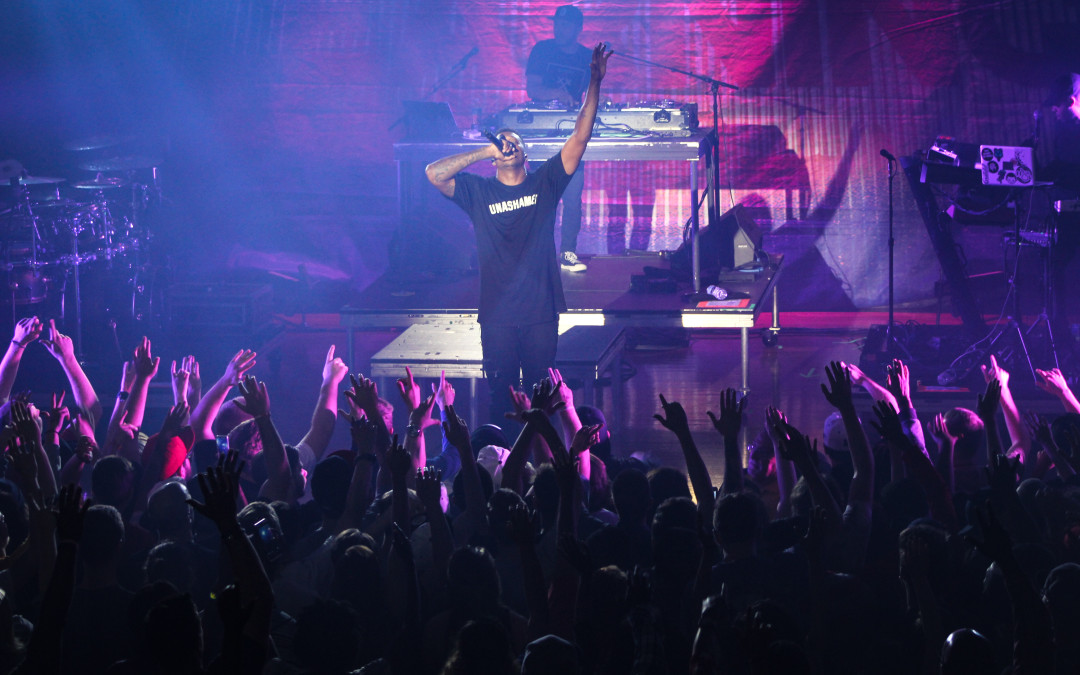 Class was back in session as two-time Grammy Award-winning hip-hop artist Lecrae dropped by Collins Auditorium Thursday night as part of his 2016 Higher Learning Tour. Photos by Becca Risley...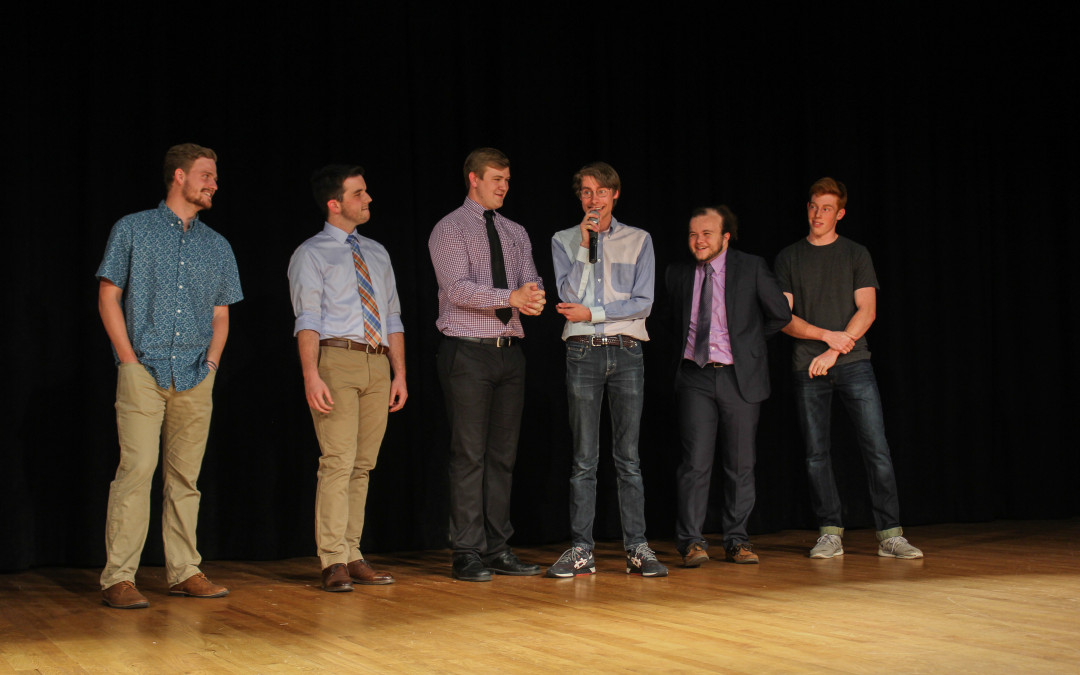 Freshman Cole Buttrey won the third annual Mr. Lipscomb pageant Monday night in Shamblin theater, hosted by Delta Omega to raise awareness for Best Buddies. The pageant consisted of four categories: formal, cold-weather wear, talent and interview. Photos by Becca Risley « ‹ 1 of 3 › »...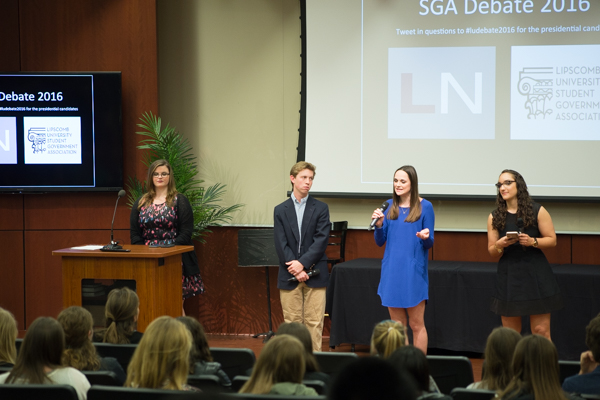 2016 SGA candidates spoke on their ideas and goals for Lipscomb Monday night in Stowe Hall for the SGA Debate. Each candidate gave a two-minute introductory speech, followed by a presidential debate. Secretary candidates are Caroline Hensley and Vince Law. Vice Presidential candidates are Sinny Chan, Matt Gibson and Carson Panovec. Presidential candidates are Anna Cannone, Katie Scholl and Jackson Smith. Photos by Erin...
RAINEY, a band composed entirely of Lipscomb students, opened for Colony House Monday night in Bison Square to kick off the 2016 spring concert. Photos by Ben Davis and Stephanie Schiraldi ...