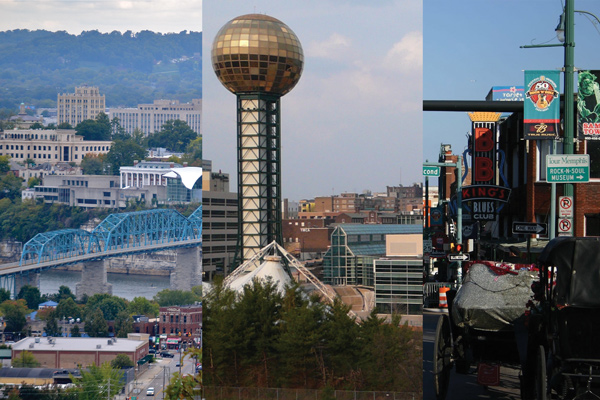 Chattanooga Located about two hours south of Nashville is Chattanooga. Nicknamed the "Scenic City," this place is not short of picturesque scenery. Peaceful mountains and rivers surround Chattanooga. With fall break just around the corner, it is an ideal spot for a short escape from the hustle and bustle of school. What to do: Visit the Tennessee Aquarium  Open since the early 1990s, the Tennessee Aquarium is always a crowd-pleaser. Along with tons of exotic marine life, there is a huge butterfly room, reptiles and even penguins. Shop on Frazier Avenue Need a little retail therapy to help you decompress from all that school work? Frazier Avenue has you covered. To be such a small stretch of space, Frazier does not disappoint when it comes to shopping. There are a variety of boutiques to browse. Blue Skies is the place to go if you're looking for charming and unique gifts. Plum Nelly offers jewelry, house collections and more. River City Apparel has a wide range of trendy clothing for the contemporary customer. Get your heart pumping at High Point Climbing Gym  Looking to engage in something a little more active? High Point Climbing Gym is ideal for adrenaline junkies. With 30,000 feet of climbing space, you can climb till your heart's content. There is even an outdoor climbing wall that stretches up the building. Where to eat:  Urban Stack If you're in the mood for good burger, Urban Stack is worth a visit. Although it has only been open a few years on West 13th Street, it is a staple in Chattanooga. If you're not a fan...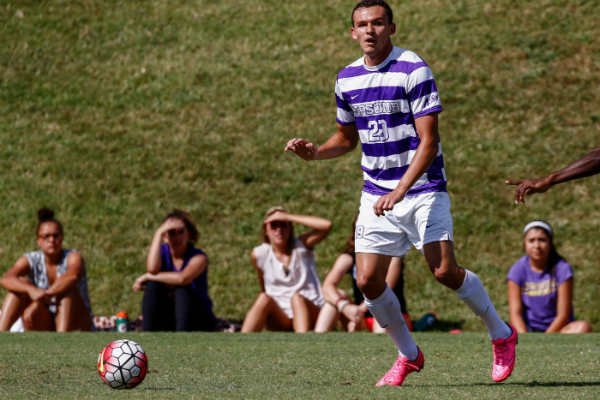 The Lipscomb (4-6-1, 2-1 A-Sun) men's soccer team held a 3-2 win over Jacksonville (2-8-1, 0-3 A-Sun) in an Atlantic Sun conference game Tuesday night at the Lipscomb Soccer Complex. "We scored early which was good," head coach Charles Morrow said. "I felt like we took our foot off the gas, but all credit goes to our guys for coming back in the second half." This victory puts the Bisons' conference record at 2-1. "Every game is huge, especially when you have three conference games in an eight day period," Morrow said. "It is super important to get out of this tough stretch, winning two out of the three games." The Bisons scored the first goal of the match in the 3rd minute by junior Kevin McMahon. The goal was unassisted. The Dolphins answered with two goals in the first half. The first goal occurred in the 25th minute and the second occurred in the 43rd minute. Lipscomb added two goals in the second half. In the 56th minute McMahon scored his second goal of the game to bring the match back to even. This was followed by a 25-yard shot scored by senior Matt Kerridge. "Kevin's hard work paid off in the match," Morrow said. "Kevin did a great job pressuring the ball, which is a thankless job, but led to a huge game for him." Up next, the Bisons will take on Elon at 6 p.m. Saturday at...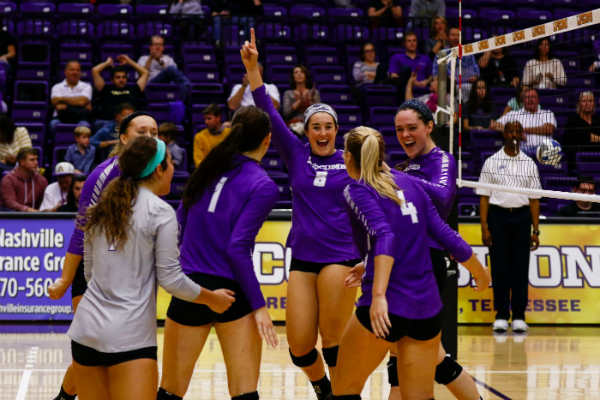 The Lipscomb volleyball team defeated the Flordia Gulf Coast Eagles 3-0 Sunday afternoon in Allen Arena. The Bisons won set one 25-14, set two 25-19 and the final set 25-15. "This is exactly what we planned to do to start out the season," head coach Brandon Rosenthal said. "I love the fact that our girls are really dialed in right now." Defeating the Eagles brought the Bisons' Atlantic Sun conference record to an undefeated 3-0 record. Lipscomb started off each match with a strong lead and Rosenthal said that was the key to success for the game. Outside hitter sophomore Chloe Rogers and right side senior Brittnay Estes tied for the most kills during the game with 13 each. "We apply a lot of pressure," Rosenthal said. "When you do that, you make opponents start to feel uncomfortable. We want to control our destiny." Lipscomb will take on North Florida at their home court in Jacksonville at 6 p.m. Friday. "North Florida has always played tough the last few years," Rosenthal said. "I expect a gutsy, grinding match like they have always given us." Photo courtesy of Lipscomb...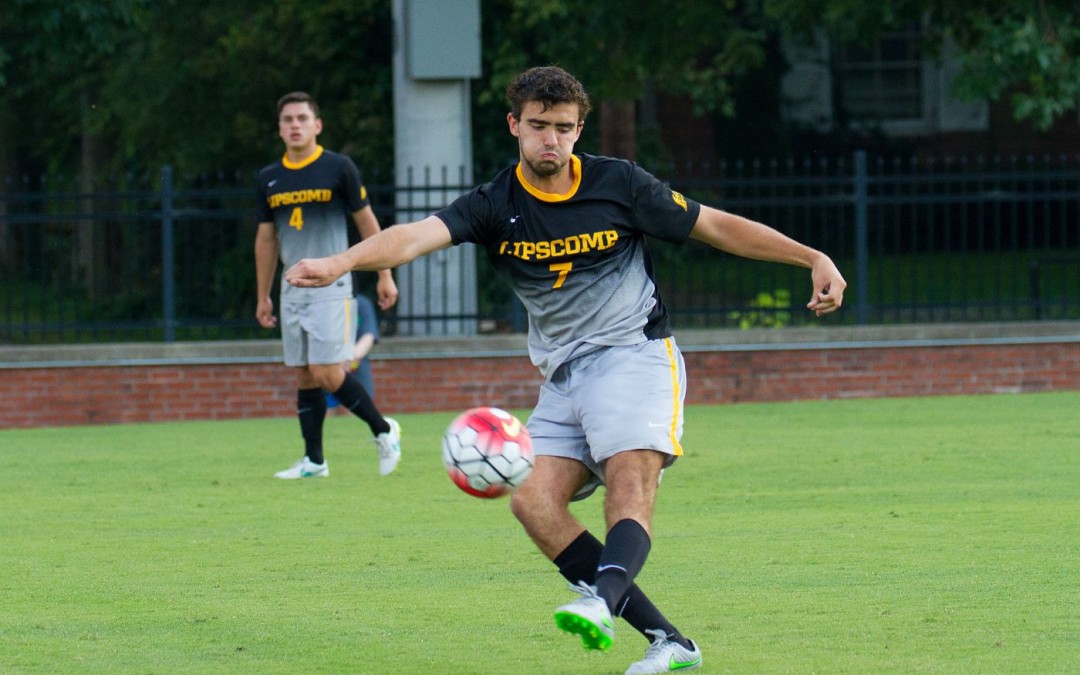 The Lipscomb men's soccer team suffered a 3-0 loss to North Florida in Atlantic Sun Conference play on Saturday night at the Lipscomb Soccer Complex. More than 100 spectators came to watch the much anticipated match between the Bisons and the North Florida Ospreys. Both teams struggled to find rhythm in an intense first half with neither being able to score on the rain-soaked field. North Florida broke the silence in the second half with a goal from No. 5 sophomore Joshua Castellanos assisted by No. 9 senior Alex Morell. No. 2 sophomore Aiden D'Mello kicked the finishing goal, assisted by Morell. "I don't think the score is indicative of how close the game actually was; we let it get away from us there at the end," head coach Charles Morrow said, according to Lipscomb Athletics. "I don't think we did a good job of preparing for them from a coaching perspective and I don't think our guys played very well. It was just a bad combination. North Florida is definitely a team that I would welcome to play again in the tournament." Up next the Bisons will play Jacksonville at 7 p.m. Tuesday at home. Photo courtesy of Lipscomb...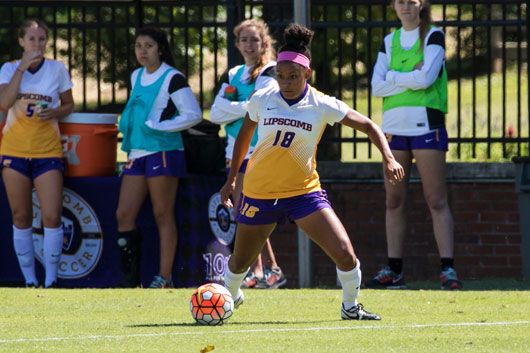 The Lipscomb (7-2-4) women's soccer team took a 2-1 victory over the USC Upstate Spartans (2-8-1) on Saturday night at the rain-soaked Lipscomb Soccer Complex. The Lady Bisons applied immense pressure from both offensive and defensive ends from the beginning, allowing No. 5 senior Alex Hickey to score a goal in the first half, assisted by No. 16 sophomore Natalie DuBoise. No. 15 sophomore Emily Rogers scored her first goal of the year. "We played really well in the first half, and I think we started the second half well, and once Upstate scored the goal, I felt we lost a little bit of our composure," said head coach Kevin O'Brien. The Spartans later replied with a goal from No. 6 senior Hailey Venable, after a drop-in intensity from the Bisons. O'Brien said the girls regained their composure and finished the match strongly in a tightly contested second half. "The game got a lot tighter and tenser, we were making mistakes that we were not making at the start and we've got to be able to manage the game better as a team," O'Brien said. "As the game gets tighter, we can't afford to panic and get frantic like we did." Up next the Lady Bisons will travel to Jacksonville to take on the Dolphins on Friday, Oct. 9 at 6 p.m. Photo courtesy of Lipscomb...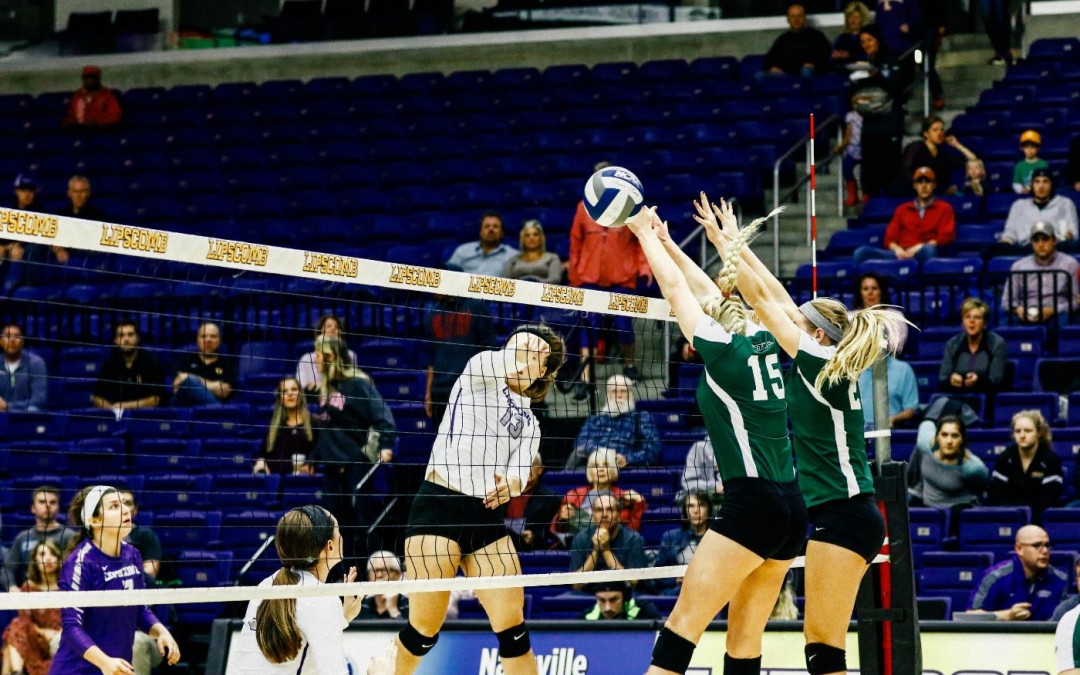 The Lady Bisons defeated the Stetson Hatters 3-0 in the first Atlantic Sun Conference home match Friday night in Allen Arena. Lipscomb won set one 25-18, set two 25-19 and set three 25-11. "The focus of our girls was fantastic from the very first point," Lipscomb coach Brandon Rosenthal said, according to Lipscomb Athletics. "We have seen it in practice. We saw it Tuesday night [in a loss to Western Kentucky]." Right side senior Brittnay Estes and outside hitter freshman Lauren Anderson performed effectively with 11 kills a piece. Libero sophomore Brittany Thomas had a match-high 16 digs. Freshmen Hannah Hutcheson, Carli Anderson and Marcella Emmanuelli debuted in their first home match, with kills from both Hutcheson and Anderson. "I think we frustrated Stetson early," Rosenthal said. "From there, and really in set two, we did a fantastic job of picking up balls. Everything they threw our way we were on it. I told them to go out and play their game and they did." The Lady Bisons will return to Allen Arena Sunday afternoon to play Florida Gulf Coast University in an A-Sun match. Photo courtesy of Lipscomb...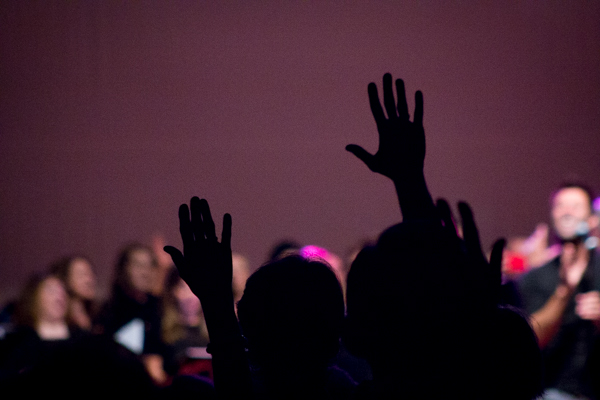 Several of Fanny Crosby's never-published hymns were recently discovered, restored and brought to life Thursday, Oct. 8 at Heaven's Encore in Lipscomb's Willard Collins Alumni Auditorium. The Blind Boys of Alabama, The Blackwood Experience, Ricky Skaggs, Michael Farren and more performed the new music from America's most beloved hymn writer. Photos by Becca Risley...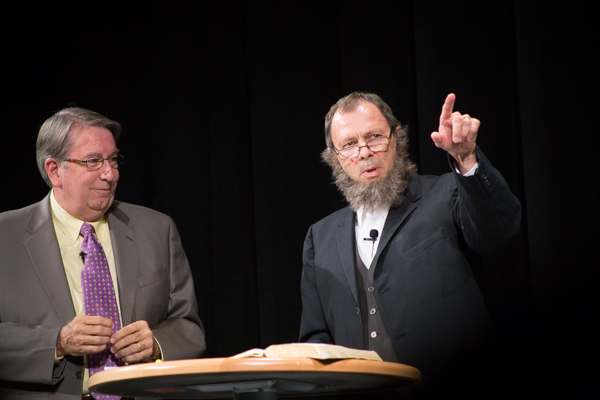 What students didn't know when they entered Allen Arena for the normal Tuesday morning chapel is that they would take a few steps back in time to 1891 — the year David Lipscomb and James A. Harding founded Lipscomb University. David Lipscomb, portrayed by Henry "Chip" Arnold, was welcomed on stage by Lipscomb President Randy Lowry on Tuesday, Oct. 6 for Founders Day. Musical guests Daves Highway and The Calling performed. Lipscomb students were dismissed from all noon and 1:20 classes for Fair in the Square, a carnival-themed lunch that took place in Bison Square. Carnival games and food were offered as The Arcadian Wild provided music for the packed square. Photos by Erin Turner...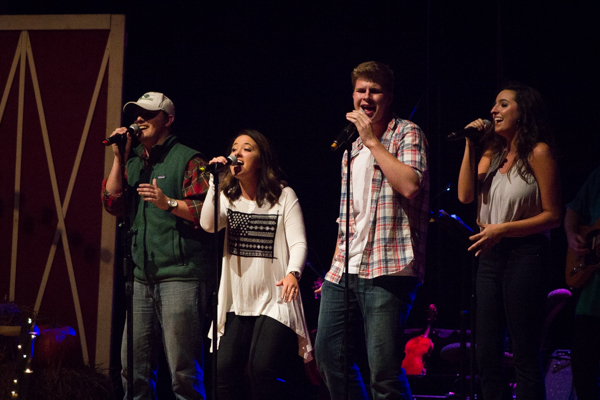 Current students and alumni made their way to campus for the 36th annual Tau Phi Cowboy Show 7 p.m. Saturday night. This year's production was hosted by Tau Phi alum Jesse Taylor and alumna Michelle Robertson in Collins Alumni Auditorium. The show featured covers of popular country songs including "Here For A Good Time" by George Strait and "Temporary Home" by Carrie Underwood. Photos by Ben Davis and Becca Risley « ‹ 1 of 2 ›...
Tokens presented "Reason to Sing," a variety show put on by Lipscomb's Lee  Camp, in Collins Alumni Auditorium on Sept. 22. The show featured special guests All Sons & Daughters, Sandra McCracken and Lipscomb's own The Arcadian Wild. Photos by Ben Davis and Erin Turner « ‹ 1 of 2 ›...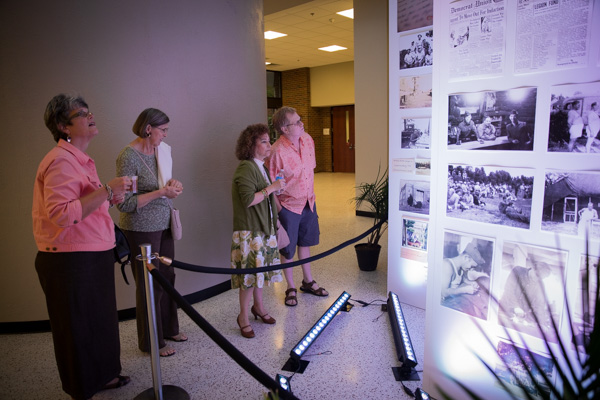 Lipscomb University's Beaman Library presented "From Foe to Friend: War Time Encounters Create Lasting Friendships" on Thursday, Sept. 10, in the Swang Business Center. This event was held to celebrate the 70th anniversary of the end of World War II and share stories from a forgotten chapter of Tennessee's history. Around 400 German POW letters were found stuffed in a Corn Flakes box tucked in a closet in a Lawrenceburg home for decades. These letters are filled with experiences of prisoners of war who were sent to Tennessee during World War II. The letters were donated to Lipscomb's Beaman Library this year and Lipscomb German professor Charlie McVey researched and translated the letters. Photos by Erin Turner...