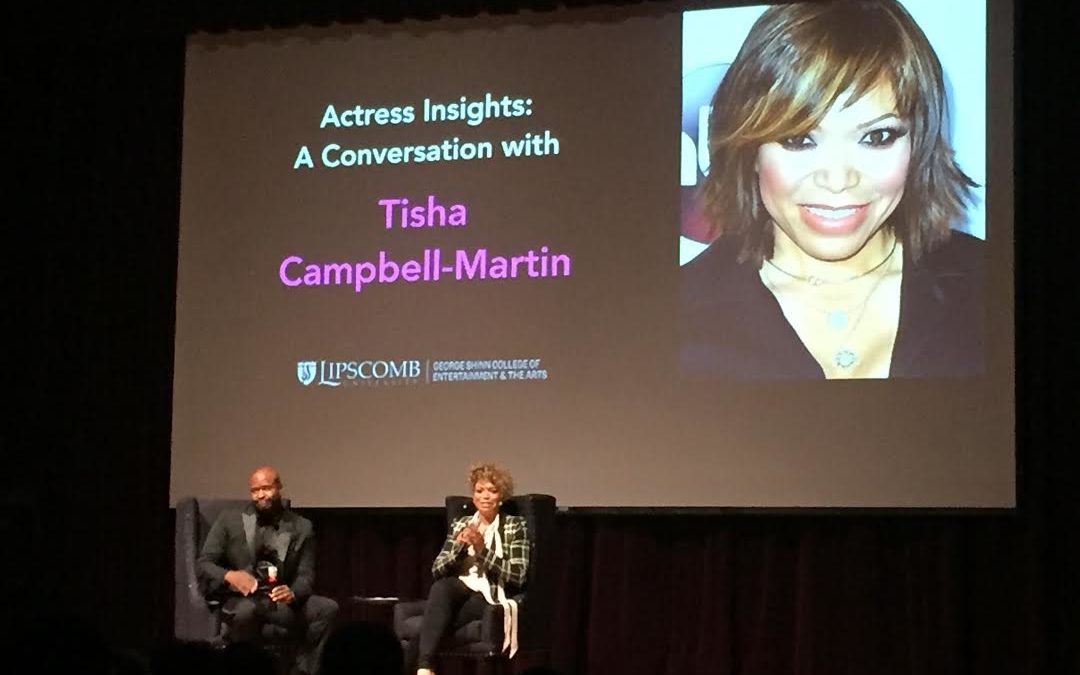 "My grandmother always told me I have to be extraordinary to be considered average," Actress Tisha Campbell-Martin told the audience in Collins Alumni Auditorium on Monday evening. "You have to be able to do it all to be great." Campbell-Martin shared many empowering statements like this during her conversation with guest moderator Shannon Sanders, and she seems to have followed her grandmother's advice. The multi-hyphenated actress and singer came to speak for The George Shinn College of Entertainment and the Arts presented Actress Insights: A Conversation with Tisha Campbell-Martin. The hour and a half event offered Lipscomb students, faculty and the general public an intimate look into the life of the multi-hyphenated actress and singer. Campbell-Martin, who has been in shows such as My Wife and Kids, Martin and The Fresh Prince of Bel-Air, had many stories to share over her four-decade long career, starting from the very beginning of it all. She talked about how she got her foot in the door with singing and acting and the moment she realized she wanted to make a career out of it, all starting with a singing competition she entered at age five. Her only goal was to win the second prize in the competition, which was a color TV. "At first, I was mad when I didn't win second prize," Campbell-Martin laughed, "Instead I won first prize which was a car. But then, I saw my mother crying and my father jumping up and down, and that was the moment I knew I could help people." She said she realized then what she was supposed to do as an artist and wanted to make helping people...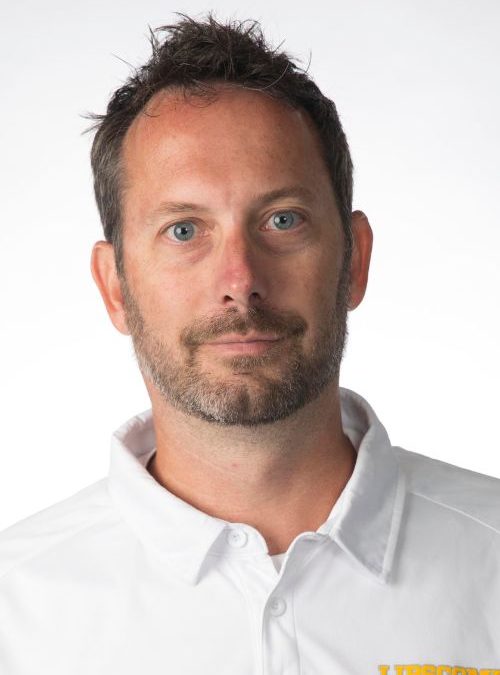 Deep in the heart of Allen Arena, men's soccer coach Charles Morrow reviews his team's lineup for Saturday's game in San Diego. Morrow, a 13-year fixture at Lipscomb still appears far more at home on the sideline of a soccer pitch than he does in his office, surrounded by soccer memorabilia, but this isn't particularly surprising. Morrow was introduced to soccer while growing up in a predominantly Latino school district near Corpus Christi, TX. "When we went out to play at recess, we weren't playing football; we were playing soccer," Morrow said. As a true freshman in 1994, Morrow played for Queens College in Charlotte, which he chose because it was a co-ed school with a growing soccer program. "Good soccer and a lot of girls," he noted, adding, "It sounded great." However, Morrow said he struggled in his freshman year with the transition from  "a big fish in a small pond" in high school to "the lower half of the roster for sure, if not lower third" at Queens. Despite this, Morrow pointed to this year as the year he realized that college soccer was what he wanted to do. Nevertheless, Morrow said the "party school" atmosphere got old. "In the early nineties, Lipscomb was a school that Church of Christ parents could send their kid to and feel good that their kids would be safe and be taught the right things . . . . What you saw was 'I'm here because my parents are making me go here. This is where they would pay for me to go to school,'" he said. Morrow was looking for...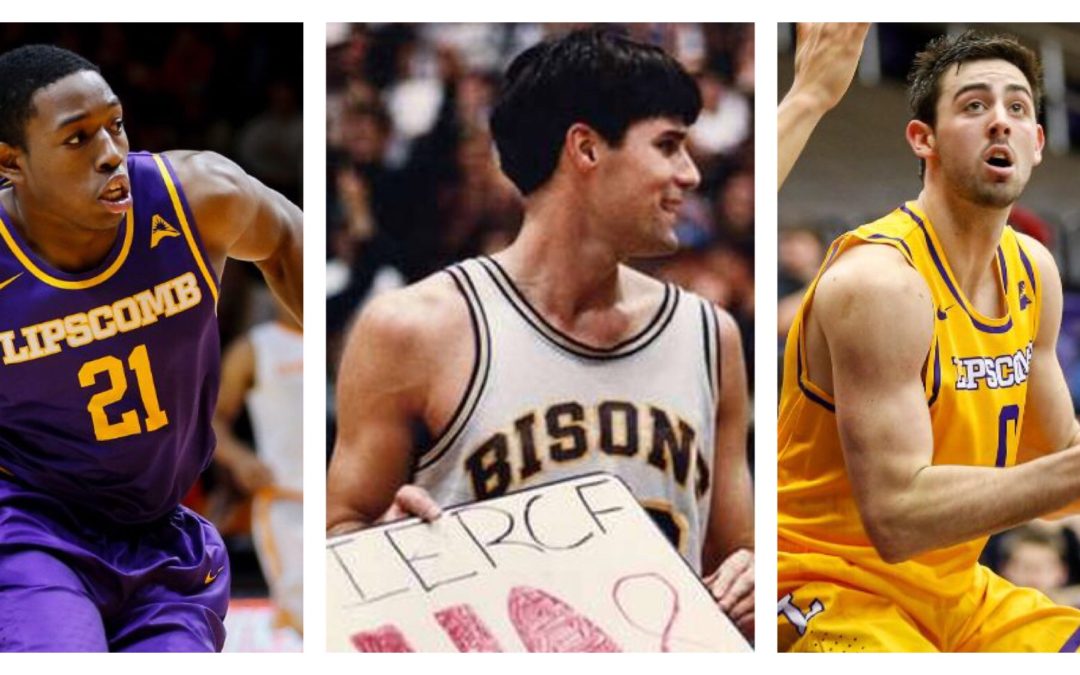 NASHVILLE, Tenn. – There was never any doubt in John Pierce's mind regarding his future after his basketball career ended. Following a record-setting collegiate career at Lipscomb and five seasons of playing professionally overseas, Pierce returned to Nashville to do what he had always dreamed of: coaching basketball. "All along, I knew I wanted to be a teacher and a coach," said Pierce, a standout from 1990-94 under legendary Bison coach Don Meyer. Pierce amassed 4,230 career points with the Purple and Gold, which still stands as the all-time record in college basketball. The Nashville native has spent the last 14 years as head coach at nearby Franklin Road Academy, and he was also elected to the Tennessee Sports Hall of Fame in 2015. "I didn't really keep up with all the records; I just loved Lipscomb and its basketball community," Pierce said. "I learned what it meant to be a good teammate — Coach Meyer had a lot to do with that." Almost 25 years later, Pierce's impact on the Lipscomb basketball program is still felt in many ways. In addition to the memorabilia that fills trophy cases in the lobby of Allen Arena, two of Pierce's former FRA players — Kenny Cooper and Rob Marberry — are now budding stars for the Bisons, despite taking different paths to Green Hills. Marberry earned Division II-AA Mr. Basketball honors as a senior at FRA in 2014 and finished his high school career with over 1,500 points and 850 rebounds. "(FRA) is a small school, just like Lipscomb," Marberry said. "The teachers and the coaching staff were both awesome. It...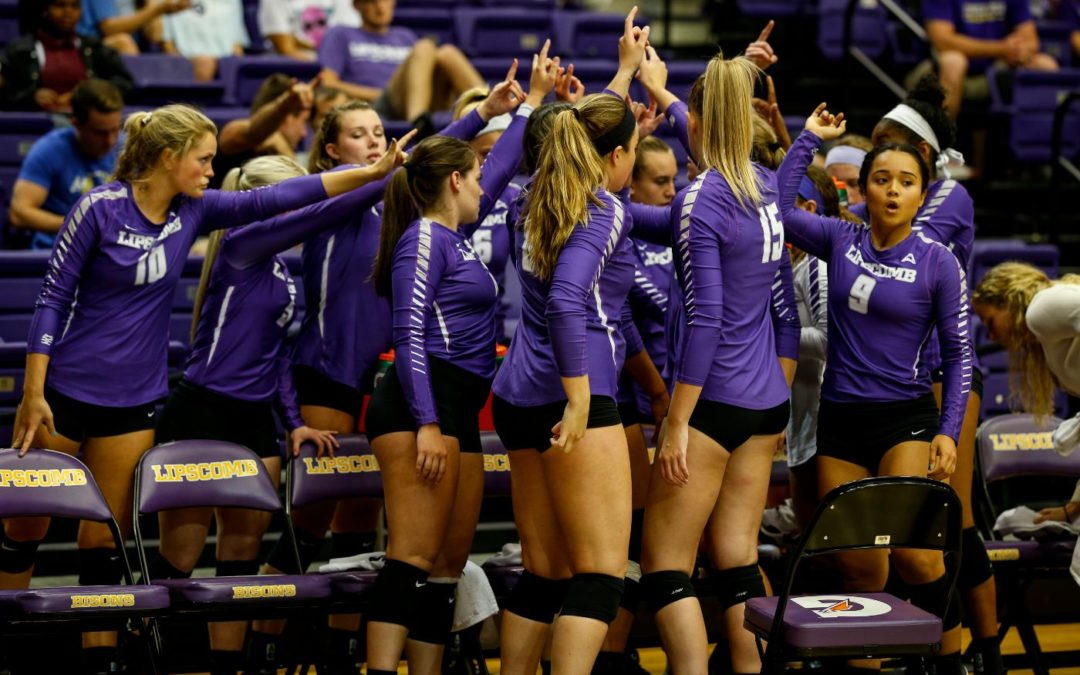 Lipscomb Women's Volleyball (2-1) got off to a good start this past weekend as the team opened its season in Allen Area with a 3-0 win against ETSU (0-1). While ETSU was a strong opponent, the Bisons held their own throughout the match, never getting further than three points behind. Junior Carlyle Nusbaum, the reigning ASUN Player of the Year, led the team with fifteen out of the fifty-five kills during the three sets. Nusbaum also collected her first double-double of the season with ten digs in addition to her fifteen kills. Freshman Alyssa Zwolensky, Ashley Maher and Megan Kuper had the opportunity to join the team on the floor during the third set of the ETSU match. Out of the three freshman, Kuper made her first career kill. "I was definitely nervous because it was my first collegiate game, but I was smiling the whole time because I was so happy that I was in that situation," Kuper said. "I just kept telling myself 'Don't let the nerves get to you and play your game'." Head coach Brandon Rosenthal was pleased with his team's performance, noting that the freshman especially put forth a strong first outing. "I am really impressed with how all three of [the freshman] handled that opportunity," Rosenthal said. "I think what I was impressed about the most with our freshman play was their ability to get into the game and perform at a level that is expectant of them." On Saturday, the Bisons took on Wichita State (1-0) where they were overcome 3-0. The first set remained close between the Bisons and Shockers as...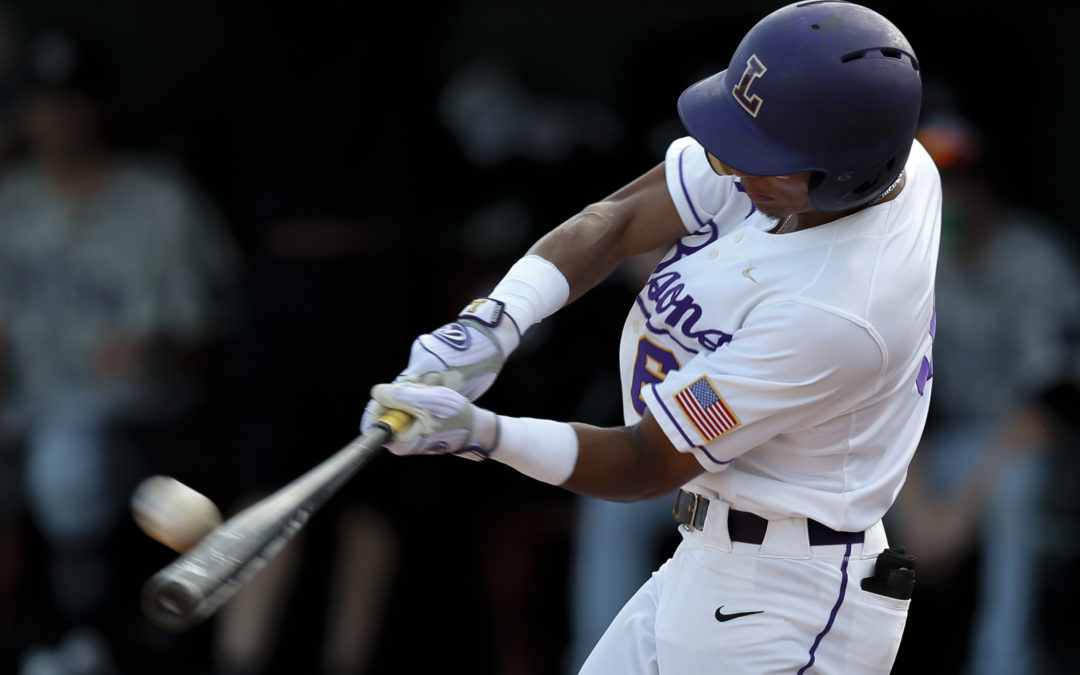 When professional baseball scouts visit Nashville, they are generally bound for West End to see the powerhouse built by Tim Corbin at Vanderbilt. Who can blame them? The Commodores routinely churn out first-round draft picks and currently have 38 former players scattered throughout professional baseball. Despite the success of its of its neighbor, the Lipscomb Bisons have also contributed, though quietly, to the baseball pipeline running out of the Music City. Lipscomb currently has nine alumni in the professional ranks, including three that have appeared for major league teams in 2017. Below is a complete rundown of all of nine former Bisons in the pros, analysis for each player and thoughts from Lipscomb head coach Jeff Forehand: MLB (1): Caleb Joseph, Baltimore Orioles 2017 Stats: .274 AVG, 61 hits, 26 RBI, 12 doubles and 8 home runs After a forgettable showing in 2016 that included zero RBI and a horrific groin injury, Joseph has bounced back in a big way. His .274 batting average forced Baltimore manager Buck Showalter to insert the former Bison into the lineup more often. For his efforts, Joseph will likely get a raise from his current salary of $700,000, as he is eligible to negotiate a new contract this offseason. Should Joseph and the Orioles fail to agree to a deal, the two sides will then go to arbitration, where a third-party will decide how much Joseph will get. Joseph also paid homage to Forehand last weekend with a "Thank You" patch on his jersey as part of the MLB Players Weekend. "That was a very cool thing for Caleb to do," Forehand said of the patch. "I'm...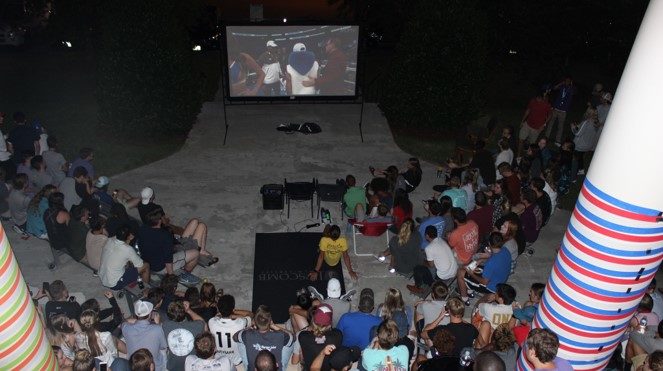 For sports fans, heated debates are had over who is the "best of all time" — Michael Jordan or LeBron? Manning or Brady? Ali or Tyson? In the case of Mayweather vs. McGregor, fans got to see these two sporting giants fight to settle the discussion, with boxing veteran Floyd Mayweather taking home the victory of Conor McGregor. Saturday night, Sewell Hall held a watch party for the fight open for all Lipscomb students to view the historic event. Sewell Hall Residential Assistant Taylor Phillips planned the event and was excited to host a watch party for such an anticipated night. "We decided at the start of the year that our first event of the year should be the Conor McGregor vs. Floyd Mayweather fight," Phillips said. "This fight means a lot because I am a huge UFC and boxing fan. Boxing is such a well-known sport; everyone can jump aboard and enjoy the fight." Sporting a Conor McGregor shirt, Phillips said that he was rooting for McGregor to win the fight. Philips noted that Sewell Hall typically doesn't hold events, but the fight was a good opportunity for the residence hall to host something for all students at the beginning of the year. First year Head Resident and former Lipscomb student Jackson Smith looked at the event as a chance to bring people closer together. "I love creating opportunities for memories, and that's exactly what this is," Smith said. The former Lipscomb student was in favor of Mayweather, learning his lesson from when he rooted for Manny Pacquiao back in 2015. Smith said he was happy with the...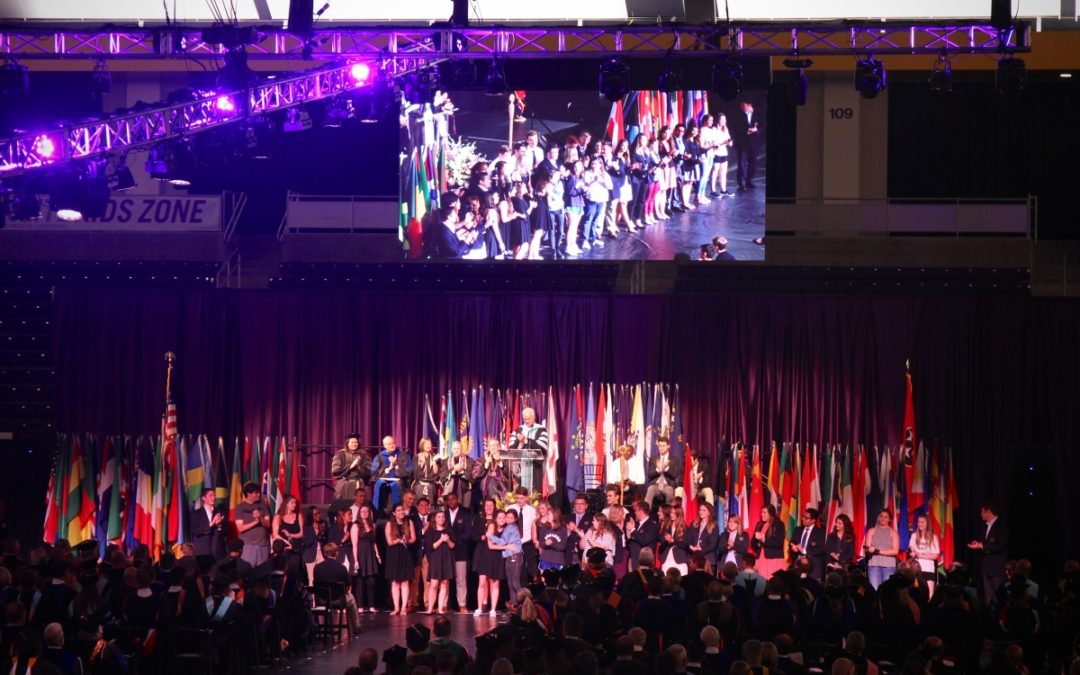 To celebrate Lipscomb's 127th year, President Randy Lowry announced during the annual President's Convocation that Lipscomb has been recognized as a prestigious national university, ranking 176th in the nation in the annual U.S. News & World Report's "2017 America's Guide to Colleges." "We've received new recognition," Lowry said. "I think it's a great moment when Carnegie looked out and looked at this University and said, 'No longer will we classify you as a regional comprehensive university; you're going to leave the group that includes Belmont and Harding and Freed and Elon and a host of really good schools, because Lipscomb University will be elevated to the classification of a national university.' And when they elevated us in a category of 300 schools, we came in 124 spaces ahead of schools who have already been on that...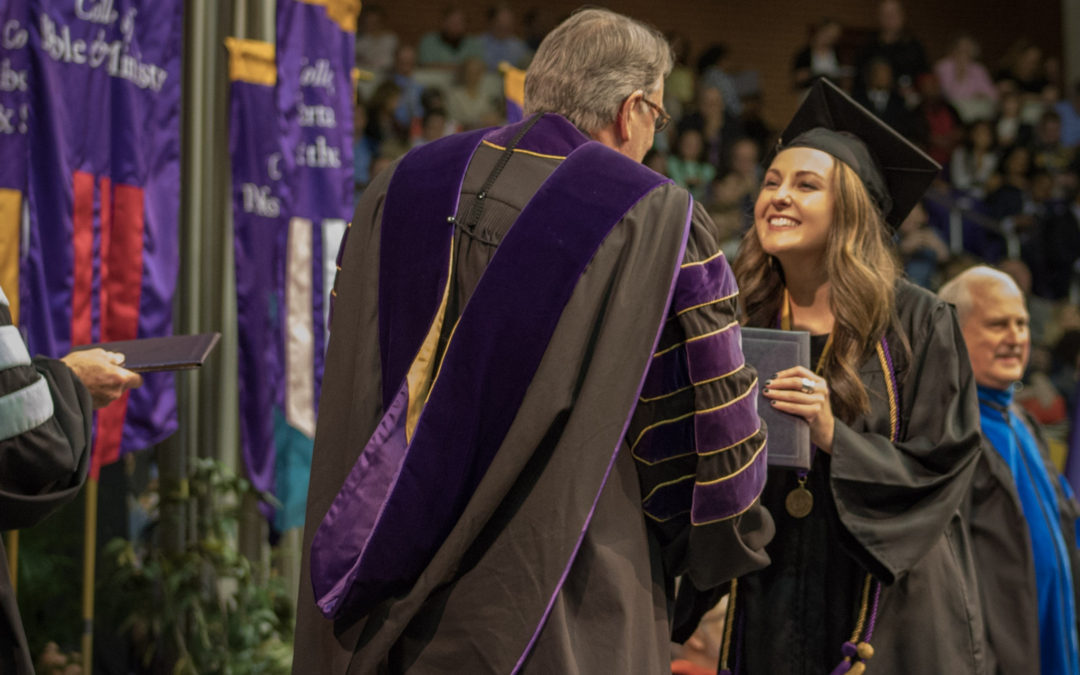 Lipscomb University celebrated its 2017 graduating class by giving 545 undergraduate degrees to students on Saturday afternoon in Allen Arena. Three professors received "Outstanding Teacher Awards" — Lee Camp, Professor of Bible, Elisabeth Conway, Associate Professor of Biology, and Ruth Henry, Professor of Exercise Science. For his closing remarks to the graduating class, President Lowry spoke of what it means to be a Lipscomb alum. "The reality is that we, as this group, will never gather together again," Lowry said. "But you will go out as a Bison and join the other 35,000 Bison who are out there. You will run into them literally all over the world, and I want you to know that as you do that, you will take the spirit of this community with you, and you will meet the spirit of this community as you find your fellow alums wherever they might be." « ‹ 1 of 2 ›...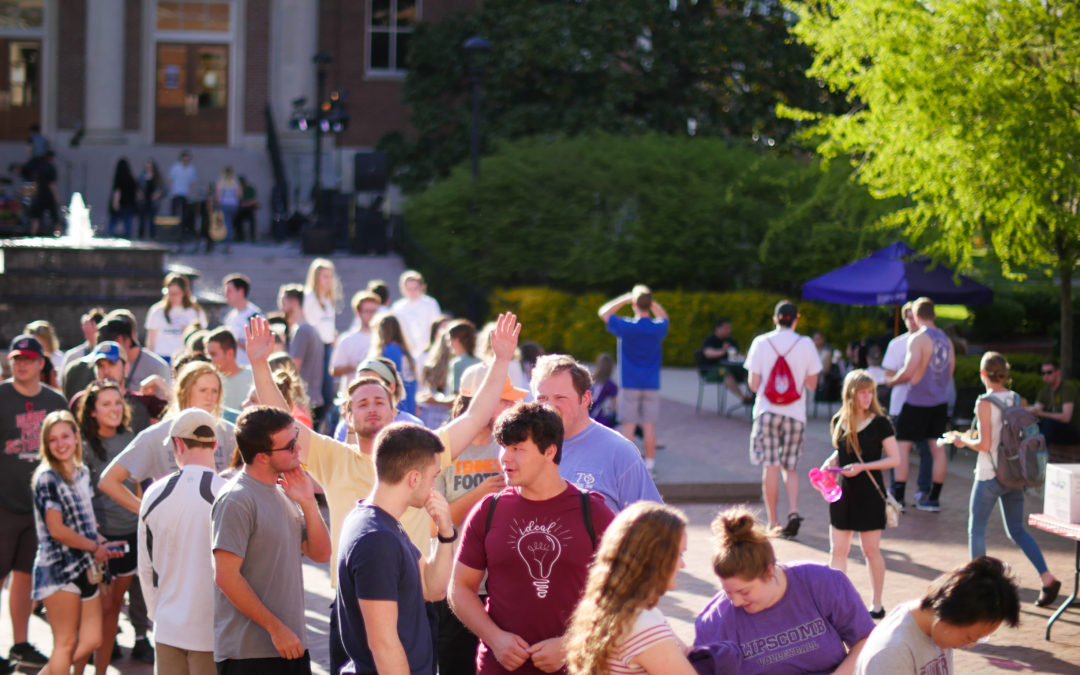 Monday evening, Lipscomb's SGA hosted a concert, featuring Your Neighbors, a band comprised of  mostly Lipscomb students. Your neighbors opened for the country/Americana band Dorado. SGA served Whitt's Barbecue and Maggie Moo's ice cream. Photos by Ellen Butterfield « ‹ 1 of 2 ›...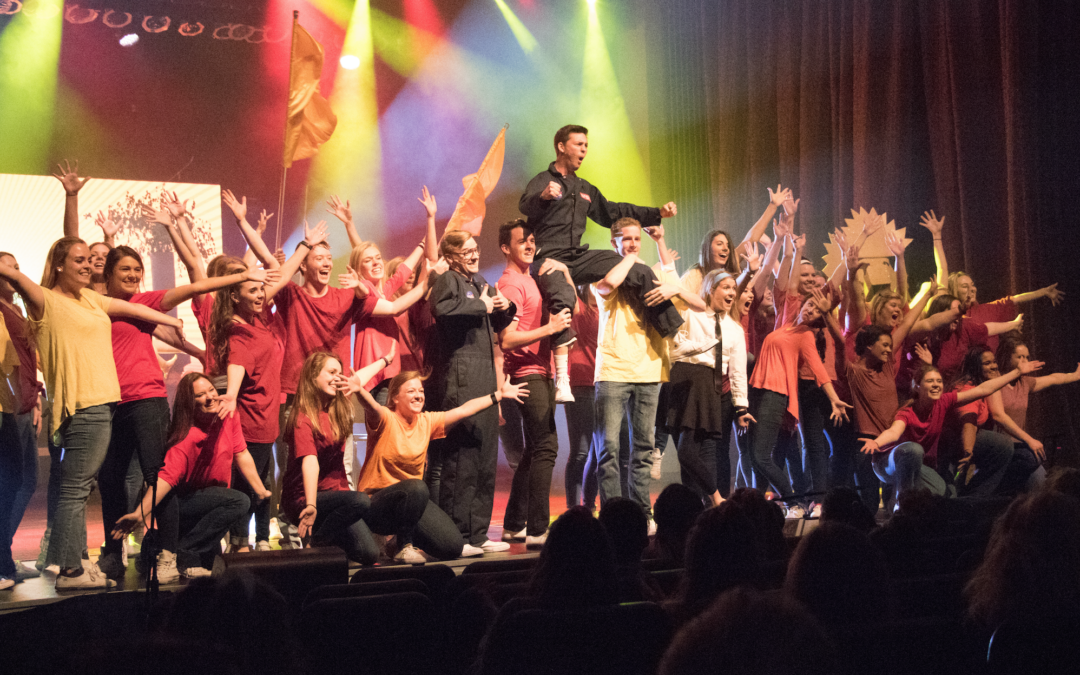 This Thursday, Friday and Saturday, Lipscomb's social clubs will host the annual musical performance, Singarama, in Collins Alumni Auditorium. All performances except Saturday's will be at 7 p.m. Saturday's will be at 2 p.m. This year's theme is "A Blast from the Past," and will feature performances reminiscent of the 70s, 80s and 90s. Each performance will be judged on a variety of categories, and the winner will be announced following the final performance. Photos by Anna Rogers « ‹ 1 of 5 ›...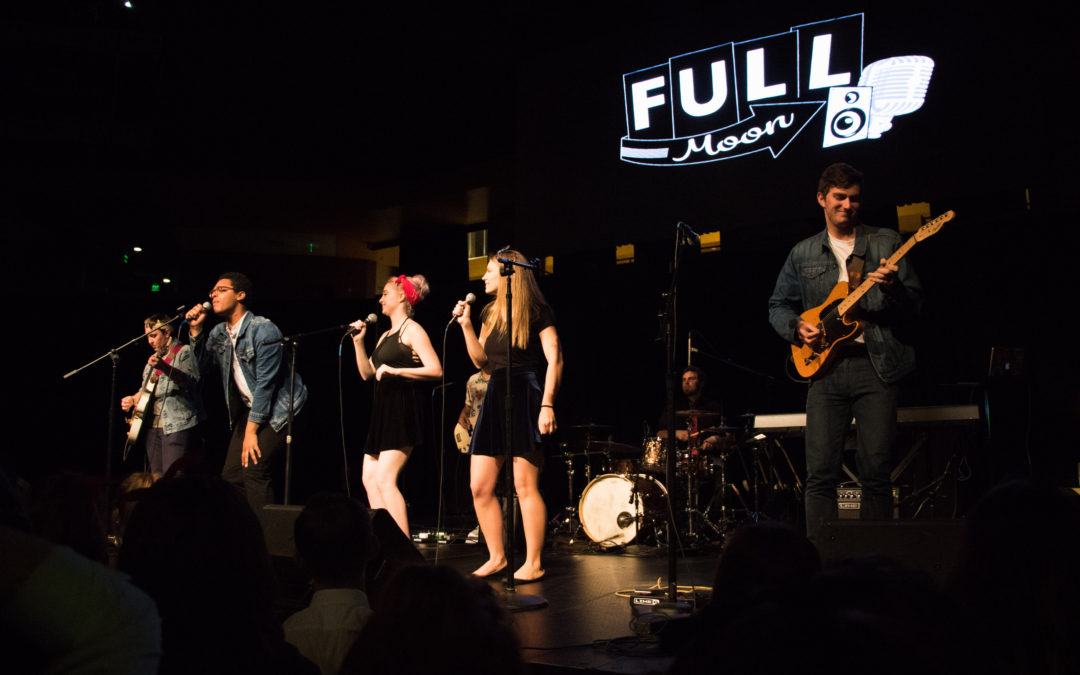 Social clubs Theta Psi and Delta Omega hosted Full Moon Festival, an annual benefit concert, in Allen Arena on Saturday. This year's concert combated drug and alcohol abuse by promoting "pure, clean fun." The lineup featured fellow students, some who perform professionally. Senior Joel Clinger offered to shave his head as an incentive for students to raise money by purchasing tickets or refreshments. True to his word, Clinger buzzed his locks on stage after the concert exceeded the goal and raised over $5,000 for Ed Pack Global. Photos by Anna Rogers « ‹ 1 of 2 ›...