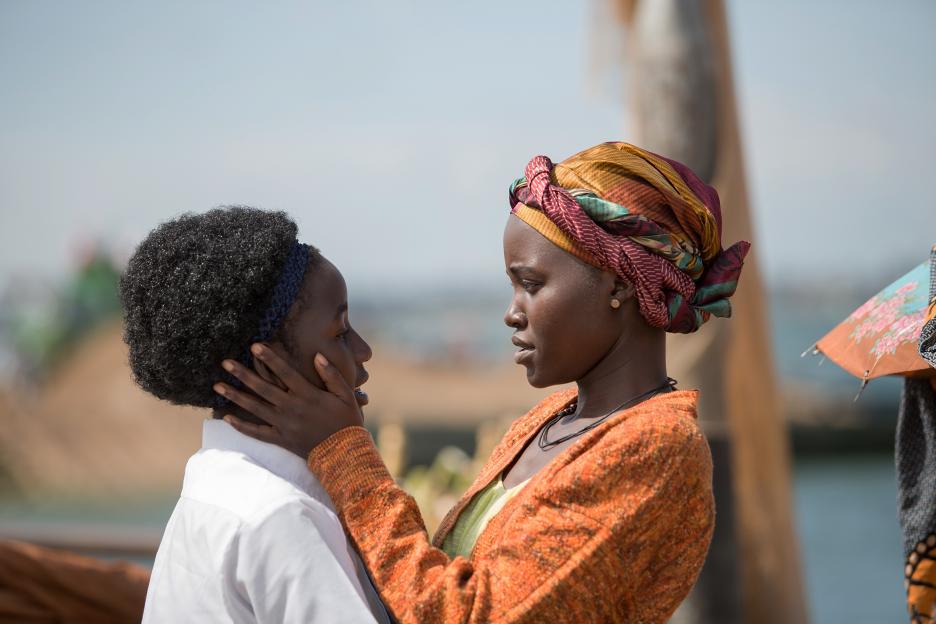 "Queen of Katwe" tells the inspiring true story of chess-prodigy Phiona Mutesi's rise from poverty in Katwe, Uganda, to become one of the greatest chess masters in the world. The film begins with 10-year-old Phiona (newcomer Madina Nalwanga) going about her daily life by selling corn in the "slums" of Uganda. Her father tragically died recently, so her mother (Lupita Nyong'o) is left to raise four children alone. The Mutesi's don't have an easy time — the oldest child runs off with a "bad guy," they're evicted from their home, a storm floods their new house, etc. Through Robert Katende (David Oyelowo) — the soccer player turned missionary — Phiona discovers the game of chess. While chess becomes a great resource on which Phiona can focus her energy and high intelligence, it does not solve all her problems; the film does an excellent job of showing that an escape from poverty is not an easy transition. "Queen of Katwe" was shot on location in Uganda, providing an honest look at Mutesi's childhood home, and all the colors in the film are especially vivid and beautiful. The majority of the film's actors are Kenyan. Be sure to stick around for the credits to see them interact with their environment; viewers will get to see the actors stand beside their real-life counterparts at the film's conclusion. Nyong'o delivers the best performance, portraying an incredibly complex character with skill and emotion. Phiona's mother is strong, yet she needs her older children's help so that they can pay their rent and have food at night; therefore, she struggles with Phiona's running off to play chess. The film...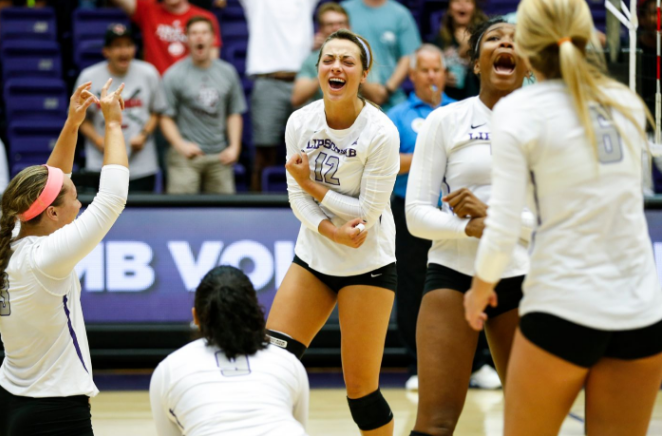 Although the energy was high in Allen Arena Friday night, the volleyball team ran out of gas while battling rival Kennesaw State. The atmosphere was alive with all of Greek life there, a live DJ from the Rio Olympics and a well-known color commentator, also from the Rio Olympics. The Lady Bisons came out hot in the first match, gaining a quick 7-0 lead. They carried their momentum all the way to the end, where they defeated Kennesaw State 25-14. "We have a budding rivalry with Kennesaw. We knocked them out of championship game last year, and they are continuing to push the envelope as far as our conference goes." said Coach Brandon Rosenthal. The second match, however, was a different story. Both teams were neck-and-neck as the lead kept changing, constantly. The Owls had the lead until senior transfer Taylor Racich took control of the net and slammed two balls down the middle of the court. Unfortunately for Lipscomb, our defense had trouble keeping the lead due to their delayed reactions to the quick Kennesaw State offense. Junior Lauren Anderson kept fighting and putting the Bisons back in the lead. A major key from this match that hurt the Lady Bisons was the struggle to control their blocking on the net and to keep the ball in bounds. Lipscomb also gave away some easy points by serving the ball out of bounds. Racich and freshman Carlyle Nusbaum came to play, slamming two balls off the block to put Lipscomb ahead 17-16. Some miscommunication hurt the Lady Bisons and caused a few balls to drop right in the middle of the...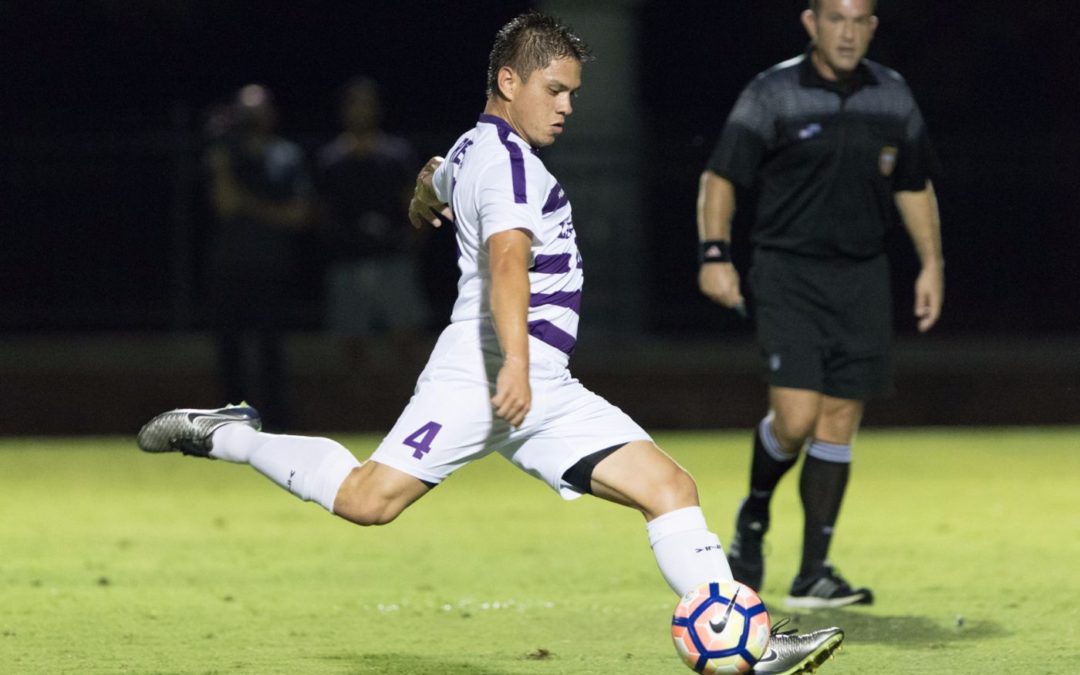 Lipscomb men's soccer (5-2, 1-0) defeated the Stetson Hatters (2-4-2, 0-1) with a score of 2-0 Wednesday night at the Lipscomb Soccer Complex. This win extended the team's win streak to 4-1 after wins against Belmont and SIUE last week. After the first half, neither team successfully put the ball in the back of the net. The Bisons missed several close call opportunities; one of which included a race in the 35th minute where redshirt sophomore forward Logan Paynter sprinted down the field with only one defender to beat; yet, he was tackled in the box, and no foul was called. "We needed to bring a more aggressive approach to defending and bring more energy," coach Peter Lowry said. "The emphasis [at halftime] was having more urgency on the ball, and we won because we outworked them." As Lipscomb emerged from halftime at a 0-0 tie, junior midfielder Eduardo Reza caught a ball on his left foot just outside the box, and in he 50th minute immediately shifted the ball to his right foot before sending the ball to the left post and giving the Bisons a 1-0 lead. "We knew we needed more intensity; we were looking for a goal and it fired us up," Reza said. In the 77th minute, redshirt senior forward and midfielder Josue Chavez played the ball back and forth with junior forward Brandon Braumuller, eventually resulting in a powerful shot to the back of the net for Chavez, his first goal of the season. "The team has been emphasizing pushing through lately," junior Brandon Braumuller said. "We refuse to be satisfied until the full time has been called." Possession offense and defense closed out...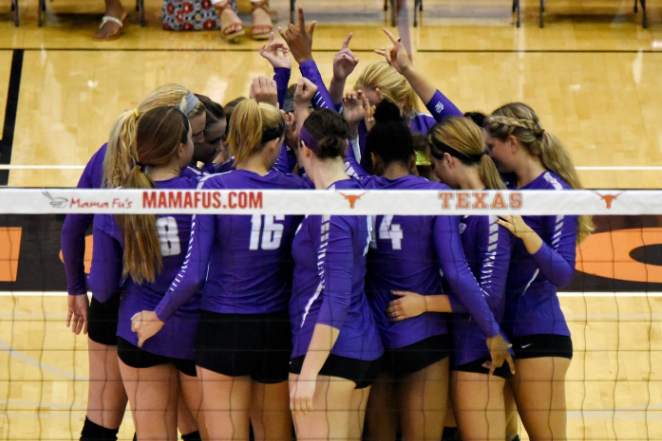 Just last week, the Lady Bisons ranked 12th in the Mid-Major Poll — the highest the Bisons have placed this season; this national attention is due, in part, to some of the team's talented newcomers. Freshman setter Morgan Elmore is one addition to the successful program. Elmore said she had many other schools going after her for a volleyball scholarship, but Lipscomb was an easy choice for her. "I love the family atmosphere of the team, how hard everybody works and the relationship between the teammates," Elmore said. The standout from Louisville, Kentucky, is majoring in dietetics and is focused on carrying her competitive drive over to her schoolwork as well as with her athletic career. Elmore has high hopes for this season, and said it's important to stay motivated and hungry as a team to meet their goals. "I hope that as a team we can truly come together to accomplish some great things and make it to the NCAA tournament!" Elmore said. Another newcomer added to this year's roster is freshman Maddie Phillips. Phillips' main contributions to this year's team are her blocking skills and height. She had many other schools calling her as well, but said she was drawn to Lipscomb by the academics and closeness of the volleyball team. "I really like that it's a small school and has smaller class sizes," Phillips said. "Lipscomb is giving me a great education along with a new family on the volleyball team." Another reason she chose to come to Lipscomb is because of the talented coaching staff. "I really like Brandon because he is always there for...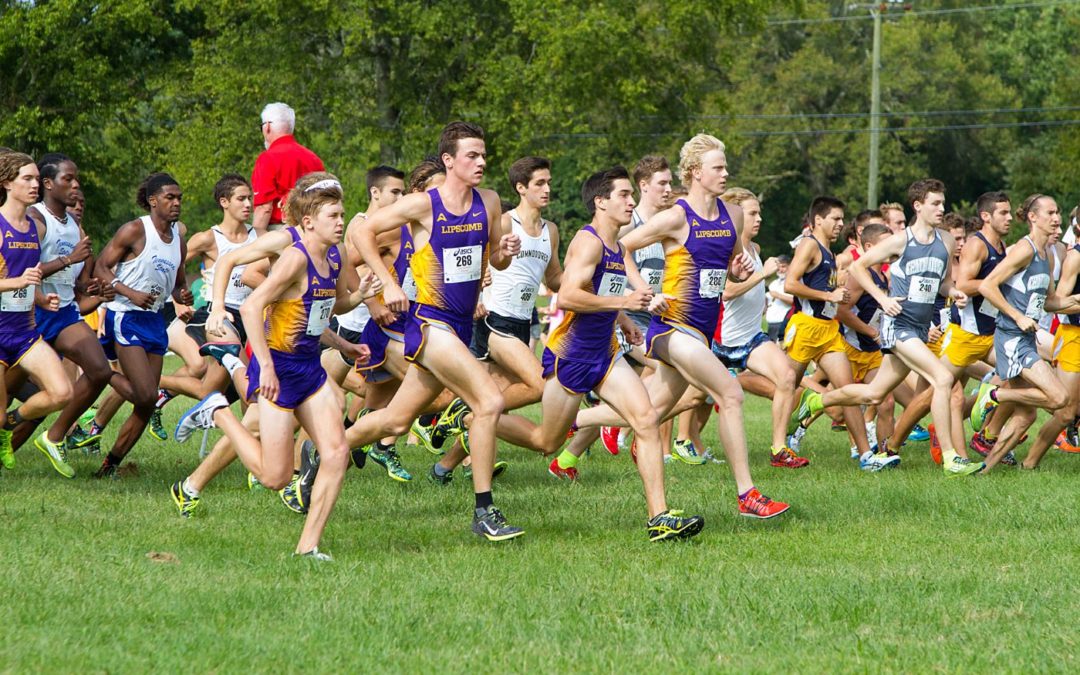 A one-hour lightning delay, Chick-fil-A minis and a torrential downpour welcomed the Lipscomb men's and women's cross country team to Vaughn's Gap on Saturday at the Commodore Classic. The lighting delay occurred after the men's race, which was at 9 a.m. The women were scheduled for 10:00 a.m. but had to wait until 11 a.m. to run. The inclement weather was not common to the Commodore Classic. "It's pretty rare," Bill Taylor, Director of Cross Country, said, "It's only happened once since I've been at Lipscomb in 10 years, and it was actually the Belmont race one year, but it's not very common for that to happen." Taylor did not believe the weather was an excuse for either team. The men's team performed well finishing 10th out of 23 teams, while also besting in-town rivals Belmont (12th) and Vanderbilt (18th) in the team rankings. The other in-state schools fared far better as MTSU finished in 1st, Tennessee in 8th, and Tennessee Tech in 9th. "There's a lot of younger guys who ran their first 8K today of their lives, so that's a factor for the guys," Taylor noted. Freshman Brent Leber was the only Bison to finish in the top 50 and finished with a time of 25:29.7. Taylor was pleased with his performance in his first two outdoor meets. "He's a tough kid, and he's willing to put himself in position to give himself a chance," Taylor said. "I think that was his first 8K cross country race, and I just like that he's brave and that he's willing to go out there run top of the competition."...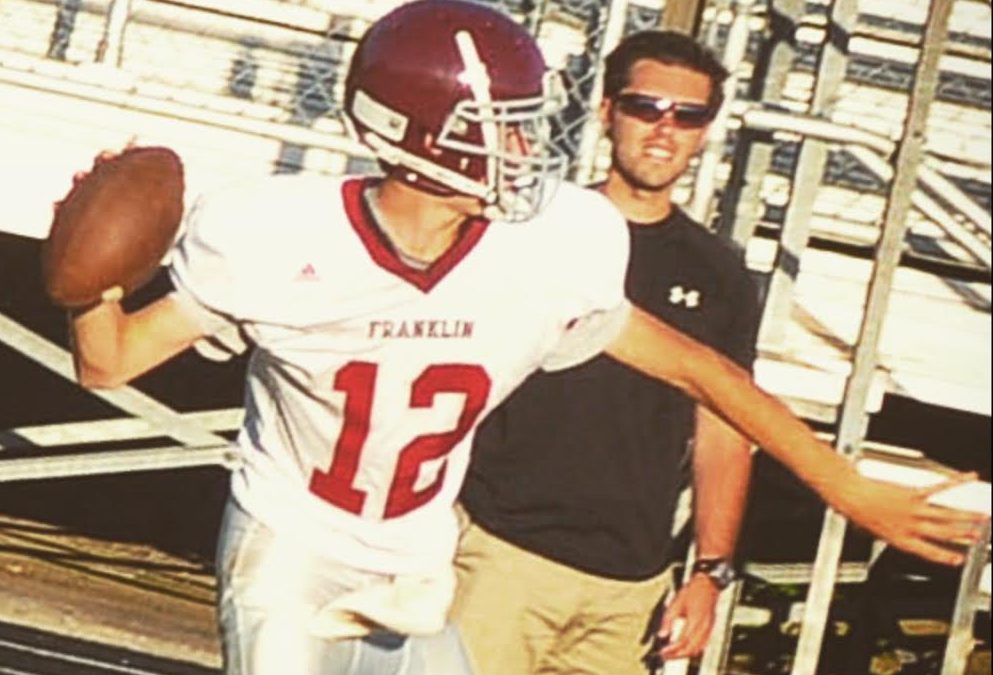 Well, holy cow. I write this as an assistant coach of a 3-1 team. We have won three games straight and look to continue that this week as we go into Ravenwood. It's crazy to look back at that week one loss and look at where we are now. This past Friday we beat Brentwood 41-7, and our offense is finally gelling. People are buying into what we can do, and we are in great position going into our off week. We are winning. I was thinking about the word "win" the past few days, and what it means to "win." Winning on the field is great, but when we only spend three hours during a game, how do we win the other 21 hours during the day, off the field? The unfortunate thing about life is that it is going to hand us losses like that week one loss against Centennial. You think you have everything figured out, and then, just like that, it's gone. You can drive yourself crazy trying to figure out how or why it happened, but it did. But you know what? It's okay to walk around and know that you lost. It really is. Sometimes a "win" doesn't have to be some victorious ride in the sunset. Sometimes a win may not actually be a "win." Many times a win is waking up in the morning and just doing your job. You don't have to be okay with your circumstances, but as long as those circumstances don't affect your day-to-day schedule, you've won. I know that I have not been okay with my...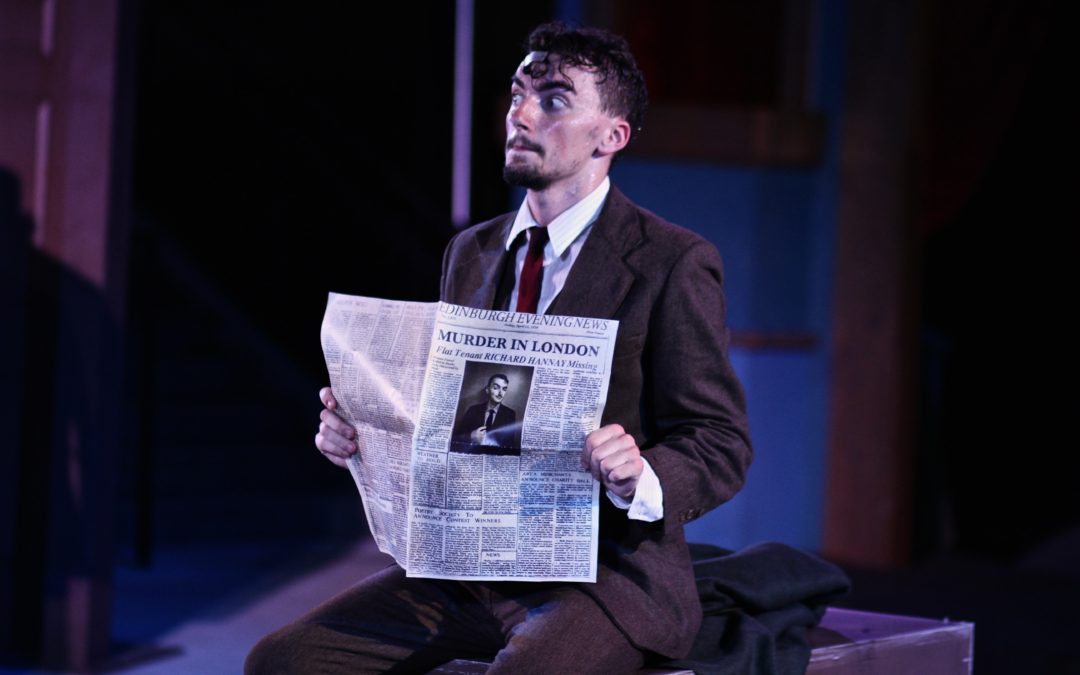 Lipscomb University's theatre department is putting on the melodrama The 39 Steps. The play, adapted in 2005, was originally a novel by John Buchan written in 1915 and was directed as a movie two decades later by Alfred Hitchcock. The play is directed by Kari Smith. Curtains open Sept. 16, in Lipscomb's Flatt Amphitheatre at 7:30 p.m. Tickets are $17 for adults, $12 for university faculty/staff and $5 for students. Photos by Ben Davis...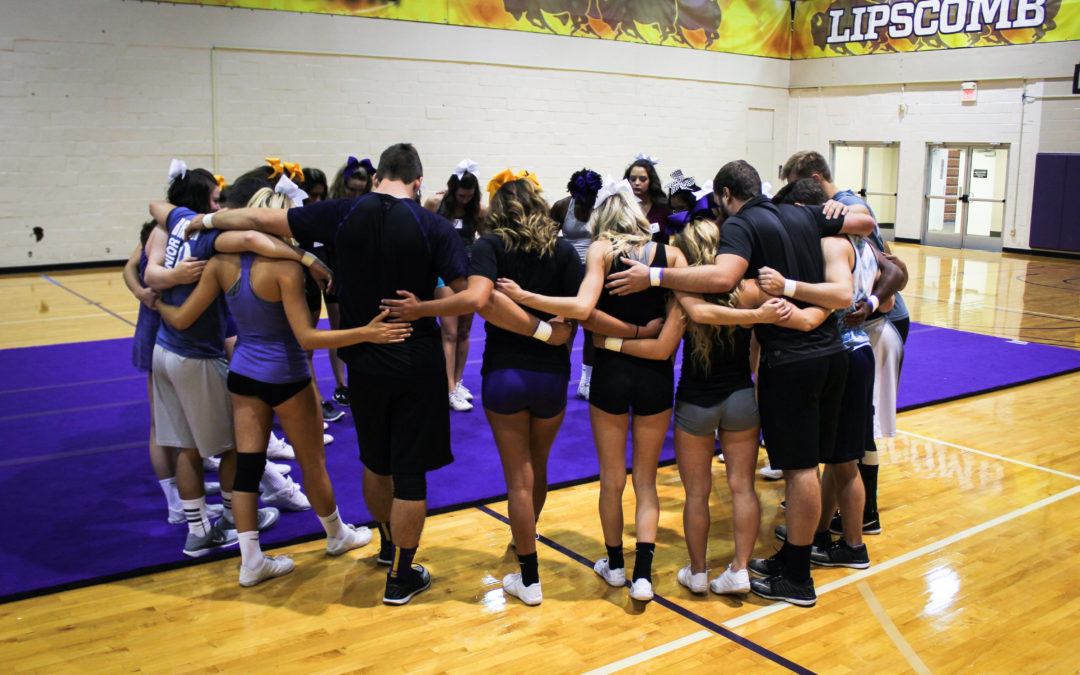 After a two-day weekend intensive, this year's cheer team has been announced. The group features 24 Lipscomb students, all of whom have demonstrated skills in tumbling and stunting. "I am so excited to be a part of this wonderful university, athletic department and the cheerleading team," coach Pam Pearson said. "These individuals have put in so many hours this summer to improve their skills and it showed at tryouts." Photos by Becca Risley « ‹ 1 of 2 ›...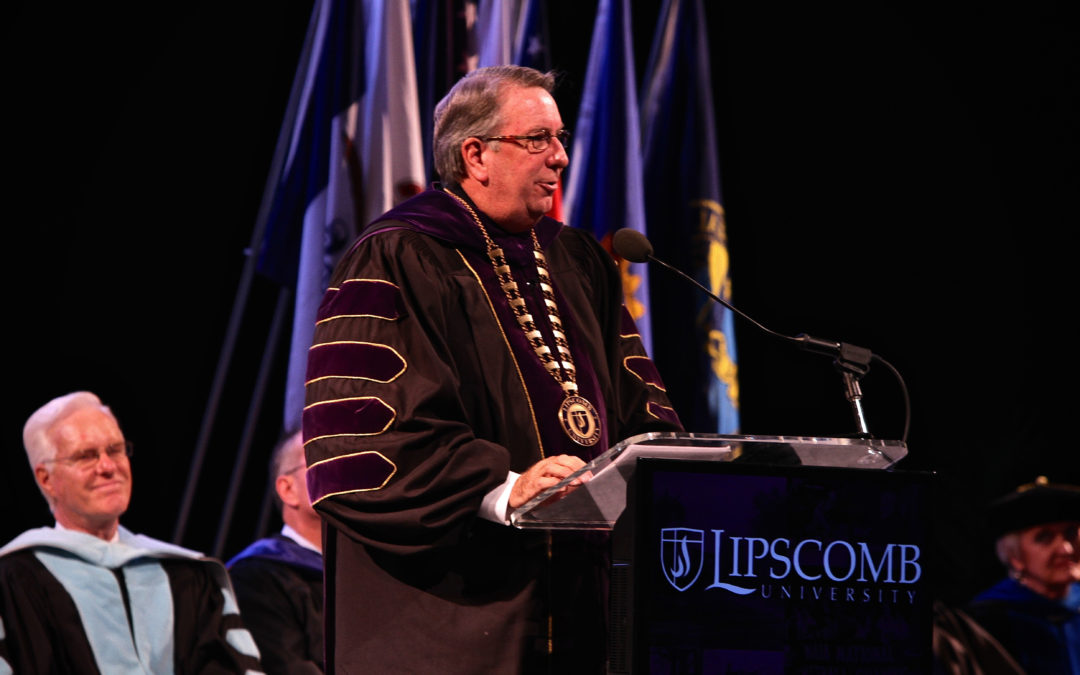 Lipscomb University's President's Convocation took place on August 30, 2016 in Allen Arena, celebrating the start of the 126th academic year. Undergraduate and graduate students from the University, as well as middle and high school students from Lipscomb Academy joined faculty and staff for the celebration. Photos by Ben...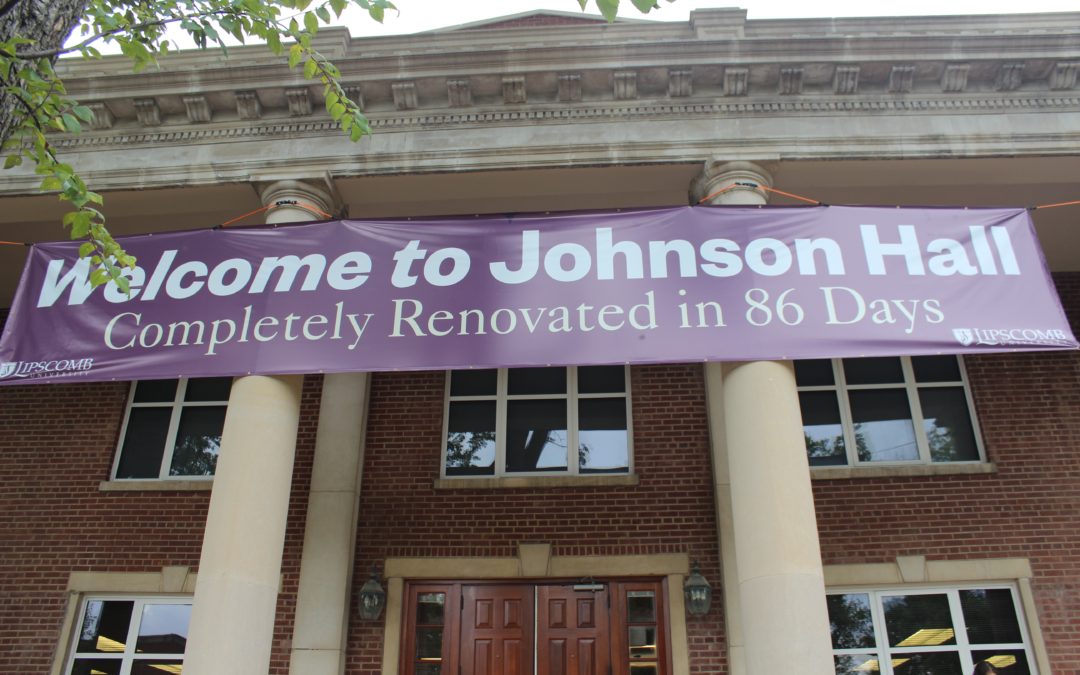 Lipscomb's women's residence building Johnson Hall received an 86-day, multi-million dollar renovation during the summer. The renovations include spacious bedrooms, updated bathrooms, and modern interior decoration. Traditional Johnson retains community-style hallways and living quarters while New Johnson features suite-style living accommodations. Photos by Charissa Ricker and Anna Rogers...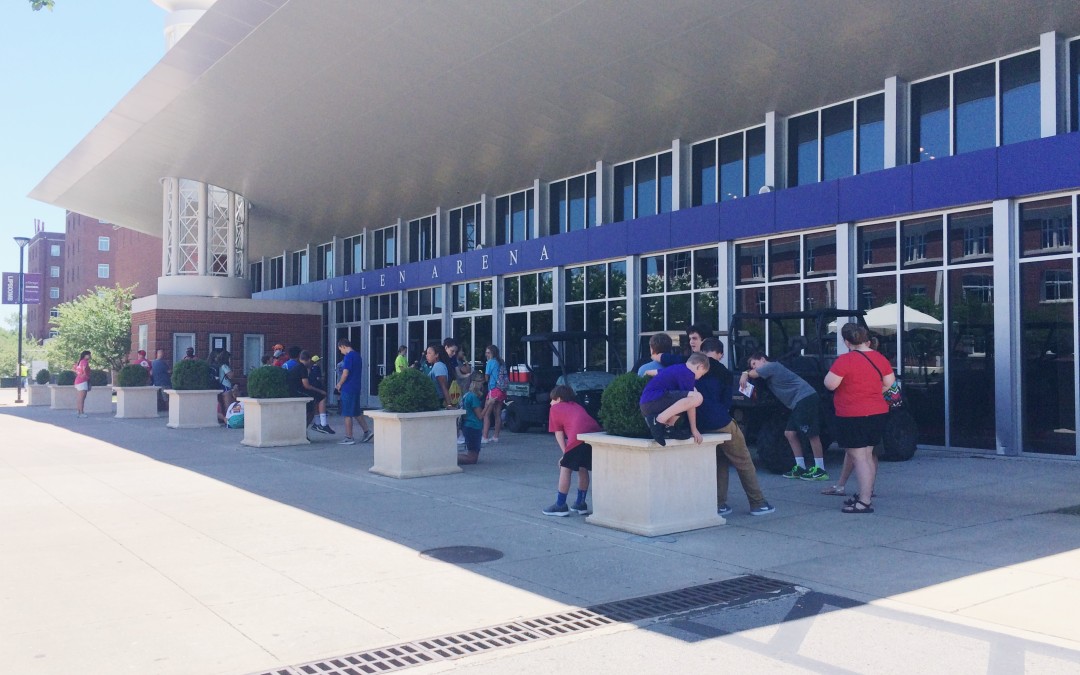 The Christ-centered youth camp Impact kicked off last week, celebrating its 25th consecutive year on campus with teens, counselors and adults worshiping God. Impact has two programs — Impact Junior, for grades 6-8, and Impact Senior, for grades 9-12. The Junior Camp is a weekend program and was held June 17th-20th. The Senior Camp is a week-long program and was held June 20th-25th. Senior Campus Minister Steve Davidson started the program after prayer and a lot of work nearly 30 years ago. Impact started in 1992 with 250 campers, counselors, and adults coming together to worship God. Impact 2016 had almost 3,100 students on campus....