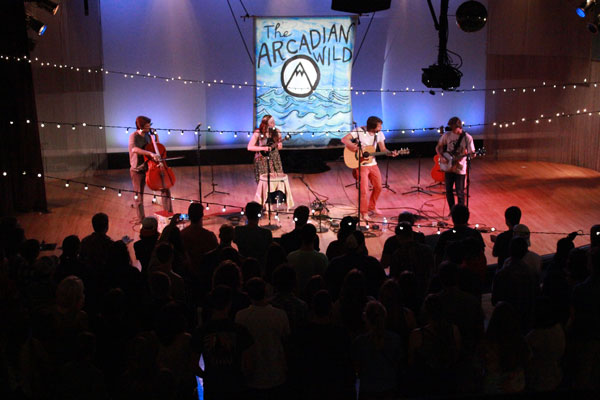 Kickstarter is the world's largest funding platform for creative projects, helping dreams like The Arcadian Wild's first official full-length album come true.  The indie-folk group is composed of Lipscomb students Sarah Wood, Everett Davis, Isaac Horn and Lipscomb graduate Lincoln Mick. In February, the group started a Kickstarter campaign to fund their album, surpassing their goal of $9,000 in just 15 days. The group celebrated their new album with a release party in a crowded Shamblin Theatre Saturday night. "We weren't expecting our Kickstarter to be such a success," said Wood, a junior music major from Pueblo, Colorado said. "We got emails every single time someone donated and our phones just started blowing up and I would just sit there crying because I just couldn't believe it." Rewards for donating to the Kickstarter campaign included Arcadian Wild stickers, signed copies of the new album, an awkward family photo shoot with the band and even a chance to "tame the mane" and cut Horn's hair. Sophomore Hannah Taylor, a studio art major from Louisville, Kentucky, praised the band for having a great stage presence, making Shamblin a "fun and lively place to be." "What's blowing all of our minds is the support from all of the people," Wood said. "The support that we have is so humbling and amazing." The album was recorded and produced by Belmont graduate Vian Zaayman, who the group met at a coffee house and gave much praise to during the release party. "Everyone tonight has been saying they can't believe how much we've grown since last year and I think a lot of that growth came out of making...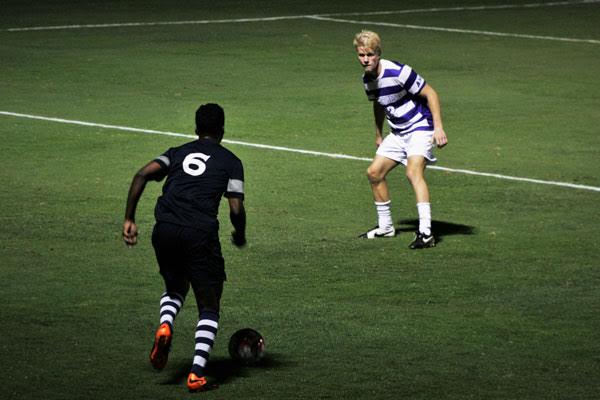 The Lipscomb men's soccer team secured a 2-1 victory against the No. 10-ranked Xavier Musketeers at the Lipscomb Soccer Complex Thursday night.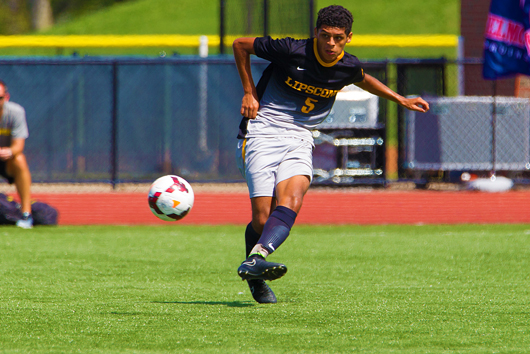 The Lipscomb men's soccer team (0-2) fell 3-1 in the home opener against Eastern Illinois Sunday night at the Lipscomb Soccer Complex. The offense came out of the gates early for Bisons, but the offense and defense both fell in the second half. The Bisons set the pace within the first few minutes, keeping the ball away from the Panthers (1-1). Lipscomb's forward sophomore Ivan Alvarado executed a near perfect chip shot over the goalkeeper for the Bison's first goal of the game. The Panthers scored twice in a two-minute span early in the second half. In the 49th minute sophomore Cameron Botes committed a foul that earned him a yellow card right outside the box. The ball bounced around the box before finding the foot of the Panther's forward Tyler Oliver, who put it in the back of the net to tie the game 1-1. Just two minutes later Oliver's twin brother Justin broke the tie on a run-up the box before beating goalkeeper junior Micah Bledsoe on the inside post, taking a 2-1 lead. Later in the second half the Panthers extended their lead after some passing from Tyler Oliver, leading to a goal for the Panther's Dominic Recca. Lipscomb men's soccer returns home on Thursday, Sept. 3 at 7 p.m. to play No. 16 Xavier Musketeers. Photo courtesy of Lipscomb...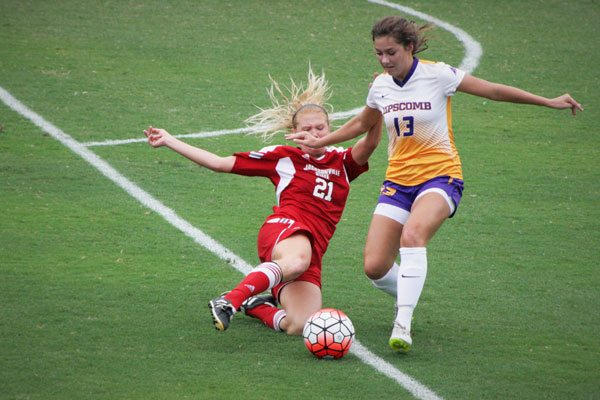 The Lipscomb women's soccer team (2-0-2) secured a 3-0 win over Jacksonville State (1-3) at the Lipscomb Soccer Complex Sunday night. Senior Alex Hickey was able to finish off an assist from sophomores Natalie DuBoise and Jade Abarca, then nine minutes later, freshman Maycie McKay capitalized on a poor throw by the Jacksonville State goalie. Head coach Kevin O'Brien said he was proud of the girls for playing so well on a short turnaround from last Thursday's match against Cincinnati. "We dug in and continued to defend well," O'Brien said. "Counting exhibition games, we are at six shutouts in a row, which is a pretty long run." DuBoise scored to seal the game in the 80th minute. "We really wanted to press them and get a couple of early goals, and that's what we did in the first half — that way we could come out a little more confident going into the second half," DuBoise said. However, there were no yellow cards awarded and only a handful of free kicks. "There were a couple of late challenges, but again part of that is fatigue," O'Brien said. "I don't think it is a malicious intent from players on the ball — it is just [that] they are a little bit late with tired legs and they are not getting there as quickly as they would on a mid-week game." "Non-conference games are basically to try and fine tune your teams to try and make a run in the conference," O'Brien said. "It's been great — we've been building a lot of confidence and self-belief." The Lady Bisons will return to the...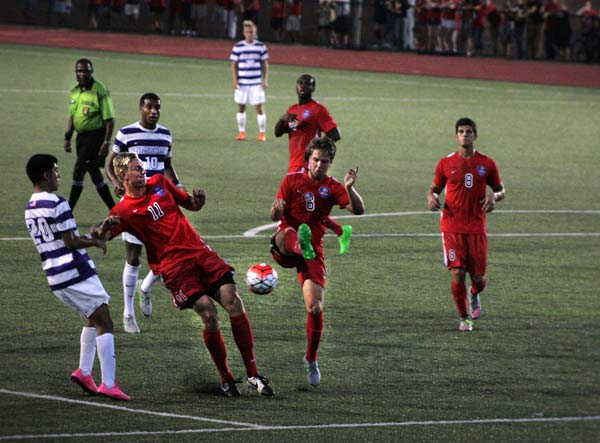 The Lipscomb men's soccer team took a 2-0 loss to Belmont in the season opener this Friday night at Rose Park. Sophomore Rashad Hyacenth scored the first goal on a free kick for the Belmont Bruins in the ninth minute. Hyacenth scored his second goal of the match in the 78th minute. "Hyacenth did a great job of finding the ball throughout the game," Lipscomb head coach Charles Morrow said. Morrow also said he was was very impressed with Belmont's defense. "They have eleven guys that are committed to playing a strong defense," Morrow said. "We had a lot of the ball, but we struggled to break Belmont down defensively." Morrow said that his team is working with many injuries but expects to get better as the season progresses. Lipscomb will return to action this Sunday for the home opener against Eastern Illinois. The game will begin at 6 p.m. at the Lipscomb Soccer Complex. Photo by Sam...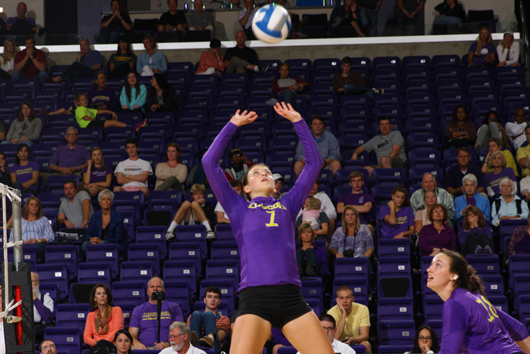 Lipscomb's volleyball team will begin the quest to improve on last year's successful season at the season-opening Utah Classic in Salt Lake City this weekend. And the challenge to improve on last season is not an easy one, since the Lady Bisons won the Atlantic Sun Conference and recorded 21 wins and 9 losses, finishing ranked No. 39 at NCAAs a year ago. Having that second best rank in the Lipscomb volleyball program history places a lot of expectations and added pressure to do even better this year, according to some of the freshmen. "There is definitely pressure, the women's volleyball team has always had a pretty good past, so coming into the season you just have that automatic expectation from the coaches and teammates," freshman Carlyle Nusbaum said. The Lady Bisons have added six freshmen this year. Carli Anderson, Calayci Coffey, Hannah Hutcheson, Lauren Anderson, Marcella Emmanuelli and Nusbaum were recruited by head coach Brandon Rosenthal, who said all the new players performed at a high level in club and high school volleyball. "They are all very explosive, which suits our game style and program," Rosenthal said. "They are still very young, so the experience level needs to improve, which will come from playing a lot of matches." The new players said that in addition to experience, they believe team bonding is essential to success. "We do a lot of team building activities, trying to build close relationships with each other, because that makes such a difference when we play together," Hutcheson said.  "We have worked really hard as a team up until this point just to be competitive with all the different schools...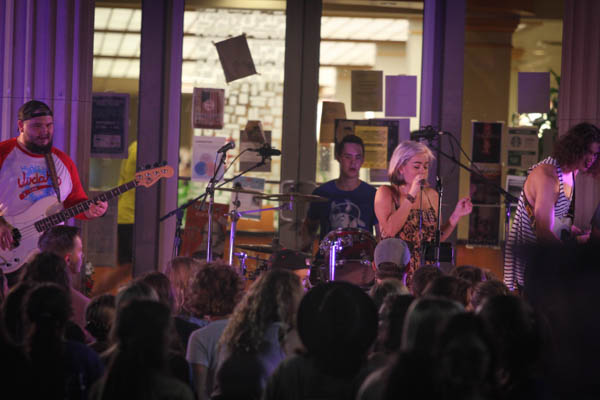 SAB hosted its first block party in Bison Square which included the band Rainey, formed of Lipscomb students. Photos by Ben...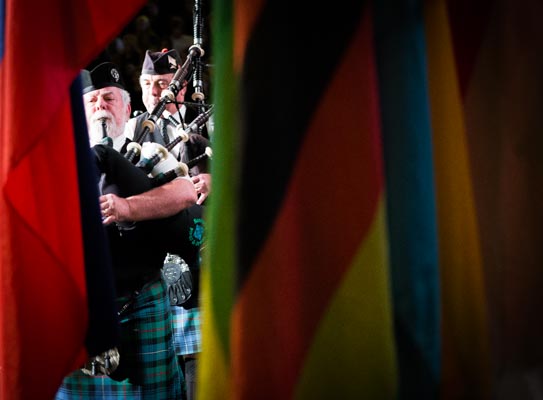 Lipscomb University's President's Convocation took place on Sept. 1, 2015 in Allen Arena, celebrating the start of the 125th academic year. Undergraduate and graduate students from the University and middle and high school students from the Academy were joined by faculty for the celebration. Photos by Erin...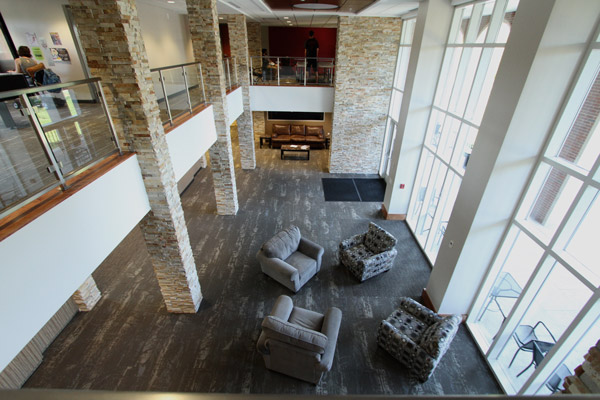 Lipscomb men's residence hall High Rise received a 92-day, $7.5 million renovation this summer. The new hall includes an upgraded HVAC system, new lighting, power and plumbing, additional common areas on upper floors and new finishes and furnishings. Photos by Ben...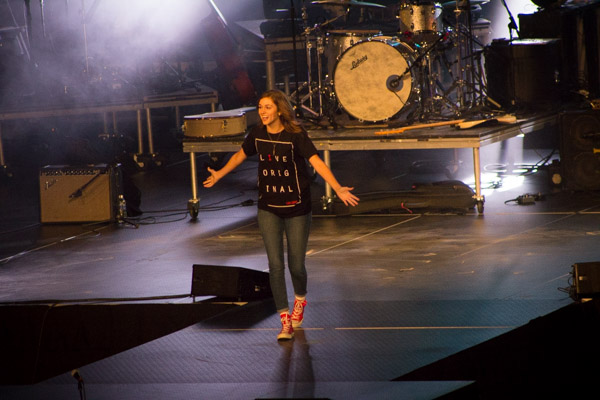 Duck Dynasty's Sadie Robertson hosted the first 'Live Original LIVE' at Lipscomb University's Allen Arena on Saturday Aug. 29, 2015. The event showcased how to "Live Original" in relationships, trials and communities. The conference also featured Christian pop duo for KING & COUNTRY. Photos by Becca Risley « ‹ 1 of 2 ›...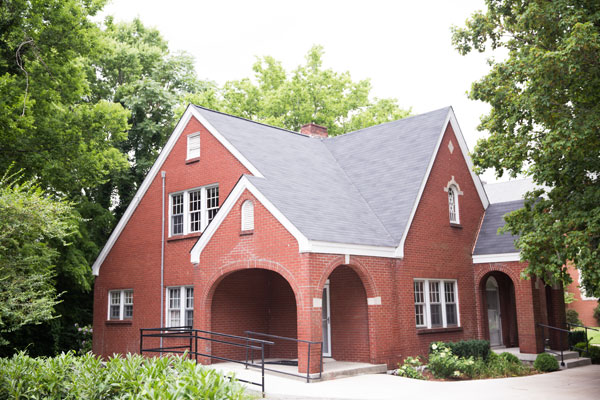 Lipscomb's new Family Therapy Center opened in May and is serving not just Lipscomb's community but all of Nashville. Photos by Erin...