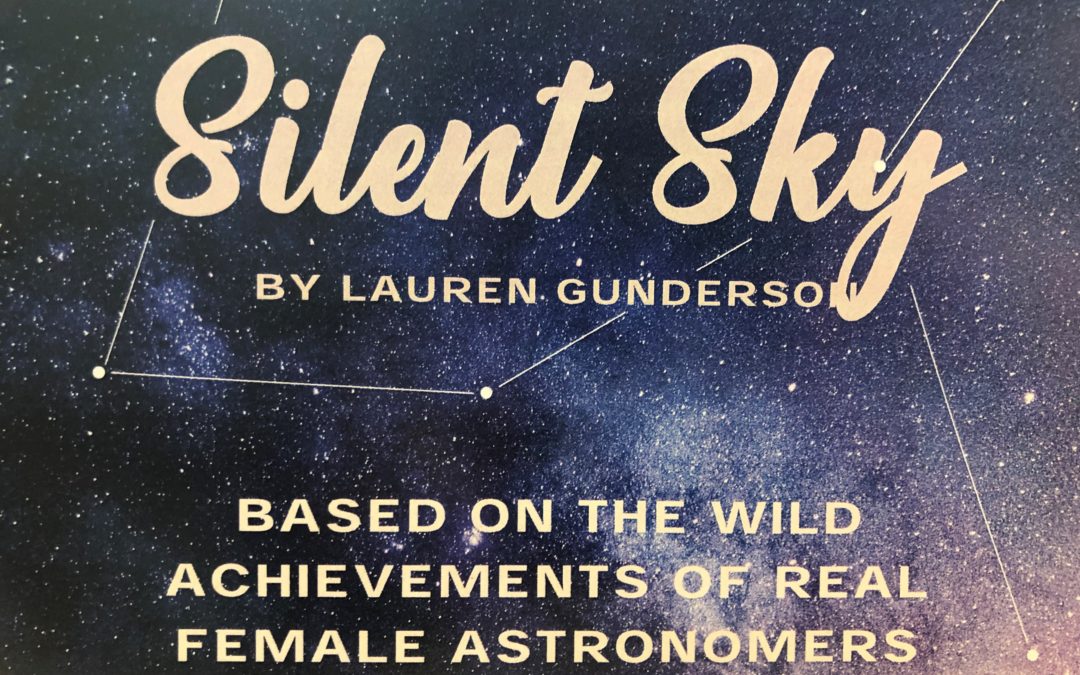 Lipscomb Theatre is hosting several showings of "Silent Sky," which depicts a woman's struggle with balancing her faith and with her love for science. Published in 2015, the play is based on the story of astronomer Henrietta Swan Leavitt. The story takes place in the early 1900s, when Leavitt started working as a volunteer assistant at the Harvard Observatory. Gunderson tells the story of Leavitt and other women who were treated as human "computers" and how they were not allowed to do the same things as men. They were given limited responsibilities and were not allowed to help in "men's work," like using telescopes. In the play, Leavitt is struggling to get recognition as a serious astronomer in her field. For a long time, Leavitt worked on her own to make discoveries. Gunderson shows that despite the obstacles Leavitt and her peers faced within society, with hard work and dedication, they managed to succeed. Lipscomb Theatre Department Chair and Director of "Silent Sky" Beki Baker shared that the reason she chose this play is that she wanted to honor women who never had their moment in the limelight. "It's about cherishing women in our history who have maybe been lost because we just [didn't] know their names and their stories very well," she said. Baker said that even though it is a story based on a historical person, it is still relevant today because this play is about equality and about women's rights. Baker also mentioned that they had not worked with female playwrights often, so she and the Theatre department wanted to make sure they gave different voices...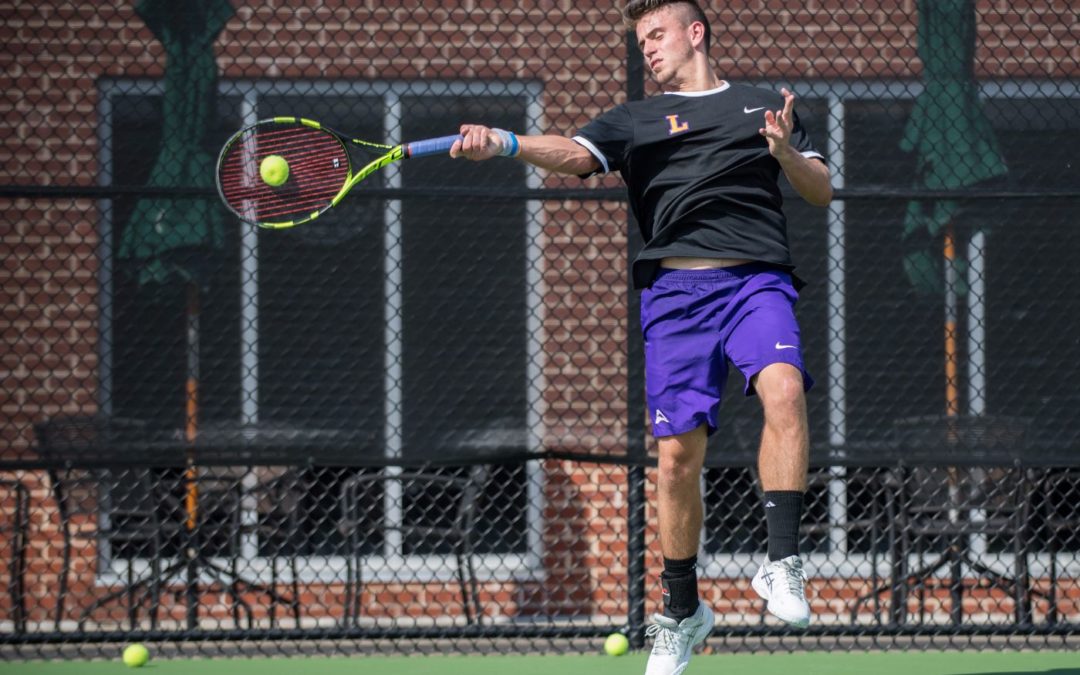 On Saturday night, the Lipscomb men's tennis team defeated the University of North Dakota by a score of 5-2. Lipscomb's David Skrabut, on the sixth line, won his first clinch match for the Bisons to take home the victory. Lipscomb never trailed during the match. "I'm excited for David," Lipscomb coach Geoff Hernandez stated. "To win the last match for your team – it's very important. It's something you gotta break through." On the fifth line, Lipscomb's Jake Penny also got another win while dealing with injuries, giving the Bisons the 5-2 win. The Bisons duo of Victor Chaw and Pablo Caffarena took a win of 6-4 against the Hawks duo of Nejc Sitar and Lukas Buth at the No. 1 spot. The battles in lines two and three were very close, as both teams had to play a tiebreaker set to settle who would get the doubles point. In line two was Lipscomb's Jorge Ortegon and Pedro Uribe against UND's Davide Callegari and Johnnie Carmichael. The match did not end in Lipscomb's favor when Ortegon and Uribe lost the tiebreaker 7-6. However, Bisons Jake Penny and Michael Tougher pushed through and won their tiebreaker 7-6, which gave Lipscomb a 1-0 lead. "Today, we took care of the small things," Lipscomb assistant coach Alejandro Manzanares said. "We started off with the right energy, and as long as we do that, we should always be ahead of any team. "I feel like we should always take care of all the small things so we can start the matches with advantages and the right mindset. That always transitions to the singles...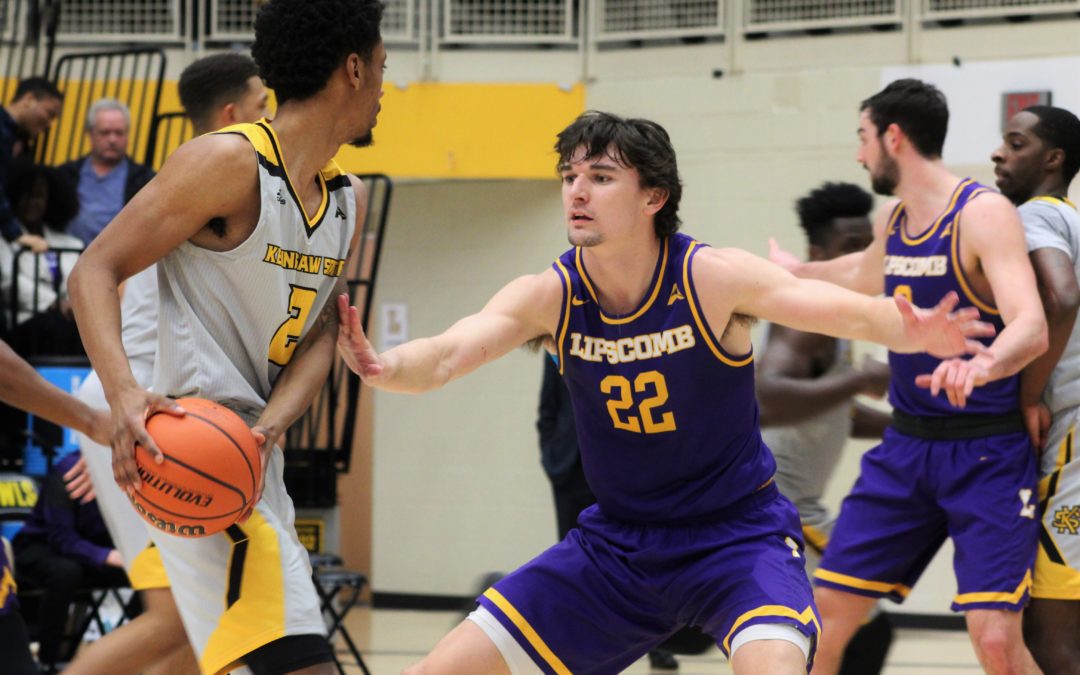 KENNESAW, Ga. — Coming off a tough loss to Liberty earlier in the week, the Lipscomb men's basketball team travelled to Kennesaw State on Saturday to take on a struggling ASUN bottomfeeder. The Bisons (21-5, 12-1 ASUN) were up to the task, as they beat the Owls (5-22, 2-10 ASUN) by a score of 83-67 at the KSU Convention Center. "I didn't think we played particularly great, especially the first half," Lipscomb coach Casey Alexander said. At halftime, the Bisons only led 33-29, with senior guard Garrison Mathews shooting 0-of-7. Lipscomb coughed up nine turnovers and fouled 12 times in the first half. "I think we were ready to play the game," Alexander said. "And then when we didn't get off to a good start, we didn't respond that well. We didn't treat it as if, 'hey, it's just not a good start. Stay with it. It'll happen.' "We got frustrated, got a little selfish, so it took us a while to get out of the funk." But Lipscomb cleaned things up in the second half and made life difficult for the Owls. Kennesaw State had 16 second-half fouls, while Mathews put up 14 points. Senior forward Rob Marberry led the charge for the Bisons with a near-perfect day, shooting 6-of-7 from the field and 5-of-6 on free throws for 17 total points. Junior guard Michael Buckland had 10 points. Senior forward Eli Pepper nearly posted a double-double, garnering 14 rebounds in addition to eight points. He also had a team-leading five assists. The Owls were led by redshirt junior guard Tyler Hooker, who came into the game averaging...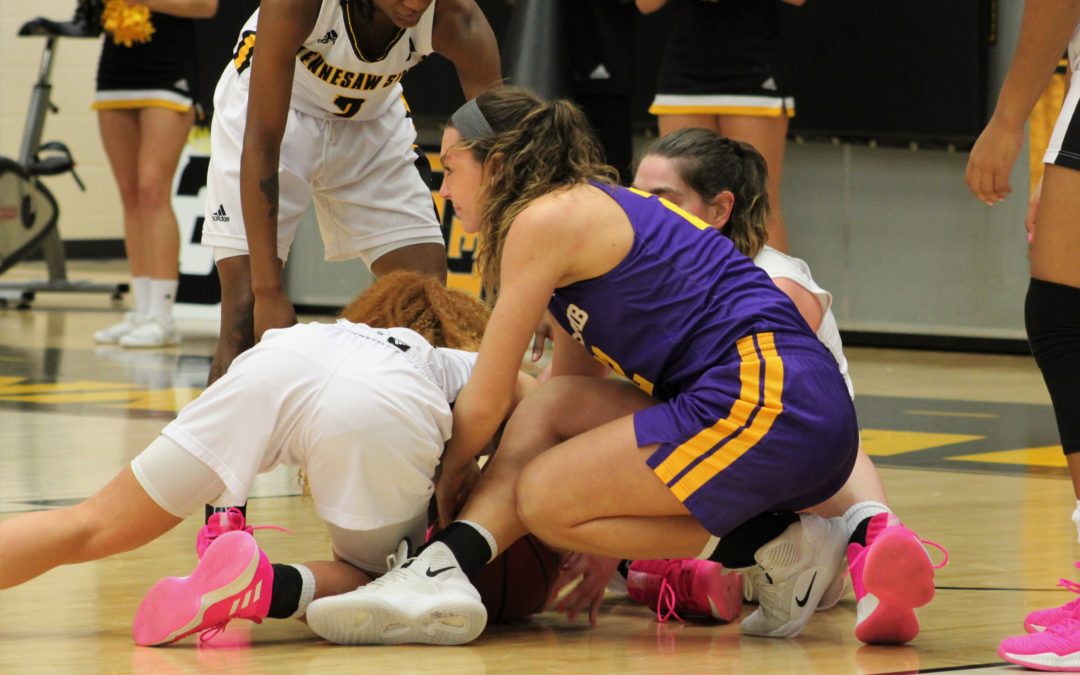 KENNESAW, Ga. – The 2018-19 season continues to be tough sledding for the Lipscomb women's basketball team. Despite a win over Jacksonville last Saturday and a narrow loss to Liberty on Tuesday, the Lady Bisons regressed Saturday afternoon in a 67-36 blowout loss at Kennesaw State. "I did not see this coming," Lipscomb coach Greg Brown said. "I liked what we had done over the last few weeks. We had two very good days off practice [after losing to Liberty]." The Lady Bisons (3-22, 1-11 ASUN) committed 24 turnovers and shot just 23 percent (13-of-57) from the floor. Kennesaw State took full advantage by scoring 26 of its 67 points off turnovers. "The missed shots, especially when you miss shots in the paint, mess up your transition getting back [on defense]," Brown said. "When you have 24 turnovers and shoot 23 percent, it's going to be tough." The Owls led 28-18 at halftime but used a 12-0 run to start the third quarter to pull away from the Lady Bisons. Kamiyah Street had a game-high 25 points for Kennesaw State and routinely burned Lipscomb's defense on fast breaks. Owl guard Amani Johnson also had 16 points. "I just tell them to put energy and emotion toward things you can control," Brown said. "We've done a good job of that, for the most part. But we did not do a good job of that today." Lipscomb freshman Keely Morrow was a bright spot. The forward followed up her 22-point performance at Liberty with a team-high 17 points and seven rebounds. "Keely's had a great few weeks," Brown said. "Things are...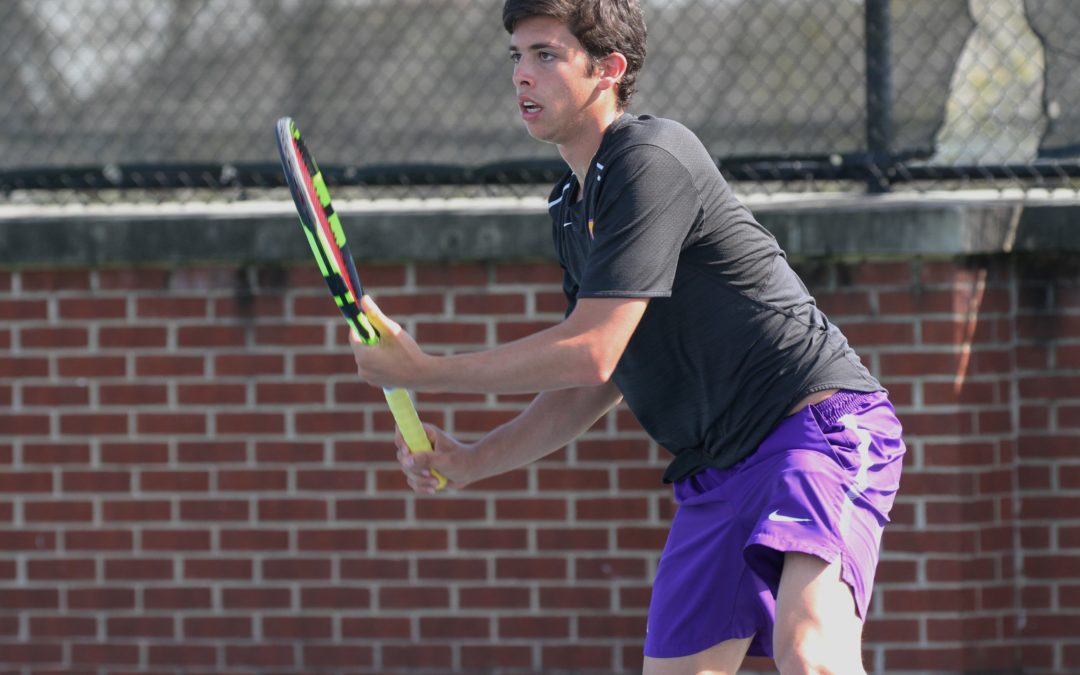 The Lipscomb men's tennis team lost against the University of Tennessee at Chattanooga on Friday night at the Richland Country Club. The Bisons (3-4) were able to get the lead at the beginning of the night when they won the doubles point. In line one, Lipscomb's Victor Chaw and Pablo Caffarena were the first to finish their set and lost 6-3 to UTC's Kerim Hyatt and Simon Bustamente. Jake Penny and Michael Tougher, playing for the Bisons on the third line, won 6-4 in their doubles match against the Mocs' Jacob Marshall and Pablo Llebeili. Shortly following, the Bisons' Jorge Ortegon and Pedro Uribe, in line two, delivered the winning point against Niklas Gerdes and Tomas Rodriguez 7-6. This gave Lipscomb the lead at 1-0. "I think it was important that line three finally came together," Lipscomb coach Geoff Hernandez said. "For Michael to get his first win and Jake to work his way through the injuries and compete, it makes us feel that we're not just going to win at two lines, but we're going to win at every line, so I thought [their win] was really big." Although the Bisons were off to a good start for themselves, they were unable to keep their lead in singles play. On the first line, Lipscomb's Chaw lost both of his sets 6-1 and 6-4 to UTC's Gerdes, which led the Bisons to losing their lead and setting the score at 1-1. Uribe, on the fourth line, was able to get the lead back for Lipscomb with a win from his three-set match against Bustamante. Uribe lost the first set...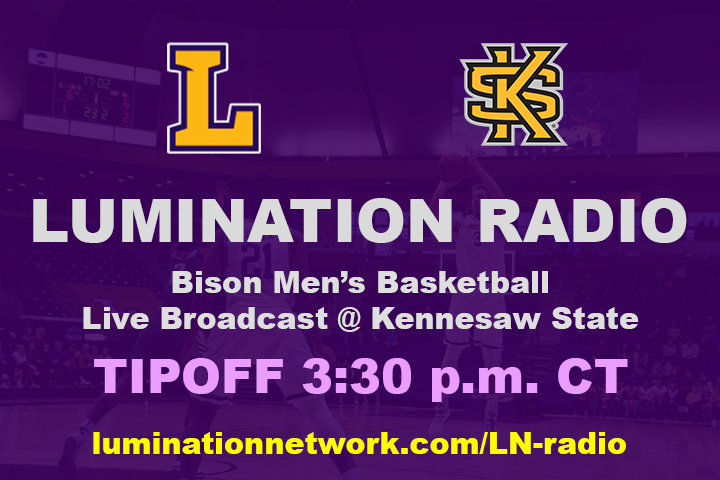 Lumination Radio is set to hit the road Saturday afternoon, as it will be carrying a free live broadcast at Kennesaw State at 3:30 p.m. central time. Spencer Boehme will be on play-by-play, and Russell Vannozzi will be on color. You can access the free stream here. After falling to Liberty on Wednesday night, the Bisons (20-5, 11-1 ASUN) look to rebound against Kennesaw State (5-21, 2-9 ASUN). The Owls lost 86-57 last time the two teams met on Jan. 21. The Bisons are led by senior guard Garrison Mathews at 19.8 points per game. Redshirt junior guard Tyler Hooker leads the Owls with 18.8 points per game. For more information, follow Lumination Network on Twitter @luminatinnet and Lumination Radio...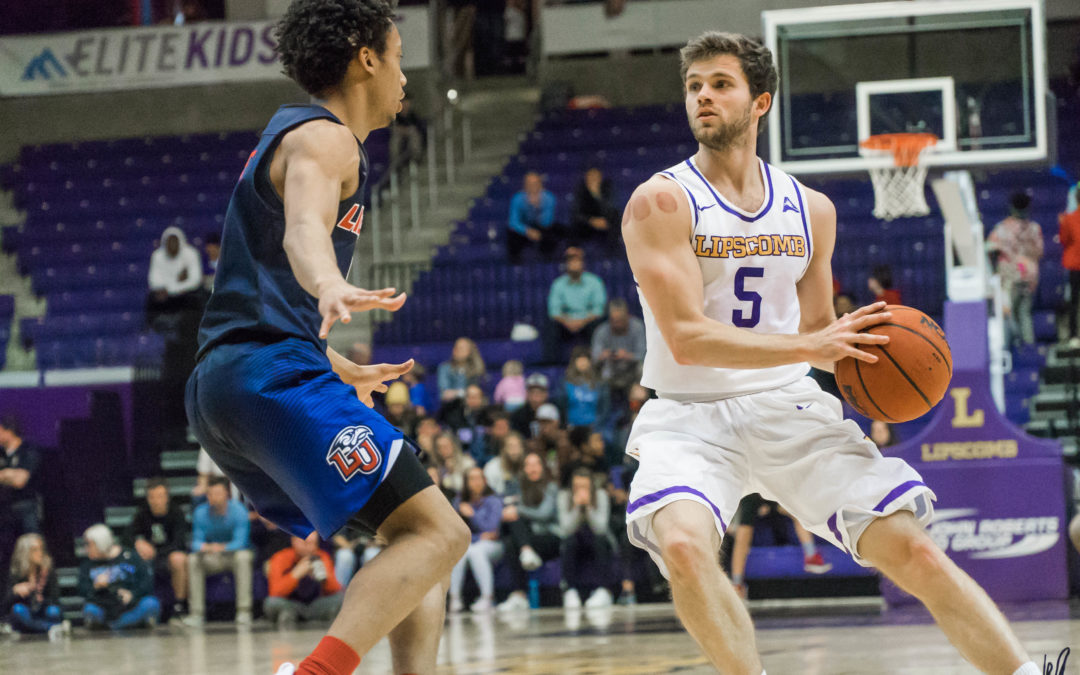 The Lipscomb men's basketball team just hit a speed bump in what has otherwise been a near-perfect season. After the Bisons handed Liberty a 79-59 defeat in Lynchburg, Virginia on Jan. 29, the Flames returned the favor by escaping with a 74-66 victory Wednesday in front of 3,437 Allen Arena fans. "The only thing to do is tip your hat to [Liberty]," Lipscomb coach Casey Alexander said. "Our teams are comparable… we're both efficient at what we do. They were just better." The loss was Lipscomb's first in ASUN play and snapped an 11-game win streak. The Bisons (20-5, 11-1 ASUN) had not lost since Dec. 30 at Clemson (84-67). Full story by Russell Vannozzi here. « ‹ 1 of 3 › »...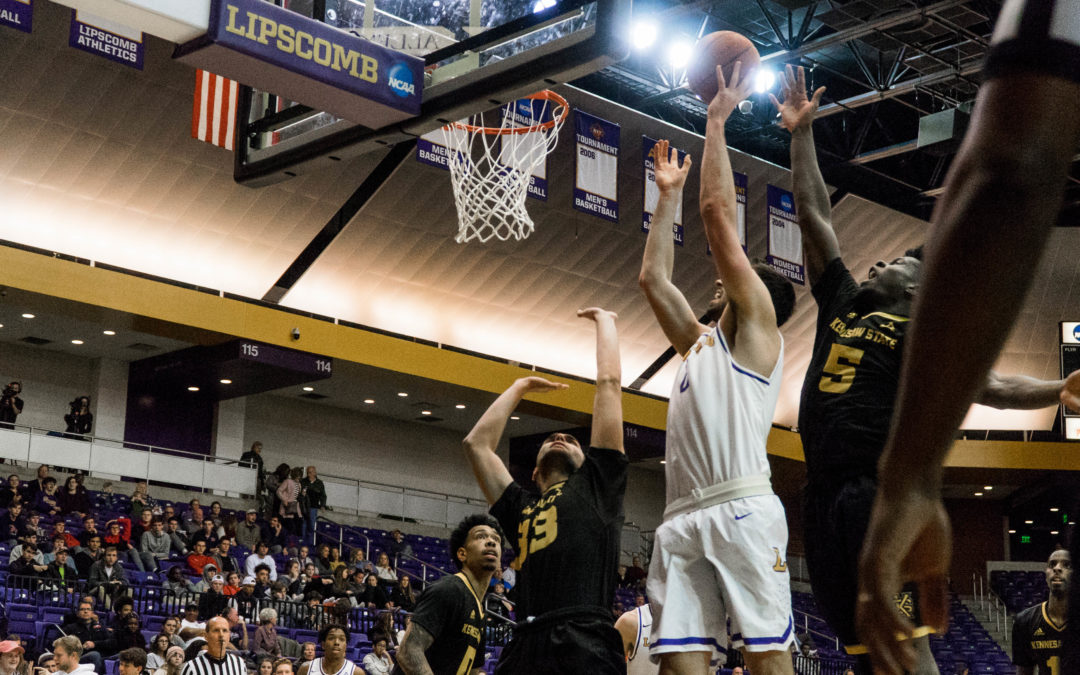 The Lipscomb men's basketball team continued to steamroll through the ASUN as the Bisons grabbed an 86-57 win over the Kennesaw State Owls in Allen Arena Monday night. The Owls (3-17, 0-5 ASUN) kept things a bit too close for comfort for Lipscomb at first, but the Bisons (14-4, 5-0 ASUN) broke away in the second half to stay perfect in conference play. "[You've] gotta be prepared for everything," Lipscomb coach Casey Alexander said. "And I felt like our guys handled the game where we never really played with great rhythm but still [won] by 29." Read Spencer Boehme's full recap here. Photos by Mckenzi Harris « ‹ 1 of 3 ›...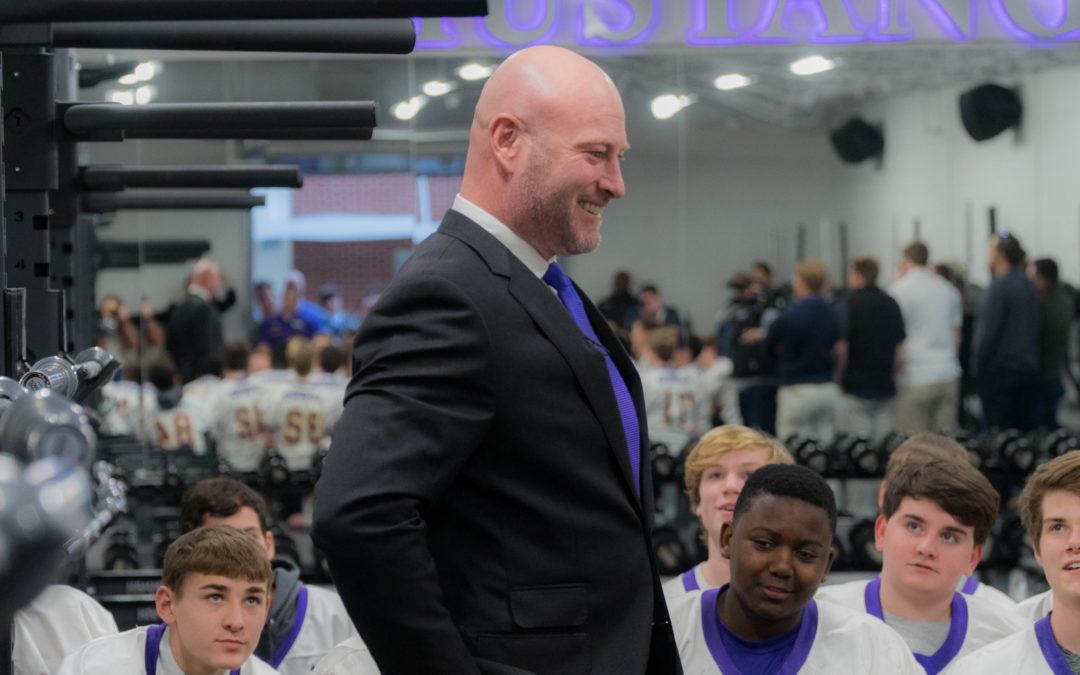 Former NFL quarterback Trent Dilfer will soon be on Lipscomb Academy's payroll. Dilfer was named the Mustangs' next head football coach at a press conference Friday afternoon. 104.5 The Zone afternoon host Brent Dougherty originally reported the news on Twitter earlier in the day. "This is a calling," Dilfer said. "When God does something this weird in your life, you never doubt it. This isn't a career move." Read Russell Vannozzi's full story here. Photos by Mckenzi Harris « ‹ 1 of 2 ›...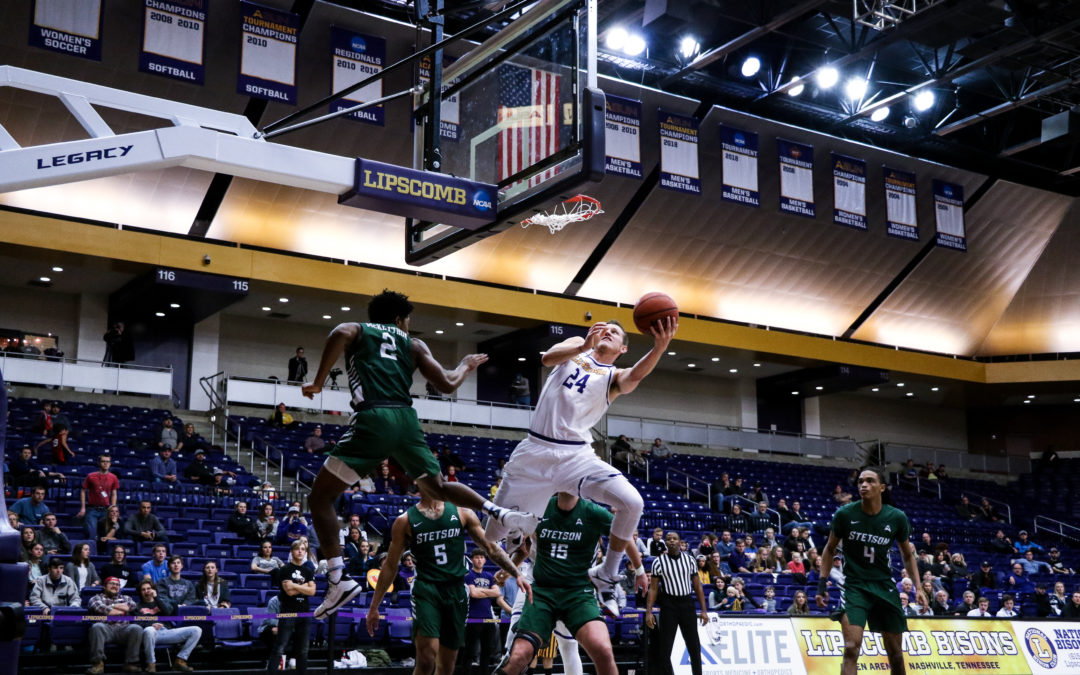 Senior guard Garrison Mathews is rewriting the Lipscomb basketball record books. Thanks to a 20-point performance against Stetson on Saturday, Mathews eclipsed the 2,000-point mark for his career and passed Adnan Hodzic (2,002) as the school's leading scorer in the NCAA Division I era, which began with the 2001-02 season. "I struggled my freshman year, and I didn't think I'd be at this point when I got here," Mathews. "I knew I had to work hard, and I did. I've got great coaches and teammates that have helped me along the way." Read Russell Vannozzi's full recap of the game here. Photos by Erin Franklin « ‹ 1 of 2 ›...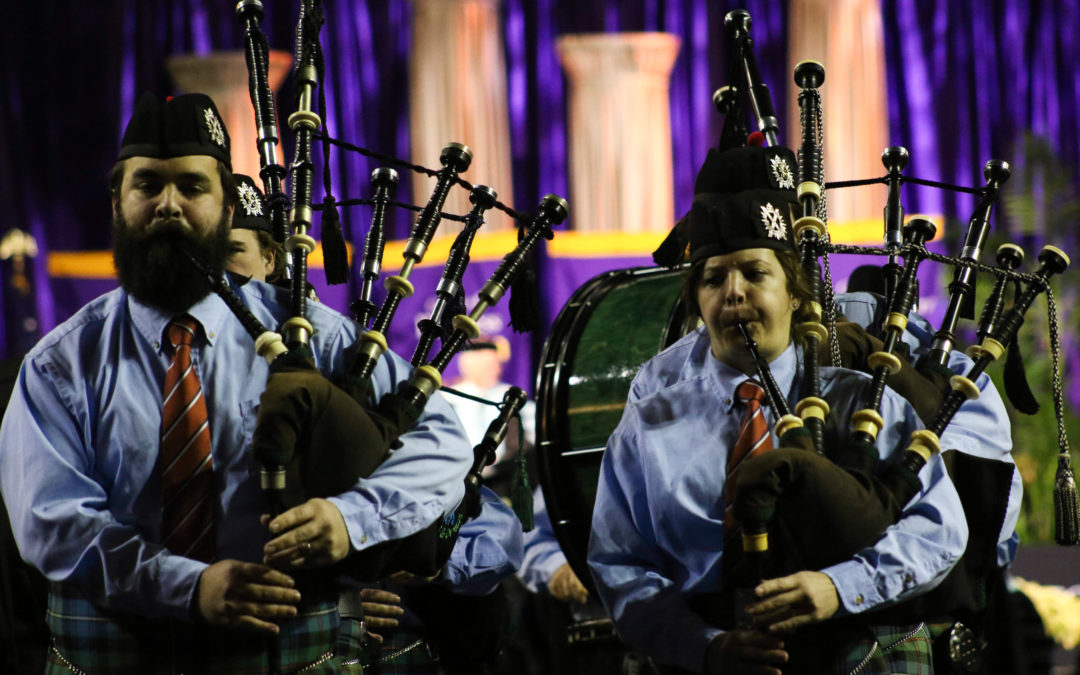 Lipscomb awarded over 400 diplomas at its 2018 December commencement in Allen Arena on Saturday afternoon. Three of these degrees awarded were to students completing the online degree program for the first time in university history. President Randy Lowry gave the charge to the students, offering his perspective on how the graduates are leaving armed with new knowledge and experience, as "products" of the university. "You came four or five or six years ago as a consumer, having looked, perhaps all over Nashville…maybe all over the country, for the college that you would call home," Lowry said. "…The reality is you had many choices as a consumer, but something caught your attention about this community. One of the amazing things that has happened, perhaps not as profound as you will someday appreciate it, is that you came as a consumer, but you leave as our product." Read the full story about commencement here. « ‹ 1 of 3 › »...