Battle of the Sexes chronicles the infamous tennis match between Bobby Riggs and Billy Jean King in 1973.
Academy Award winner Emma Stone plays King and Academy Award nominee Steve Carell plays Riggs. This star-studded cast also includes Elisabeth Shue, Andrea Riseborough, Austin Stowell and Bill Pullman.
Directed by Jonathan Dayton and Valerie Faris, the film follows one-time Wimbledon champ Bobby Riggs who, now age 55 and ever the gambler, challenges 29 year-old King, currently the No. 1 women's tennis player, to a tennis match. Riggs claims he can easily beat King because she is a woman. While King initially turns Riggs down, she ends up taking his challenge, not to merely add another win to her record, but to take a stand for women's equality and the liberation movement.
Stone is inspiring as King, and Carell is charismatic as Riggs. Together, they bring an effective portrayal of the sports rivalry to the big screen.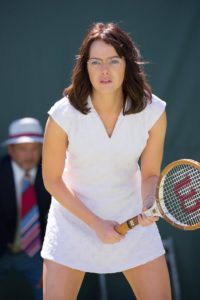 You could watch this film just to witness the banter between Stone and Carell, which is the perfect showcase of their expert acting chops and comedic timing. It brings a light and entertaining tone to the movie that at times can also be very dramatic.
This drama is brought to life from the very beginning, when we are introduced to the main characters, and quickly uncover both King and Riggs have their share of issues. For Riggs, it's a bad gambling problem that has led to problems with his wife and family life. For King, it's being a married woman who is discovering she is falling for someone who is of the same sex.
While the trailer suggests the movie is very much a comedy, producing many laugh-inducing clips, there are many dramatic and poignant scenes as well. King and Riggs' relationship complications bring a serious tone to the film, and many of those scenes are probably the main reason it has been rated PG-13.
Throughout the 121 minute movie, my interest ebbed and flowed. Leading up the match, the pace of the movie was at times a little slow. I completely understand the need for character back-story prior to introducing the main event, which in this case was the tennis match, but in execution, there was too much excess to the back story.
However, once King accepts Riggs offer to the competition, the excitement returned, and I found myself drawn back into the film. This might have been because Stone and Carell then had more scenes together, and their chemistry was hands-down the best part. 
All in all, Battle of the Sexes had a slow beginning, but ended as a successful venture in re-enacting the entertaining battle on the tennis court that made headlines in 1973.
Rating: 3/4
Photos courtesy of Twentieth Century Fox