I really don't think there is anything Brad Pitt can't do. While some uneducated film-goers may write him off as one of Hollywood's hollow "pretty boys", most film lovers recognize that Pitt is one of the best actors in cinema right now. In Moneyball (based off the novel Moneyball: The Art of Winning an Unfair Game), Pitt takes the reigns and delivers a fantastic performance as Billy Beane, the GM of the Oakland A's.
Billy Beane's life revolves around baseball. He, in his glory days, was a star baseball player who was taken into the major leagues right out of high school. Beane's journey in the major leagues drives his desire for success. Now the manager for a mediocre o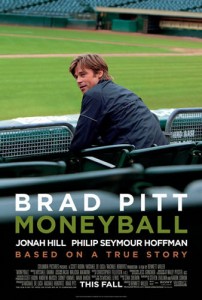 rganization, he loses  three major players and looks ahead to the future. His world is turned upside down when he meets Peter Brand (Jonah Hill). Brand, a scout for a rival organization, has a method of baseball that will change the method of scouting (and baseball) forever. Beane is quick to take Brand away from his old job and offer him a position with the A's. The duo work together to craft a great team on the A's meager budget and prove their naysayers wrong.
The film follows the A's 2002 season, as well as gives a striking character study of Beane. This is not just a movie about baseball. This is an engrossing look into the life of a man who is willing to do everything he can to be successful, even if it means approaching a radical method of carrying out business.
The film itself depends on Pitt's performance. Nothing against the other cast, but this is the Brad Pitt show. Pitt brings an energy to the role that has become a signature in most of his performances throughout his career. His no-nonsense, spitfire-laced Beane is always a treat when on-screen. He manages the drama with the witty quips. I definitely expect an Academy Award nomination once the award season gets rolling.
Besides Pitt's magnificent performance, the audience is treated with the realization that Jonah Hill isn't just a funny guy. While he does get a few moments of humor, Hill brings a dramatic turn to the table. I was glad to see Hill step out of his comfort zone and offering a solid performance. I will reiterate the general consensus that Pitt and Hill are fantastic on-screen together.
Philip Seymour Hoffman doesn't have a huge role here as Art Howe (manager for the A's), but as usual, he brings it whenever he's on screen. As a huge Parks and Recreation fan, I was thrilled to see Chris Pratt in a major role as the A's first baseman Scott Hatteberg. It's also important to note that former Lipscomb baseball player Casey Bond also has a major role as Chad Bradford, the A's pitcher.
On the other side of the camera, I have no complaints. Bennett Miller's direction works wonderfully for the film. The screenplay (written by recent Academy Award winner Aaron Sorkin and Steve Zaillian) isn't as flashy and memorable as Sorkin's previous effort The Social Network but still manages to be captivating and effective. I must also note long-time Christopher Nolan collaborator Wally Pfister's cinematography. I'm a huge fan of Pfister, so I'm glad he shot the film. As usual, Pfister's work is nothing short of amazing.
Moneyball is easily one of the year's best films due in large part to Pitt's memorable turn as Beane. It's, in this reviewer's opinion, a grand slam.
Film GPA- 3.8 out of 4