If there was ever a person who epitomized the term "student-athlete," it would be Carson Panovec.
The senior molecular biology major has kept busy by playing tennis for the Bisons, working as a member of Lipscomb's Presidential Ambassador Council, serving as Vice President for Student Government Association (SGA) and recently being elected as SGA President for the upcoming 2017-2018 school year.
"I don't watch a lot of TV," Panovec joked.
The Tennessee native played for the Bisons his freshman, sophomore and junior years, but after this past season decided that he wouldn't be returning to the court his senior year because the student body elected him as SGA President.
"I wouldn't be able to play tennis and be SGA President and do a good job at both, so it'd be a disservice to both of them if I tried to," Panovec said. "Running for SGA President, I was like, 'All right, if I get this, I'm not going to be able to play next year.' And I got it."
In high school, Panovec was homeschooled and attended a homeschool tutorial (a one-day-a-week class cooperative). Although because of this he didn't serve on a traditional SGA in high school, he served on a Student Leadership Council, which focused on creating a service-oriented environment.
He came to Lipsomb partially because it had always been his dream to play Division 1 tennis. His older sister played tennis at Lipscomb as well, and although he considered attending Harding University, he ultimately decided that Lipscomb was the place for him.
This was part of the reason it was such a hard decision to stop playing tennis his last year of college, but he said he is looking forward to having a little more free time and being able to devote himself fully to SGA.
"There's still some things I'm going to miss," Panovec said. "It was pretty emotional, just end of the year — last practice, telling the guys, telling the coaches — but I couldn't have asked for a better end to a season, and to a career."
This past spring, the tennis team wrapped up the year with its first appearance in the ASUN Conference Tournament Finals, and Panovec finished his last season playing for the Bisons, although he said he still plans to go cheer on his teammates next year.
"It was just an incredible trip," Panovec said. "We won the match the morning of at 4 a.m. because we didn't start until 11:00 the night before. It was incredible, and just one of those things you're just never going to forget. It was a great way to go out."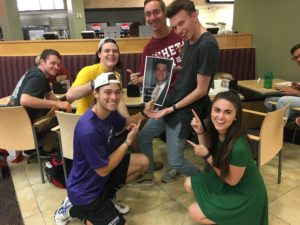 Looking towards the future and in terms of his goals as SGA president, Panovec, who has served on SGA since his sophomore year, said he really hopes to focus on advocating for students — whether that be trying to work with administration to provide students with a Bible minor due to the number of Bible classes students have to take, or something easy like "adding teriyaki sauce in the caf — if that's what students want."
"Getting things from students and getting quantifiable data, and then taking that to administration and building relationships with that, being a channel for conversation between students and administration, is what students want," Panovec said, adding, "to have a voice there."
Ultimately, Panovec said he wants to focus on bridging a stronger relationship between students and administration, and to do justice towards this goal, he realized that he needed to find a good balance, even if that meant dropping tennis his senior year.
"Last year, I figured out that I had hit the wall of what I could do," Panovec said. "I am human, and I couldn't do everything, even though I wanted to. My prayer was that God would put me in the right place, and that He would put the right person in office, and then if that isn't me, I don't want it, but if it is me, I'm going to do the best that I can and bless this school.
"And He put me there, and I'm super excited to see what He can do through me and SGA."