Whether she's pitching from the softball mound or spiking the ball on the volleyball court, Lipscomb's Chloe Rogers feels right at home as part of a team.
"Just relax, play the game, you've played it your whole life, just have fun with it," Rogers told herself as she joined the Lipscomb softball team last spring after finishing her senior season playing for the Lipscomb volleyball team.
Rogers came to Lipscomb from Overland Park, Kansas, where she played volleyball and softball for Blue Valley High School as well as travel club teams.
Her love for each sport started early thanks to both her parents, Jennifer and Richard Rogers, who also played college sports. Her mother played volleyball, and her father played baseball. When college came around, however, Chloe had to choose one or the other.
"I was super undecided going into the college recruiting process. I loved both the same," Rogers said. "So recruiting came around, and I was getting more interest for volleyball; and I think that kind of helped with the recruiting process because it seemed more appealing when people were after you."
Volleyball won in the end, and she became a Bison under head coach Brandon Rosenthal. At the time, she thought that would be the last time she would play competitive softball, and she knew she would miss it.
"I made the right decision," Rogers said. "I love volleyball, and if I had to do it again, I'd do it the exact same way; but it is kind of like leaving a little part of you behind."
Chloe would get her chance to play again after meeting head coach Kristin Ryman of the softball team. Ryman had already been told about Rogers by Rosenthal since he knew Rogers had a background in softball as well. Having played volleyball and softball as a Bison herself, Ryman knew what kind of effort and talent was required to be a two-sport athlete.
"That's a little unusual to see someone that's played club volleyball and travel softball because it's just tough," Ryman said. "It's neat, too, because those are the two sports that I played, so it resonates really well with me."
One day after practice the volleyball and softball teams crossed paths in McQuiddy Gym, and Rogers got a chance to showcase what she could do from the mound.
"Brandon was like, 'let her throw you a little bit,'" Ryman said. "So she just kind of threw a little, messing around, but it was like, she's got some stuff here."
Chloe remembers the day and thinking at the time that it was just something they were doing for fun. She never thought that down the line it would eventually lead to her return to softball.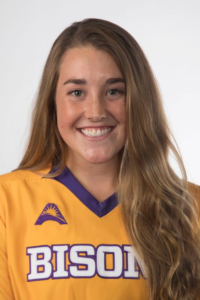 "I pitched for her, and she was kind of impressed," Rogers said. "But I didn't think anything of it at the time."
As her senior season of volleyball came around, Chloe saw that she would have the spring semester free since volleyball would be over. She had always had an interest in going to grad school and playing a fifth year, so before volleyball season even started, she reached out to Ryman about participating in practices with the team that spring.
"We made sure she knew, you know, 'you may do all this work and then never throw an inning. Are you okay with that?'" Ryman said. "She said that she was, and that meant a lot to me. That told me she's really in this for the right reasons."
Ryman and the rest of the softball staff thought about it and decided to bring Rogers onto the team, but they also had found out that she could play that spring without affecting her eligibility the next year. Rogers had a decision to make.
"Senior spring is usually relaxing, like you're a normal student for a while. I was looking forward to that," Rogers said. "But once the opportunity arose, I thought, you know, maybe I should go for it. You only get to do this once, and I won't get to play college sports ever again."
It was decided, and Chloe Rogers officially joined the Lipscomb softball team.
It is difficult to be a new member of an established team, especially coming in as a senior, but the skills and leadership she developed from her years of college volleyball were something the team would benefit from.
"It's kind of neat to have another perspective," Ryman said. "Someone that hasn't been around the program but has enough maturity about them as a leader to be comfortable enough to speak up in tense moments or moments of adversity. The respect for her grew quickly because of some of the things she said early on."
Chloe had missed the past four years with this team, and knew she wouldn't be thrown out onto the diamond right away; but she still thought there was something she could bring to the team.
"A team is a team," Rogers said. "With all sports I knew the two things you can control are attitude and effort. That was something I was gonna try to bring."
Ryman sees this coming from Rogers as leadership and enthusiasm. So much enthusiasm that they gave Rogers the nickname "The Enthusiast."
"I think the girls see that joy that she brings and the fun and the energy," Ryman said. "She's that player. She's our enthusiast."
Rogers got her first start against Buffalo last Thursday and pitched for five innings. She struck out five and only gave up two runs before being relieved by Katie Turner. Lipscomb won the game, but Chloe wasn't credited with the win.
"It's pretty tough to lay off for four years and then all of a sudden come back and pick it up at this level," Ryman said. "To come out here and actually throw against D-I teams, and quality teams at that, it's a pretty cool story."
Rogers graduated in the spring of 2018 with a degree in dietetics and is currently in grad school for exercise science and nutrition science. After she graduates, she hopes to get a job working with children.
"I've always had an interest in working with kids," Rogers said. "I just feel like I'm a kid at heart."
She also plans on doing a dietetics internship next year while finishing her masters by taking night classes.
Photos by Lipscomb Athletics