The stage was set for the ASUN men's basketball championship game on Sunday afternoon.
After a stormy Saturday, the sun came out and fans began filling Allen Arena to watch the No. 1 Lipscomb Bisons (25-7) take on the No. 2 Liberty Flames (28-6).
And then Lipscomb lost a heart-wrenching, back-and-forth contest, 74-68.
"It was an unbelievable day," Lipscomb coach Casey Alexander said. "And I'm proud of our team for being in a position to host this game, and I love the Lipscomb people who showed up and made it a great day for us."
5,607 fans showed up to the sellout game, setting a new Allen Arena record. It was difficult to find an empty seat, and the raucous crowd made itself seen and heard. 
Instead, Sunday's game featured towel-waving fans in a nationally televised game that lived up to its expectations.
"I think the ASUN won tonight," Liberty head coach Ritchie McKay said. "That crowd was terrific. That was a great atmosphere."
The big question is: can Lipscomb continue to fill its arena? 
First, we have to acknowledge the fact that Sunday's game was special and doesn't happen every day. That makes my answer an immediate 'no.' Second is the fact that Lipscomb lost on Sunday.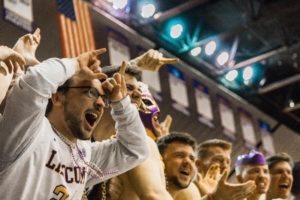 That's not to diminish the novelty of Sunday, especially when you look at the Bisons' recent attendance boosts.
Starters Kenny Cooper and Michael Buckland will be seniors next season. Redshirt freshman Ahsan Asadullah played some solid basketball on Sunday with eight points, nine rebounds and two steals. The fans loved watching him.
Overall, there are a lot of bench players who could potentially make an immediate impact after serving as understudies of this year's starters.
The upcoming recruiting class is equally as exciting, including K.J. Johnson and a three-star recruit and the leader scorer across Tennessee high school basketball.
Fans may also get to see Lipscomb's team suit up in Allen Arena yet again when the NIT starts in 10 days. 
"That's more time with the guys I love," Cooper said. "That's more games that I can play with this guy over here [senior Garrison Mathews]. I mean, that's the greatest player I've ever played with."
If Lipscomb does host, will 5,000 fans show up? Probably not.
That would still be a pretty big event for Allen Arena, especially if Lipscomb could win an NIT game at home. But a win over Liberty would have made Sunday the storybook tale Lipscomb fans would have remembered for decades.  
"It was awesome to play in front of a home crowd like that," Lipscomb senior Garrison Mathews. "We've been in situations where there's been even bigger crowds, so I think we have experience with that aspect. It was unfortunate that we lost. We played great and [Liberty] did as well, it's just how it happened."