Goodbye Christopher Robin chronicles the relationship between author A.A."Alan" Milne and his son, Christopher Robin "Billy" Milne, who inspired the beloved children's books, Winnie the Pooh.
Directed by Simon Curtis, the biography-drama, which stars Domhnall Gleeson, Margot Robbie and Kelly MacDonald, offers a poignant look into the life of a family impacted by the children's book's success.
In the beginning of the film, viewers meet Alan Milne (Gleeson), a successful playwright living in London's West End in 1916. Alan, who has just returned from fighting in World War I, is clearly haunted by his time in service and suffers from shell shock.
Alan's wife, Daphne (Robbie) decides the way to cheer him up is to have a child, but she is left distraught when she has a son instead of a daughter, telling Alan she refuses to get attached to a child who will just be sent off to fight in a war later.
Initially, both parents are distant with their new son, Billy, leaving him in the care of his nanny, Olive (MacDonald) while jaunting off on holidays and attending social events. But, when Alan's PTSD from the war becomes too much, he moves his family to the English Countryside to start fresh and live a more relaxed life.
When the opportunity arises for Alan to get to spend some time with Billy, the father and son begin to bond, and, through their adventures together, inspiration strikes for Alan's next work, Winnie the Pooh. The stories immediately become a hit, bringing enchanting tales of comfort to post-war England, but as Winnie the Pooh reaches world-wide success, it takes a major toll on the family.
From the opening shot, I was mesmerized by this film. The very first image the audience sees is of a glistening, sun-drenched forest, which conjures up thoughts of Winnie the Pooh's Hundred Acre Wood.
Visually stunning cinematography like this appears throughout the movie, perfectly capturing everything from the vibrant, hustle and bustle of high-society London to the magical English countryside where Pooh and friends were dreamed up.
As someone who was raised on the classic tales, I greatly appreciated and enjoyed the little moments throughout the film that offered insight into how certain characters or details from the stories were conceptualized and brought to life. Scenes like little Billy having a tea party with his stuffed animals, Pooh Bear, Tigger, Piglet and Eeyore, are sure to bring a smile to your face.
Even though the biography-drama has joyful moments, at times it is also very dark, mainly due to the unsettling flashback images to Alan's time in the war and the gloomy moments where his family is struggling. Many of these moments are broken up by bits of humor — be advised that this film is a tearjerker.
Though the film is rated PG and is a story that revolves around Winnie the Pooh, I would not advise it for younger fans.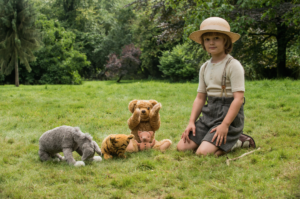 The character's are complex, and yet, easy to connect with. Domhnall Gleeson shines as Alan Milne, perfectly capturing the author's many struggles — from the tortures of dealing with life after war, to trying to be a good father and successful writer.
Margot Robbie is a force to be reckoned with as Daphne Milne, a character not very likeable as a distant mother, but someone you still feel for.
Will Tilston is absolutely delightful as young Billy and will tug at your heartstrings from the second he appears on screen.
While a large portion of the film covers the time period of Billy's childhood, there is a large time jump in the script between his younger years and when he is signing up for the war as a young adult.
There could have been more insight into the years in between, especially after you see the condition of his relationship with his father as an adult. That being said, the movie wraps with a touching scene in the end that manages to tie everything together.
Whether you grew up reading the tales of Winnie the Pooh and are curious about the man who created them and the boy who inspired them, or you are just in the mood to see an artistically exquisite film, Goodbye Christopher Robin is one you will not want to miss.
Rating: 4/4