Started by two best friends at Belmont University, "Delight" is a unique women's ministry with a message that reached down the street to Haley Gilliland at Lipscomb University.
A sophomore at the time, Gilliland said she felt God nudge her towards pursuing this group of girls, and she wanted to get involved yet also be able to lead. During her study abroad experience, God pushed Gilliland to share her thoughts about starting a Delight chapter with other girls on the Lipscomb global learning trip.
"While I was in Vienna, the girls on the trip really encouraged me to get involved in the ministry when I returned back to America," Gilliland said. "I wanted to bring it to Lipscomb because we didn't have anything like it on campus, and at that point, it was at every college in Nashville. I wanted a safe place for girls to come and share their struggles with one another in a judgment free place where we could connect with each other."
When Gilliland returned to the United States from being abroad, she assembled a team of girls, ranging in ages, ethnicities, backgrounds and friend groups to establish the Lipscomb chapter of Delight Ministeries. Lipscomb Delight was founded as a place for new students to find community and for upperclassman students to have a loving and Christ-focused space to explore everyday struggles, and it quickly became a part of several girls' lives on campus.
Gilliland prefaced her experiences of working with Delight by noting that she doesn't want people to think she is perfect or has it all together, but through everything, she still struggles and learns from her mistakes every day.
"Delight has without a doubt changed my relationships, and most importantly, my relationship with God," Gilliland said. "It has ignited a spark in my heart that I can't imagine my life without because it gives me a sense of purpose."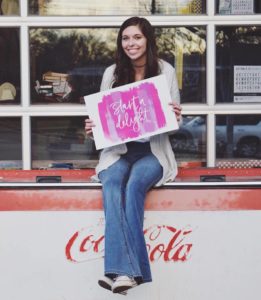 Once Gilliland began to see the fruit of her labor within the Delight group, she said she knew it was time to take it a step further. This prompted her to join the Delight HQ team in Nashville for the summer, and, due to her contribution to Delight, she was asked to aid in creating a Delight book for high school girls. As an intern this summer, she will be working alongside the two girls that started the original Bible study.
"They both have played major roles in my life as mentors since my sophomore year of school," Gilliland said, "And I am daily inspired by their hard work and Christ-like attitudes.
"Since Delight began, I have uncovered this burning passion I have for ministry, specifically to girls," Gilliland said. "I've learned that vulnerability is one of the keys to having a firm relationship with God. You can't grow unless you are willing to open your heart up to whatever God has in store. Unfortunately, this isn't always an easy task, which is why I love the community Delight has to offer. It's safe, inviting and reassuring to know you aren't alone in whatever you go through."
Through her journey with Delight, Gilliand noted that a lot of good has come from her experience, but it hasn't always been easy, yet she believes it has been more than worth it.
"I felt Satan constantly attacking me and the girls on the team. He attacked my relationships, my attitude and threw doubt into my head," Gilliland said. "But the power of prayer is so strong. I have met so many incredible people through Delight, and I can't wait to see what God has in store for it my senior year."