NASHVILLE, Tenn. — Lipscomb announced Monday that Rhodes College head coach Lauren Sumski has been hired as the new women's basketball coach. Lady Bisons fans were formally introduced to the former D-III coach at a welcoming conference Tuesday afternoon in the Hall of Fame room.
"There were many candidates that we had," Lipscomb athletic director Philip Hutcheson said. "High school, college, all levels, people from all over the country who were interested in the job. And I think that's a credit to the Lipscomb community."
The biggest takeaway from Sumski's introduction is how noticeably enthusiastic and energetic she was from the get-go.
"I'd be remiss to not thank Jesus Christ, my Lord and Savior, for allowing me to be here," Sumski said. "I'd be remiss to not thank President Lowry and Hutch, as they affectionately call him."
During what was a brutal 2018-19 season, the Lady Bisons began the year with a 2-1 record. They followed that with 19 straight losses before scraping a couple conference wins to finish the year 4-25.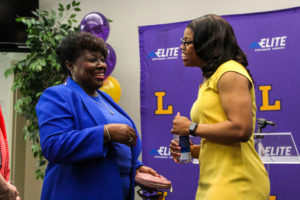 "This is just a reset," Sumski said. "This isn't a rebuild. We're going to take every single day, and we're going to work to be the best people we can be, the best students we can be, the best athletes we can be."
So how much of this "reset" will affect the current coaching staff?
"I'm speaking with [Lipscomb assistant] Hannah Phillips," Sumski said. "I love her. I just wanna make sure that we gel, and we click. And then outside of that, we're just kind of taking it day-by-day. I've met with Kelsey [Gregory], who's also been here."
She tabbed her husband Chris Sumski as "a lock," coming in from her former Rhodes staff.
"This isn't the first time for [Chris and me]," Sumski said. "This is like the third stop for us where this has worked. And I told everyone, we went from long-distance, to married, to two weeks later sharing an office. So this is nothing."
Rising senior Carleigh Short spoke highly of Sumski. Short scored the final shot in the 2018-19 season, a buzzer-beating three in an overtime win over Kennesaw State.
"She's got all the criteria she needs, and she's ready to go, and we're really excited," Short said. "She can relate to us on school, because she was a biology major. So she knows all the hard classes and stuff."
Rhodes College went 17-12 last season, sweeping the SAA Conference Tournament and losing to Mary-Hardin Baylor in the first round of the D-III NCAA tournament. They went 18-9 her inaugural year and fell in the second round of the conference tournament.
Additional reporting by Russell Vannozzi
Photos by Erin Franklin