More than 400 students were awarded diplomas from Lipscomb University this fall, including eight women from the Tennessee Prison for Women.
The traditional students' graduation ceremony took place in Allen Arena on December 16, while the graduating inmates' ceremony was the day before at the Tennessee Prison for Women.
Traditional 2017 fall commencement ceremony features record number of doctoral education degrees
Dr. Jim Thomas, Executive Assistant to the President, opened the ceremony, addressing what it took for the students to reach this point, and how the university sought to mold both the students' brains and hearts.
"As soon as they walk across this stage, their obligation begins to be to give back," Thomas said. "To help those who need their help. And we try to instruct them in that. We try to educate not only their brains but also their heart. To look for those individuals who need their help.
"We celebrate today that they are well prepared, and that they are ready."
At the ceremony, 39 students received Doctorate of Education degrees, the highest number since the program awarded its first doctoral degrees in 2012.
Nearly 260 students earned graduate degrees and more than 150 students earned bachelor's degrees. In addition, two students received associate degrees. Among these graduates were the first recipients of the Master of Professional Studies degree, housed in the College of Professional Studies.
President Randy Lowry gave the charge to the students.
"You can't be who you need to be if you remain where you are," Lowry said. "We love you. We appreciate you. We cherish you. We always will cherish the relationship we have with you and the impact you had on this institution.
"As you go, take these thoughts with you: you go as part of the Bison herd that numbers about 30,000 alumni; you go as part of a special community that will always respect you, always welcomes you back and always be honored and proud that you a part of it; you go with our deep regard and our great hope that God will work out His plan for your life and that you will see your part in His story."
President Lowry closed with an Old Testament blessing from Numbers 6:24-26: "May the Lord bless you and keep you. May the Lord's face shine upon you and be gracious unto you. May the Lord turn His face towards you and give you peace."
---
Inmates at Tennessee Prison for Women receive first bachelor's degrees 
The women participated in Lipscomb's LIFE program, The Lipscomb Initiative for Education, and are the first to receive bachelor's degrees at the Tennessee Prison for Women. The students participated in the program on Wednesday nights for the last 10 years, studying alongside of traditional students and receiving instruction from Lipscomb professors.
Four students received Bachelor of Professional Studies degrees in organizational leadership, and two others participated in the ceremony but will not complete the requirements for graduation until next year. Additionally, two students received Associates of Arts degrees at the ceremony.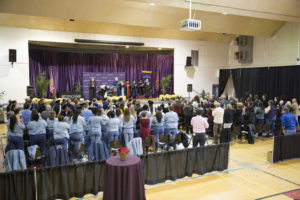 Richard Goode, Lipscomb professor and founder of the Lipscomb LIFE program, noted how proud he is of each participant in the program.
"Over the last ten years the program has grown in majors, and we've grown in degrees, but more than anything we have watched the women grow," Goode said in a statement. "We have watched the women flourish. We have watched their imaginations grow and have taken them in some places they never imagined they would go."
During the traditional commencement ceremony on Saturday, President Lowry acknowledged the women's achievements, noting that the average GPA was 3.8.
Donna, one of Lipscomb's graduating students, said she was "humbled" by the opportunities the LIFE program provided. She received her Bachelor of Professional Studies degree on Friday.
"I am humbled," she said in a statement. "You have to remember, I am a criminal, and they came in here to us. Lipscomb saw that maybe we are rough around the edges, that maybe we [have] really bad pasts, but they wanted to dig past that and till the soil that is at the Tennessee Prison for Women. And here we are today."
Photos by author
Photo at Tennessee Prison for Women courtesy of Lipscomb University