Alex Ross, Lipscomb's assistant director of athletics operations, was charged with public intoxication and resisting arrest early Sunday morning, and he was accused of inappropriately touching three women at Tin Roof Bar on Demonbreun Street, according to both Fox 17 and Scoop Nashville.
The three women reportedly did not want to prosecute at this time, and Ross  is "free on pre-trial release."
Lipscomb Vice President of Public Relations Kim Chaudoin released a statement regarding Ross' arrest.
"Alex Ross is Assistant Director of Operations in the athletics department, which means his primary job duties are to provide lawn maintenance for the grounds and fields, facilities maintenance, and setting up equipment for games.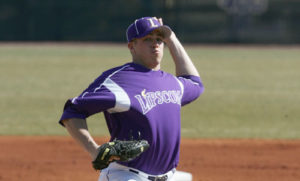 "He has been placed on leave pending an investigation. It is our policy for appropriate university officials to conduct an internal investigation and follow through as is consistent with internal policies. As this is an active case, we cannot comment on details of the incident," Chaudoin said.
 Ross is expected to appear in court in early April.
According to Fox 17 , Ross was kicked out of the bar but refused to leave after security attempted to escort him out. Metro Nashville police officers also asked Ross to leave the premises, but he continued to refuse. He was then charged with resisting arrest and public intoxication.
Ross was present and working during Sunday's ASUN championship game in Allen Arena after being released from jail. However, he has since been placed on leave, pending an internal investigation by Lipscomb University officials.
Before joining Lipscomb's athletic department as a full-time employee, Ross was a pitcher for the school's baseball team in 2010 and 2011. He arrived to Lipscomb after transferring from Maple Woods Community College in Kansas City, Missouri.
Lumination will have more on this story as it develops.
UPDATE:
According to a Metro Police affidavit, security told officers that they "removed the defendant because he was extremely intoxicated" and "had gotten three different complaints that the defendant had inappropriately touched women inside the bar."
The affidavit also notes that officers observed Ross telling the bar security that he "wasn't going anywhere." When the officers stepped in, Ross continued to protest and eventually the officers had to "forcefully gain control of the defendant's hands."
Officer Dakota Vermillion charged Ross with public intoxication and resisting arrest, according to the affidavit.
"The defendant [Ross] did appear in a public place under the influence…to the degree that there was endangerment to other persons or property…the defendant did [attempt to] unlawfully and intentionally prevent or obstruct his own arrest. "
Photos courtesy of the Metro Police Department/Lipscomb Athletics