Over Spring Break, several Lipscomb students journeyed to Nevis with the mission of strengthening their relationships with the people and strengthening the people's relationships with God.
Nevis is a small island in the West Indies, located in the Caribbean Sea. Combined with neighboring island Saint Kitts, the two form a country called the Federation of Saint Kitts and Nevis. Sophomore Amy Hurd described the island as being "full of character," with an abundance of fresh gardens and markets. She and Freshman Katlyn Council were two of 15 team members who stayed on the island for the week-long trip.
Both students agreed that the main purpose of the trip was to build relationships with the people. While Council and Hurd were embarking on the trip for the first time, Council said the Nevis people seemed to recognize the group and looked forward to the team's coming every year.
"Everyone we met was so welcoming and happy to have us there," Hurd said. "The way they showed Jesus to us was so amazing. They welcomed us with open arms and treated us all like family."
The itinerary was pretty "low-key", according to Council, who said the team's days were spent hanging out with children with the goal of building and strengthening relationships. In the evening, the group hosted Vacation Bible School at a local church. The nights began with worship time, followed by class, which was broken up by age group. Council helped with the youngest age group, where children created crafts and then listened to a Bible story.
Other tasks throughout the week included helping church members work on various service projects, such as building a garden and visiting a special-needs school. Whenever the team had free time, they spent it walking downtown and exploring the island.
Hurd says her favorite part of the trip was attending the special-needs school. Although the team only spent a short amount of time there, Hurd's desire to work with special-needs kids in the future made the time significant.
"I was overwhelmed with joy to be there and be with these kids . . . the cutest kids you've ever seen." Hurd stated, a twinkle in her eye. Her joy was evident as she eagerly pulled out pictures of the kids she spent time with, showing boys and girls with grins stretching from ear to ear, joy all over their faces as well.
Nevis was Hurd's third mission trip, and she said this trip, like the others, has impacted her.
"Nevis was another stepping stone to help me discover who God made me to be, and how I can find joy in serving him."
Both students took away not only memories from their time in Nevis, but lessons.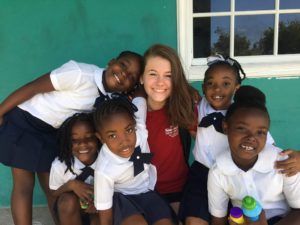 "The number one lesson I learned from them," Council said, "is to love people truly for who they are, not like what they are." Council said she felt loved by the Nevisians from the day she arrived on the island.
"They were so excited," she said. "I don't know if it was the effort we make coming every year, or what it was, but they were just genuinely overjoyed with just the fact that we were there . . . we could have done absolutely nothing, and they would have been so happy and content."
Hurd said her main takeaways from the trip was learning to be bold when communicating and to view people for their strengths rather than weaknesses. At the end of the trip, she completed an exercise, deciding to write all of her teammates' strengths down and even read what she had written to some of them.
"It was so powerful," she said. "I took time to study them — who they were, what their intentions were. It was so beautiful to see their strengths before I saw flaws or any weaknesses. Now that's how I view them, by how God has blessed them with different gifts to use." Hurd added that she now has 14 new friends.
When asked on whether they would like to return, Council said while she loved her time in Nevis, she is excited to look into doing other mission trips in the future. Hurd expressed a desire to go back, stating she already misses "all those kids that have my heart and that I got to love on."
"I didn't realize what I was doing till I got there, and God just really worked on my heart, and He really worked on where my joy was coming from," she noted. "It taught me a lot about himself and how big he is. I wasn't a servant when I went there, but I was a servant when I left."
If you are interested in going on a mission trip through Lipscomb, visit Lipscomb's Missions website.
Photos courtesy of Amy Hurd and Katlyn Council