As the Lipscomb track and field team approaches the final stages of its season, one name has stood out among the rest as Lipscomb's most dangerous weapon. That name is Jonathan Schwind.
Schwind is a junior finance major from Suwanee, Georgia.  He graduated from Lambert High School and joined Lipscomb after being scouted by assistant coach Benton Reed.
"Coach Reed was the guys' coach at the time, so he made a trip down and visited our houses, and he even had dinner with us one night," Schwind said. "All the other coaches would talk on the phone and stuff, but I was like, 'Okay, this coach is really interested. He came to my house from all the way up here.'"
That would be the start of Schwind's career as a Bison, and although the collegiate level has been a challenge, Schwind has been able to put in the hard work with his coaches and teammates that's allowed him to achieve the standout season he's experienced this year.
"In high school there's usually one or two fast guys on a team," Schwind said. "Now you come to college, and everyone was a top guy at their school, so being able to run with the guys on the team really pushes you and helps you a lot."
"This year I think we've just been able to get him more strength," track and field director Bill Taylor said. "He's got pretty amazing range, but his sweet spot and the stuff he loves is the eight and the fifteen."
The 800m and the 1500m races are definitely where Schwind has found his stride. At the ASUN indoor championships in February, Schwind helped his team take home three conference titles. He won the mile with a time of 4:08.29 and won the 800m with a time of 1:52.30.  He also ran the mile during the relay that saw Lipscomb take home the win.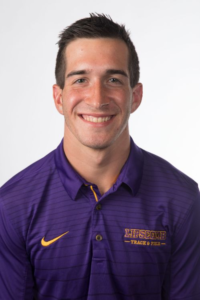 "I ran the mile, and then I ended up winning the 800, which was like an hour and a half after that," Schwind said. "I was supposed to be a contender for it if I had fresh legs because nobody else ran the mile before it. And I won by like that much, like I barely squeaked it out."
His next standout accomplishment would come at the Tiger Track Classic at Auburn in early April, where Schwind set a new facility record for Hutsell-Rosen Track in the 1500m with a time of 3:46.10, also a new personal record. He took home a win in the 800m as well with a time of 1:49.44.  This outing would award him the ASUN Athlete of the Week honor, the fourth of his career.
"That one was awesome," Schwind said. "Some guy that used to run for Georgia Tech was running unattached, and he was trying to go pro. So he was going for a set time, and he ended up pacing it. So I ran with him, and it was laid out really nice for me. I just had to sit on him."
One of the aspects of Schwind's game that gives him an edge is his ability to overtake his opponents toward the end of each race. He seems to always be able to find the extra energy necessary to win.
"He's got a wicked kick," Taylor said. "He's really strong at the end of races, and I think as long as he's in the right position, he's going to have a great chance to go with anybody."
"It hurts a ton, but you get used to it," Schwind said. "I've been blessed to have fast twitch muscles in some of the distance events. So in the 1500 I have another gear I can get into which helps me in the last 200 when everyone's dying out."
Schwind's ability to perform in the last stages of a race has developed a reputation — so much that teams have started devising strategies specifically to counter Jonathan's strengths.
"One of his last races in the mile, North Florida's coach sent someone really hard to try to take the kick out of him," Taylor said. "They sent a guy out who they didn't expect to finish high, to push the pace hard hoping Jonathan would go with him; and their other guy would be able to run Jonathan down after he had exhausted himself. Jonathan went with the guy and didn't get tired and still out-kicked everybody."
Schwind's most recent outing took him and two other members of the men's and women's track teams to California for the Bryan Clay Invitational. Schwind didn't win any races or break any personal records, but it was still an important meet to be invited to and a great chance to test him against the competition as he prepares for a chance to qualify for nationals.
"He really does run with the competition, and he's gotten a lot of races where the competition was okay," Taylor said. "But it didn't really get him to the times he really is capable of. What'll be interesting is when he's going against the top 20 guys in the nation. Then a lot more things become even and equal."
"Big picture is going to nationals, which is really tough to do," Schwind said. "Right now I've qualified in the eight, but my time's still like a second off in the 1500. Next week we have a meet at Indiana, and then it's conference. So I have a chance to run a fast 1500 there, or I might just stick with the eight."
Schwind and the rest of the track and field team travel to Bloomington, Indiana on May 4 for the Billy Hayes Invite as his journey to nationals continues.
Photos via Lipscomb Athletics