For the first time in school history, Lipscomb's men's basketball team will be competing in the NCAA tournament.
Sunday night, the team, with support from fans and alumni at the selection show held in Allen Arena, found out its seed and destination — a  No. 15 seed playing University of North Carolina, a No. 2 seed, in Charlotte, North Carolina.
Though this is Lipscomb's first time appearing in the NCAA tournament, the  Bisons have a rich basketball history.
In 1999, the NCAA granted Lipscomb dual membership to compete in both NAIA and NCAA. 2001 was the first year Lipscomb played its first full Division 1 schedule, and the Bisons were first eligible for the NCAA tournament in 2003. But before all this, Lipscomb was a small-college basketball powerhouse, known as David Lipscomb rather than just the founder's surname, that won the NAIA National Championship in 1986.
The Lipscomb Greats — Philip Hutcheson and John Pierce
Current Athletic Director Philip Hutcheson is part of this strong and established foundation that helped get the Bisons to where they are today. Notably, he was the first Lipscomb athlete to have his uniform (#44) retired.
The six-foot-8-inch center ended his career with 4,106 points as college basketball's all-time scorer, and he was an All-American each of his four seasons. He was named the 1990 NAIA Player of the Year and CoSIDA Academic Player of the Year in both 1988-89 and 1989-90. But Hutcheson was successful even off the court during his time at Lipscomb. He maintained a perfect 4.0 GPA and graduated as Lipscomb's valedictorian.
His roots at Lipscomb run deep — he even earned his first "real" paycheck from Lipscomb, working at one of Coach Don Meyer's famous basketball camps. Meyer was a coach who Hutcheson said, after his parents, has been one of the most influential people in his life.
"He's definitely one of those other people who have had a profound impact on my life," Hutcheson said. "He was so conscious trying to teach not just about basketball, but about life. He was very tough, very demanding — in a positive sense. He wanted you to get the most out of yourself."
Despite all of Hutcheson's athletic and academic accolades, he said the highlight of his time at Lipscomb was the relationships he built with his teammates. One of these teammates, a freshman Hutcheson roomed with his senior year, would ultimately go on to break his record for college basketball's all-time scorer — John Pierce.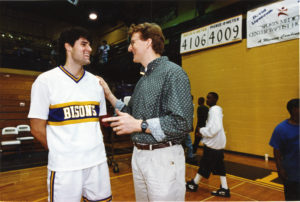 Pierce, who is now a coach himself over at Franklin Road Academy, ended his career with 4,230 points, an unbroken record. His #50 jersey was only the second Lipscomb uniform retired.  During his career, he was named All-American each of his four seasons and was named NAIA Player of the Year in both 1993 and 1994.
The "Pierce-O-Meter" and the "Hutch-O-Meter" became a "thing" during this time, as Pierce began to approach breaking Hutcheson's record. It can be seen in the background of this photo with Hutcheson speaking to Pierce.
"I remember the whole experience," Pierce said. "It was exciting. Of course, we were in the middle of our season, and I was most focused on how we were doing as a team, but Philip Hutcheson and I were roommates my freshman year when he was a senior, so we became really good friends. It was a fun time for me to be going through that…it feels like a lifetime ago."
Coach Don Meyer's legacy, winning the NAIA National Basketball Championship in 1986
Pierce, like Hutcheson, also played under Coach Meyer, who coached from 1975-1999. Pierce noted that current Lipscomb head coach Casey Alexander and Coach Meyer hold some similarities.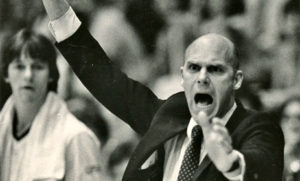 "Well, they're both bald," Pierce joked. "I think they're similar in the way they love their players. I think Coach Meyer probably had a harder time showing his love for his players, but I think Casey does a great job with his players . . . and Coach Meyer was the same way."
Before Pierce and Hutcheson came onto the scene, Meyer led his team to a victory at the NAIA National Championship in 1986. In the championship game, the Bisons faced unseeded Arkansas Monticello and would secure the win 67-54. But the victory wasn't luck. At the beginning of the season, the Bisons were ranked the No. 1 team in the nation for the first time in Lipscomb history.
Paul Nance, Lipscomb Athletics' Director of Creative Services, attended Lipscomb during Meyer's coaching career. Although he played on the tennis team, he said he still noticed and felt Coach Meyer's presence on the Lipscomb campus, despite playing a different sport himself.
"I remember his style of play," Nance said. "When he first started coaching here, we didn't have the athletes to regularly beat the teams we regularly played. So he adopted a style of play that people did not like, but it worked. He slowed the ball down — pass it 500 times, and the games were low-scoring — but he won enough that it attracted better players, and we started winning by bigger margins. Plus he had a very dry sense of humor. He was way smarter that anyone else around."
Pierce echoed this sentiment, crediting Meyer with putting "Lipscomb on the map."
"He's had a tremendous impact on the game of basketball as whole," Pierce said. "And that really sort of put Lipscomb on the map. But the tradition of Lipscomb is about the teaching of Coach Meyer, and obviously he had some success. But now that they've gone Division One and had the chance to go to the NCAA tournament, it's what every one of those players dreamed about since they were 3 or 4 years old — playing in March Madness. It's sort of a goal — not even a goal — a dream . . . and I think that he (Coach Meyer) laid a pretty firm and broad foundation."
Battle of the Boulevard — a Lipscomb tradition
Undeniably, one of Lipscomb's biggest traditions is Battle of the Boulevard.
Although 1953 was the first time Lipscomb and Belmont faced each other, Hutcheson noted that his senior year was really the first time a true "Battle of the Boulevard" occurred. In this photo to the left, Hutcheson, along with the rest of the Bisons, are playing Belmont at Vanderbilt.
"The Battle of the Boulevard — that first started my senior year," Hutcheson said. "My senior year they (Belmont) had a really good team, and we had a good team, so they decided to play it at Vanderbilt. That night, we had over 15,600 people at the game, which broke the NAIA attendance record by like 7,000 people."
To date, Lipscomb and Belmont basketball have faced 142 times. Lipscomb leads in wins 75-67.
Next Steps – the Bisons head to the next big moment in Lipscomb basketball history
On March 11, Lipscomb fans and players alike gathered in Allen Arena for a selection show party to find out Lipscomb's selection and destination for the NCAA tournament. The Bisons will be traveling to Charlotte for the big matchup on Friday to play North Carolina.
Two of the players on this historic team, Kenny Cooper and Rob Marberry, were players on Pierce's high school team at Franklin Road Academy.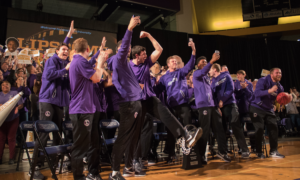 "I've known those two guys since they were 6 years old, so seeing them get to experience this . . . is just so fun," Pierce said. "I'll never forget seeing Kenny Cooper's face when they won on Sunday. I'm so proud of them and excited for them to get this experience."
Through the years, Hutcheson noted that a lot of things have changed at Lipscomb, but one major thing has remained the same — a faith-based excellence.
"Quite often when recruits come in, I tell them, 'When I went to Lipscomb, there was no Chick-Fil-A and Starbucks and a sushi place. We had the cafeteria and a grill. We did not have Allen Arena; we had McQuiddy gym. We were NAIA, not NCAA. We definitely traveled differently' . . . So a ton has changed. But that's what's different.
"But what's not different are the types of people that Lipscomb attracts. The people is the secret sauce, and that's what has stayed the same. Faith-based excellence. Colossians says, 'Work as if you're working for the Lord and not for men.' So I say a lot of times, if the Lord Himself were standing on the sidelines with a whistle around his neck, you would probably be running really fast. You would probably work really hard if you believed that."
Nance added that this is a special time for Lipscomb students, hearkening back to his time at Lipscomb in the '80s.
"I want these students to feel what we remember, and to feel pride in this," Nance said. "I know not everyone is a sports fan or a basketball fan. But I really want them to experience this part of college — fun. They will not always have this outlet. There will always be jobs and studying. But this is one that I just wish we could all get behind and support each other. It's a very special time."
Gallery: Lipscomb basketball's historic moments 
Photos courtesy of Lipscomb Athletics; Photo 12 by Ben Davis; Photo 13 by Erin Franklin
Photo captions:
Photo 1: Fan road trip on a train to ETSU (Johnson City, TN) for NAIA District 24 Championship in 1956
Photo 2: The Lipscomb "Bisonettes"
Photo 3: Philip Hutcheson shoots over Belmont defender in Battle of the Boulevard held at Vanderbilt University
Photo 4: Legendary Lipscomb coach Don Meyer
Photo 5: 1951 McQuiddy Crowd — packed house in 3,500-seat McQuiddy Gym
Photo 6: Fans cheering on the Lipscomb Bisons
Photo 7: Philip Hutcheson speaks to John Pierce during Bisons basketball game
Photo 8: As the 1962 season opened, Lipscomb prospects centered most on on Coach Charles "Tiger" Morris and seniors Martin, Dixon and Mayes
Photo 9: Lipscomb wins the NAIA National Basketball Championship in 1986
Photo 10: Construction of Allen Arena begins
Photo 11: Lipscomb wins the ASUN conference over FGCU
Photo 12: The Bisons return to campus to a crowd full of students to welcome them home
Photo 13: The team celebrates after finding out the results at the selection show party