Welcome back to the second rendition of LU's GQ. With the world of fashion constantly changing and evolving, comfort has become the most sought out desire in the community.
It is one thing to be fashionable, and another to be comfortable at home all cuddled up in cozy attire. But what if I told you that there is now a place where both these parallels meet? It's called Athleisure.
It started off with women in yoga pants, who went about their day in them. It slowly transitioned toward men, who wanted to be comfortable to go places or work, too. Athleisure is an urban definition created by todays millennials, where style and comfort meet while being stylish.
Pieces like hoodies, track pants, sweatpants, joggers, hats and T-shirts are being incorporated into the normal work or daily outfits. You can even wear a hoodie with a sports coat and suit blazer and make it work!
Celebrities and athletes are also huge advocates for Athleisure as they constantly fight the line between classic fashion pieces with sweatpants and sneakers.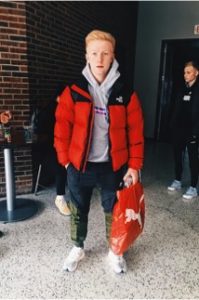 It is no longer a shame to wear sweatpants or hoodies in public. But it has to be done properly — otherwise the grunge look comes out, where it does not look you are trying at all. That's not what we're after.
So, students of Lipscomb, I have compiled a few ideas and people who have showcased Athleisure. Here is how you can pull it off as well!
Student Louis Robinson is the walking personification of Athleisure. From head to toe in classic name brands, making him an instant head turner on campus.
Robinson is able to stay warm, comfortable and stylish all at the same time with a "Lipscomb Lupreme" hoodie (available to purchase for all Lipscomb students via business department and @Lupreme.Official on Instagram) and North Face puffer jacket.
He contrasts that with the half khaki green joggers and finishs with a clean pair of Nike sneakers.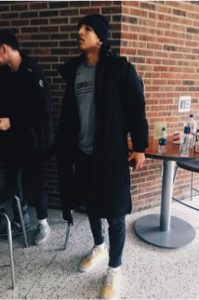 Next is student Roy Henderson. Henderson was born in Milan, Italy, arguably the fashion capital of the world. His outfit is an interesting mix, but he can pull it off well.
He does this statement justice with this incredibly stylish outfit that combines athletic wear and elegance.
Add a beanie for warmth, casual name brand T-shirt, track pants, a pair of yellow Vans sneakers and a chic parka jacket and this outfit is good to go.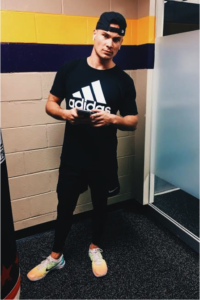 Name brand T-shirts will always be in style. It is absurdly simple, but can make anyone fashionable if done right.
Pair it with sweatpants, joggers or shorts and a nice pair of shoes like student Kauai Linardi. Linardi adds more detail with the Nike cap.
I love how the all black contrasts with the shoes as they add both life and color into the outfit.
P.S. Ladies are not the only ones who can pull off yoga pants!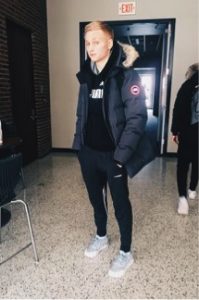 Hoodies, sweatpants or joggers will always be the staple of athleisure.
Student Noah Gulden showcases those two simple pieces with an incredibly cozy Canadian Goose parka and trendy sneakers.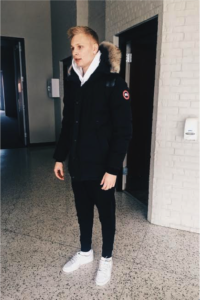 His twin brother however brings some light-hearted competition.
Scott Gulden pairs the navy Canadian Goose parka and white hoodie with track pants and beautiful white sneakers. I am a big fan of this outfit and its elegant athleisure. The matching of the shoes and hoodie is a great idea, and it keeps the Gulden twins one of the most stylish men on campus.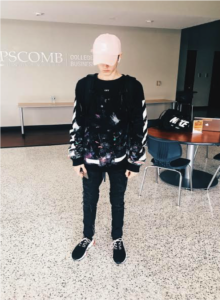 Special mention to transfer student Jake Zani who gives us a sweet taste of designer athleisure and a peak into high fashion. Zani compliments his Off White sweater with a pink cap — an essential of athleisure — a pair of ripped jeans and finishes off with awesome Balenciaga sneakers.
LU's GQ is a biweekly series from Lipscomb senior George Wong, who looks at stylish clothing options for men. Wong's column alternates weeks with Rachel Pavelich's blog, The Northern Southern Belle.