LU's GQ is a new biweekly series from Lipscomb senior George Wong, who looks at stylish clothing options for men. Wong's column alternates weeks with Rachel Pavelich's blog, The Northern Southern Belle. 
With January's freezing-cold weather coming to an end, we transition to an unpredictable February. Every male college student has to decide whether to put on everything they have in their closet in to stay warm and disregard style, or risk getting hypothermia but still look fashionable.
Stress no longer!
The great aspect of clothing is that is completely personal, there are so many clothes to choose from, outfits to curate and people to impress. Fashion will always be timeless, but style is unique to every individual. Guys have it slightly easier than females in the sense we have a lot less to choose from.
Here is a list of Lipscomb students who have displayed great style while still staying warm: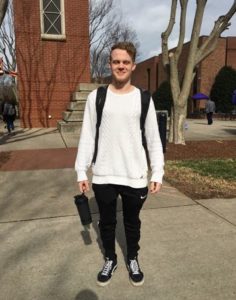 Jordan Brumbelow: white sweater, Nike track pants, Vans
A sweater is not only great for keeping you warm and cozy, but is also stylish and elegant. It's definitely a timeless piece in every young man's closet.
I would recommend simple colors such as white and black. However, this is something you can make pop with trending colors such as earthy tones, or if you are wanting to be bold, with red, yellow or orange.
Dane Mortensen: denim shirt, band tee, black jeans, high-tops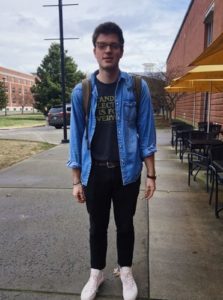 If it is a slightly warmer day that requires no knitwear, then Mortenson is the man to follow.
No one can go wrong with a band tee accompanied with a blue denim shirt.
He finishes the look with black jeans, a staple for everyone, and nice high-top sneakers for that fashionable pop.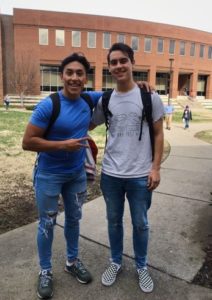 David Silva and Ruben Hassell: tees, jeans, sneakers
Band tees, athletic tees, any type of tee!
Pairing a tee with a nice pair of jeans and sneakers sounds simple, because it is.
Yet this look is trendy, stylish and won't make anyone question your outfit.
So be fun with this, as both Silva (left) and Hassell (right) embody the classic college outfit for every guy.
Don't forget that ripped jeans are still hot, and a staple for every millennial.
Trey Stanley: ripped jeans, sweater, white sneakers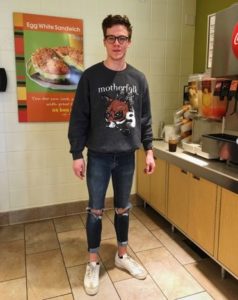 Stanley rocks perfectly-fitted ripped jeans in a dark blue wash and pairs them with white sneakers that have plenty of character.
Don't be scared of scuffing new shoes – this adds personality to the outfit and gives clothing life and a story.
Trey tops everything off with an awesome sweater that is unique to him, completing his college-staple outfit.
Philip Nguyen: white tee, navy cardigan, black boots, jeans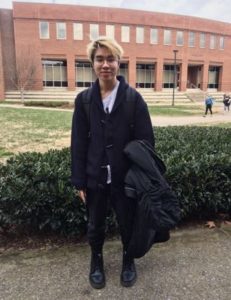 So, after you have mastered all the basic staple outfits, you can truly have fun with what you wear.
Fashion is so broad, complex and, at times, scary. With the large amount of logos and consumer brands screaming at you, it's important not to ride the wave, but rather stay true to what suits you and what you feel most comfortable in.
Nguyen displays class with a white tee, navy cardigan, black jeans and a beautiful pair of black boots for those rainy days. He is also prepared for colder temps with a black puffer jacket.