There comes a time in every man's life when he has to wear a suit.
However, wearing a suit is a far more complex task than many perceive it to be.
The majority of men have no idea what they're doing as they simply go out and purchase a suit with no thought, especially college students.
So here are five simple rules to make wearing a suit a memorable experience, whatever the occasion — because there is nothing wrong with having a little edge.
The suit:
If you speak to a tailor or anyone in the fashion industry, and ask him or her the most important aspect when it comes to wearing a suit, tailors will most definitely say the fit, 100% of the time.
It doesn't matter if your suit is made from the finest Italian fabric or diamonds, if it doesn't compliment your body, it can make you look sloppy and unprofessional. You can easily make a $100 suit look like a $1,000 suit just by fine-tuning all the little details of a suit in order to fit your body nicely.
Belt and shoes:
When wearing a suit, combine it with a nice pair of dress shoes and a belt. Shoes, and belts come in different colors, shapes and sizes. The general rule for shoes is that they must match the belt in color.
The pocket square:
A pocket square adds a new level of style and polish but make sure it does not match your tie in either pattern or material. It should simply complement your shirt, and tie.
Be creative with the pocket square, from all types of patterns, and materials. Even bandannas and handkerchiefs are great options for pocket squares if paired correctly with the right suit. There are also various different ways to fold a pocket square that don't make you feel like you're just stuffing a piece of cloth into your suit.
The tie:
Whether you're wearing a bow tie or regular tie, it must match your suit. For regular suits, generally go for a typical tie that stops just before the belt. But the bow-tie should be left for extremely formal events and paired with a tuxedo. The tie must also be a darker color than the shirt. And don't ask me why on that one — it just looks better.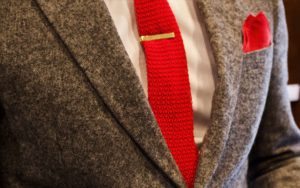 The tie bar:
So, you finally have a fitted suit, a nice tie and pocket square to complement it, but you're still lacking that stylish x-factor. Well, what you need, sir, is a tie bar!
Popularized by the people at GQ, the tie bar adds a whole level of sharpness to the outfit, essentially bringing it all together.
The general rules for wearing a tie bar are simple: not too high or not too low. A good gauge is placing it between the third, and fourth buttons on the shirt. Make sure that you actually clip the tie and shirt together, as it is made for that purpose, so that your tie doesn't move as much.
What other rules and tips do you know? Comment below!