Hey friends! It's been a while, but I hope you're all having a great summer! Things are finally getting back to normal, and it is wonderful to celebrate the summer with friends! We all have a great reason to celebrate this week, as the 4th is Sunday! With things opening back up and gatherings beginning to occur again, the 4th is a great way to show off your style and your American pride.
When I think of patriotic clothing, I think of red, white, and blue, of course! When I was little, my go to Independence day outfit was a Faded Glory flag tee and a pair of jean shorts. While still patriotic, I've realized that there are plenty of other ways to express yourself and your love for the US through what you wear on America's birthday.
Red white and blue are still my go-to colors for the day, but a way to modernize it is to mix and match the colors with prints. Try a solid navy top with red and white shorts for a flag look, or blue and white stripes or gingham with a red hair accessory or lipstick. 
Plenty of stores offer 4th of July themed attire. Target currently has a whole section in the women's/juniors department of America-themed tees. If you're going for a cute and casual look, pair one of these with a pair of shorts or a colored athletic skirt.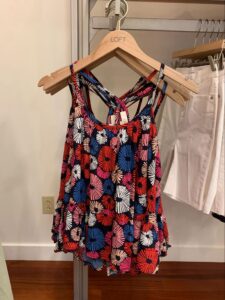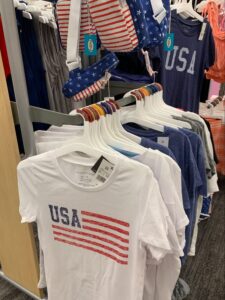 If you're looking for something to wear more than just on the 4th, Loft is a great option! Their new arrivals feature plenty of red, white, and blue that can fit the 4th of July theme but also be worn on the daily for other activities! Plus, they have a new fun print out right now that looks like fireworks, which is perfect for the occasion! 
With Independence Day right in the middle of summer, it's pretty common to spend the day celebrating at the pool. That's what I plan to do! I have a super cute red and white polka dot swimsuit from TJ Maxx, which is great for any summer swim day, but especially the 4th!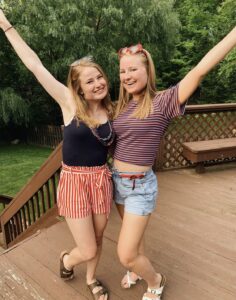 For those who are unsure of what they want their American-spirit style to look like, check out Old Navy's Americana collection. They offer a wide variety of options, from graphic tees to blouses, rompers and bike shorts, to flip flops and bandanas!
The 4th is a day to celebrate our freedom, and I hope that you feel the freedom to express yourself through your style in whatever you choose to wear! The best advice I can give is to have fun, express yourself, and cherish the memories you'll make with friends and family as you gather for the holiday.