Fall's arrival signals one of the most exciting times of the year: autumn fashion staples.
The leaves are finally beginning to dance toward the ground, and temperatures are dropping below 70 degrees here in Nashville, at last!
With the turn of the seasons comes the changing of attire. Finally, we can pack up those shorts and tanks (at least for now — according to my Tennessee native friends, it can be 75 degrees on Christmas) and pull out the jeans, cute little ankle boots and sweaters.
Trends that reappear each year and will never go out of style include flannels paired with jeans. A way to make this a bit more fashionable is to wear a contrasting or coordinating tank underneath the flannel. Match these layers with a cute pair of jeans — maybe a pair with a few rips.
Leave the flannel unbuttoned so you can show off your coordination or contrasting skills (whichever you choose) and tie the flannel at the bottom. Add a statement necklace to make the outfit even more outstanding.
Corduroy skirts are in style this season. Pair them with a long bell sleeve top, or a short sleeve with a cardigan. These corduroy skirts can be found in all kinds of colors — brown, red, light pink, green. Any of them work well for fall.
In addition to corduroy skirts, jean skirts are also something that can work well for fall. Honestly, though, jean skirts are good all year round.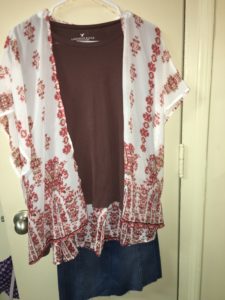 In the fall, though, they're extra cute when you pair them with a cardigan, kimono or cropped jacket. Just this past weekend, I was doing some retail therapy at Marshall's and ended up putting together and purchasing an entire fall outfit. I found a jean skirt on sale and a red and orange kimono that I thought would be perfect for fall. I ended up finding a solid brown long sleeved tee, too, and it completed the ensemble. With my short brown boots, it's a perfect outfit for a great fall day.
Layers are great for fall. Everyone loves pulling out the sweaters, but if you're not quite ready for those yet, try long sleeved blouses or short sleeved tees with cardigans or jackets. I have a jean jacket that I pair with almost everything in my closet, just to keep warm and look cute, especially in the fall.
Freshman Morgan Day said she has on fall fashion trend that is her particular favorite.
"Layers, whether it's a cardigan, flannel, jacket, or vest," Day said.
All of these work great, and having at least one of each allows for a wide variety of styles and ensembles.
If you aren't in the mood for layering, jean jackets can go with any long sleeved shirt. I also found a mustard yellow tee at Marshall's, and it, too, goes well with the jean skirt. Popular fall colors include yellow, maroon, orange, brown and army green.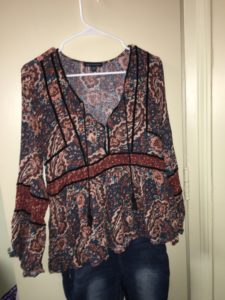 Some of my favorite tops are ones that I perceive as my "fall tops" even though I wear them all year round. These include an orange and brown paisley bell sleeved blouse, and a mustard long sleeved crop tee with embroidered sleeves. I usually pair these with a comfy pair of jeans, but they also work well with jean skirts.
In addition to multiple-piece ensembles, dresses are an easy option for looking cute for fall. Numerous stores sell cute fall dresses, so you have various options to find your favorite. Button up plaid dresses are one of my favorite trends right now — I just bought one that's cream colored with orange and blue plaid and can't wait to pair it with my brown ankle boots. Anything cream works well for fall, and the patterns that they have — whether that be stripes, plaid, or paisley — always add a pop of color.
Your clothes aren't the only trendy fall piece, though. Cute boots are an essential. Grays, blacks and browns all work perfectly for this season. There's really no wrong answer for boots — you can do combat boots, short ones, or tall ones, and any color, as long as they go with the outfit you've put together.
"You know what's so fall fashion? Boot warmers!" said freshman Jessica Heffington, pointing proudly to the cream colored knit socks peeking out above her brown leather boots. "They heighten any outfit."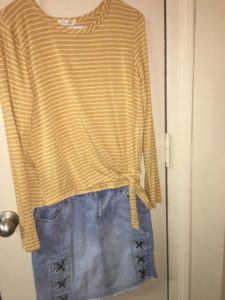 Boot warmers work in more than just cream, though. They come in all different shades of brown, gray and sometimes even red or green. There is lots of variety with lengths, whether or not you want lace or buttons at the top. Whatever your preference, there's something out there that'll look adorable with one of your favorite fall pieces.
Boot warmers come with a perk, too. Having numerous pairs allows you to create all different looks with your boots and socks, giving more of a variety and more styles to try out.
"Then you can wear the same boots seven days in a row and nobody will really notice," freshman Nicolette Newby said.
There are so many options for great fall outfits, and hopefully you've found some inspiration to put together your own looks. While shopping is fantastic (one of my favorite hobbies!), you don't necessarily have to go shopping for a whole new wardrobe when the season shifts. Try looking through the individual pieces you have and experiment with them, creating your own unique style.
Fall is a great season for putting together adorable ensembles, so take advantage of this great weather and wear something you love. Whether you're just going to class or off to take aesthetic photos in a pumpkin patch, every day is an opportunity to try a new fall outfit.
Out of all my advice, though, the most important thing is to be yourself. Be unique and try your own ensembles, and experiment with what you have. Fall is a great season to express yourself through your clothing — seize the opportunity.
Whatever you choose to wear, be confident and proud, and always remember to stay fabulous.
Until next time,