Hello friends! Happy New Year! To start off 2019, I thought it would be fun to look back at six past decades and the fashion trends of each of them. In addition to seeing the styles shift every decade, there are ways to incorporate aspects of each of these decades into your wardrobe today. I was thrilled about this idea and then became even more excited when I was shopping in downtown Murfreesboro (which is so cute). My friends and I wandered into a store on the square called Sugaree's, which was filled with vintage-style clothing. I seriously wanted to buy the entire store.
So rather than using Pinterest as my inspiration for the styles of each decade, I thought we should look to our fellow Bisons. I spent hours on a quiet, cloudy Sunday sitting in the back of Beaman Library looking through yearbooks from 1939 to 1989 to find fashion inspiration from the classes that came before us. Enjoy these photos, styles and tips on incorporating the best of each decade into your daily look.
The Best of 1939
A sweet photo of a couple filled an entire page in the 1939 edition of Lipscomb's yearbook, The Backlog. Although it is just the backs of the couple, it gives a great depiction of the styles of the time. The girl is dressed in a plaid blazer jacket with a white knee-length skirt. The boy is dressed in a white jacket and dress pants as they stroll across campus. They are simply walking around campus, and they are dressed very nicely, which looks cute and classy.
A few pages later, the yearbook recognizes the beauty nominees of the senior class, as well as Miss Lipscomb and The Bachelor of Ugliness. One page of beauties includes three students. Each is in a fitted dress with sleeves, with skirts that flare out at the waste a bit to create a little bell shape. They reach below the knee, and although all three dresses are different (and one is paired with an adorable checkered coat of the same length), all three women show the popular style of the time, which is conservative and elegant. The style of 1939 seems to be one of elegance and effort. People put thought into their outfits and looking nice, no matter the occasion.
My advice for incorporating this? Try to dress to impress, regardless of if there's a big event or not. I'm not saying you have to permanently revert back to the styles of 80 years ago, but if you're looking to blend the traditions of the past into your style, this is one to try. Sure, it is fine if we wear jeans and a tee to class, but maybe mix it up once in a while. I wore a dress or skirt every day of sophomore and senior years of high school. I wasn't trying to impress anyone in particular. I simply did it because I like the confidence that dressing up gives me. I hope it can do the same for you. Dressing up a little bit makes you look put together, organized, and — of course — beautiful. But please know that you always are, no matter what you choose to wear! If you're looking for a style like these, there are boutiques and shops that have some — you just have to search. Cute little Sugaree's had one in the front window that was just absolutely adorable!
The Best of 1949
The 1949 edition of The Backlog opens with a sweet picture of a bunch of smiling girls walking through the center of campus. All of them wear the past the knee dresses that were popular 10 years earlier. However, here, the girls of the '40s seem to have made the trend their own in a few noticeable ways: a few dresses include scalloped necklines instead of the high-collared necklines of the previous decade, the dresses have prints instead of just solid colors and every single girl in one of the photos has tied a belt at her waist to give her dress more shape. While this is definitely something that some people do today, it doesn't seem to be too big of a trend right now. Pairing a simple belt (or even a patterned ribbon or scarf as a makeshift belt) with a dress can give the outfit a whole new look. While this appeared to be popular through the yearbook, the biggest trend at Lipscomb in '49 seems to be elbow length sweaters and calf length A-line skirts. The majority of girls in the group photos for science, sociology and press club are wearing this look. To bring it into today's fashion, try pairing a patterned or printed A-line with a solid colored sweater, or vice versa. You'll be bringing back that trend while incorporating today's plethora of popping patterns into the look.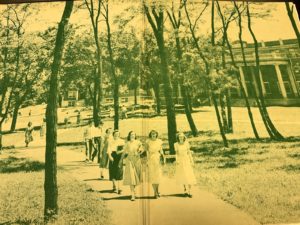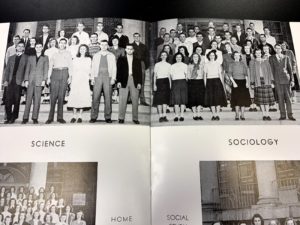 The Best of 1959
I have always loved the style of the '50s, so I was so excited to look through this yearbook. In the midst of it, I found an adorable photo of a couple out bowling, and the girl's outfit is the exact reason I love '50s fashion. She wears a patterned dress with a big bow at the neckline and a skirt that flares out. I am a huge fan of this style, and it is still widely popular today. I found an adorable dress at Sugaree's that is totally '50s style and own one from Charlotte Russe, so they're definitely easy to find. I love the prints that they come in — from polka dots to plaids and diamonds to dogs (yes, you read that correctly!) and the bell shape that I personally find cute and flattering. If this is something you're interested in, there is definitely a dress like this out there for you!
The campus beauty nominees for the year all wore similar dresses with the same style: past the knee dresses with a cinched waist and pencil skirt. Sleeve lengths varied, as did the necklines, but the overall shape of the dress was the same. It is a style that became very popular during the '60s, showing that these ladies were a little ahead of their time — true fashionistas.
The Best of 1969
One thing stuck out for sure looking through this edition: teased hair with a flip at the end. Every single girl with long hair who was nominated for campus beauty in 1969 had this hairstyle. While this has gone out of style in today's world, the teasing aspect can be stylish in certain situations. If you're pulling your hair back into a half-up style, teasing can help to make the style more noticeable. As for the clothing of the '60s, plaids and vertical stripes seemed to be big trends. In addition to these patterns, the short, straight dress was the style. This one can be found at several stores, too. American Eagle always tends to have '60s and '70s styles like the plaid one I've included (you can find it on their website for $40), and Sugaree's had a really cute dress, too. I'm telling you, that store had vintage styles from every decade! Perhaps you can make the style your own by adding a belt to incorporate that '40s style into the look as well. Regardless, the sleeveless, straight style of the decade is one that can you can definitely make your own.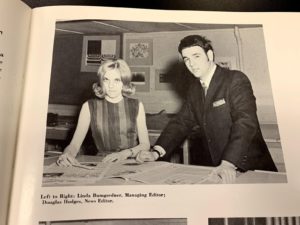 The Best of 1979
1979 at Lipscomb included lots of plaid and long, patterned dresses. Guys went with a more laid-back look that included printed button up tops. For both guys and girls, the top one or two buttons appear to be left unbuttoned to create a more relaxed look. Dresses combined the looks of the '50s and '60s: a straight style all the way down to the very bottom of the piece, where it finally flared out a little bit. I love the relaxed, free spirit style of the '70s that bohemian has revamped in today's society. Because of that revival, there are plenty of styles like these available at stores all over the place, including chains like Forever 21 and Earthbound. In addition to the smooth, straight dresses, the '70s were also a time for flared out jeans and patterned pants. These can be found today at H&M, as well as other boutiques and shops. Rather than just pants, though, rompers and jumpsuits have become very popular today. The bohemian, hippie vibe of the '70s is definitely alive and well in fashion, and there is absolutely something out there for you if you're into this kind of style.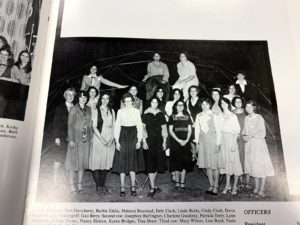 The Best of 1989
1989 at Lipscomb was ruled by funky prints and plenty of denim. And although Taylor Swift's 1989 tour outfits were fantastic, the sparkles and sequins were not what I found to be most popular in Nashville in 1989. In addition to just denim jeans, denim jackets were huge. People still wear them today for sure, but you don't see many complete denim outfits anymore — pairing a denim jacket with a pair of jeans. However, that seemed to be one of the styles of the time. Jeans are such a popular part of our fashion today, but other aspects of the '80s have faded a bit. In addition to the jeans trend, the '80s at Lipscomb included bright tops with unique patterns. There were plenty of color block styles, and prints ranged from words all over tops to cheetah prints and neons. While neons today are usually reserved for skate nights and spirit days, you can incorporate them into your look with vintage jackets; and color block tops like the one featured can still be found at stores, including Forever 21. Denim jackets are back in style, and although denim on denim isn't the hottest trend right now, I challenge you to go for it if that's what you feel inspired to do.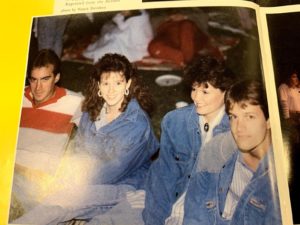 So there you have it. Six decades in the 1900s of evolving and changing fashion on Lipscomb's campus. I hope that you found something in here inspiring, and that you'll create your own personal style by using it as encouragement. Remember that how you dress is completely up to you, and you are free to style your looks however your heart desires. Take some chances and mix things up every once in a while, trying a new piece or even finding pieces like the ones our fellow Bisons wore in these photos. Whatever you choose to wear, remember to stay fashionable and stay fabulous.
Until next time!!