Okay, reading this title, you might be a little confused. Let me explain. With it being the holiday season, I wanted to do something a bit different to get everyone into the inspired, happy mood that this time of year brings.
So, instead of talking about what to wear for Christmas Eve service or how to stay warm this winter, I want to talk about our real clothing: the traits that we are dressed in and that we display to others.
I have a sign hanging in my dorm room that I found at TJ Maxx (really, though, that's like the only place I shop) that says "Kindness is always fashionable." It got me thinking, so I decided to do an article based around it.
There are multiple verses throughout the Bible that discuss the Godly traits that we have each been given. Additionally, there are some wonderful songs that calm me and remind me exactly who I am – who God has made me.
He is the ultimate Designer, and He has styled us each to be perfect. So take these things, think about them and look back at them every time you start to forget who made you and who He designed you to be.
Colossians 3:12: "Clothe yourselves with compassion, kindness, humility, gentleness and patience."
He has created you to have these traits. It is not the designer handbags or expensive dresses that we need to focus on to look attractive but rather these characteristics. Being kind and loving will not only help you fulfill God's purpose, but they are also very charming traits that will inspire others and draw people to you.
Colossians 3:14: "And regardless of what else you put on, wear love."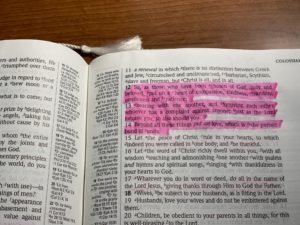 To me, this is the most important trait of all. And it seems that it is pretty important to God, too. Love everyone. People will cheat you and treat you terribly and use you and hate you. Keep on loving. Your love and kindness is going to get to them eventually. They will see what a Godly, loving woman that you are and they will be inspired to be the same.
Isaiah 61:10: "He has clothed me with garments of salvation and arrayed me in a robe of His righteousness."
Not only do we live in the wonderful United States of America, where we can be free, but we have been free in Christ all along. I just finished up in my Story of Jesus class and was able to learn so much more about who Jesus really is. He took the blame and pain and shame for all of us. He did that for each and every one of us so that we can live in freedom and undeservingly receive His beautiful grace. No matter how trapped you may feel, remember that you are free through Him.
Psalm 30:11: "You removed my sackcloth and clothed me with joy."
Joy, guys! He has clothed us with joy! God wants us to be happy. I know, I know. It's hard to feel that way all of the time. Believe me, I understand. There have been so many days where I have felt the exact opposite of joy. But I promise you that He has a plan.
Yesterday at my amazing church, the message was all about how God has everything planned out, and He has had it all planned since the beginning. He knows how your life is going to go and is working to put each piece perfectly into the puzzle.
He did all of that because He loves you and wants to bring you joy. On your hardest days, try to remember this. He has a plan for your life. Rejoice in that and live each day with joy.
Proverbs 31:25: "She is clothed with strength and dignity and laughs without fear of the future."
This is my favorite verse. So many of my friends have given me things with this verse on it, saying that it reminds them of me. I don't say that to brag or be arrogant. I say that because there are definitely days where I feel far from that.
But people remind me of this verse, and I am refreshed. It helps me to go through each day knowing that God has created me to be strong and joyful, living out His word.
Plus I love "she laughs without fear of the future." I want to be that girl, who doesn't worry about a thing, but instead takes each day as it comes. This verse reminds me of each and every one of you, and I hope each of us can know that we are this girl.
Quote by Sarah Beth McClure: "Though you may hold your sword in a shaky hand, I see the demons you are slaying. Carry on, warrior, you are stronger than you realize."
Okay, this isn't a Bible verse, but it's a quote I found on Pinterest that I really love, and it goes with this theme. You are strong, no matter what you are facing. You are facing challenges, and you are still here. You have made it through every struggle you have faced thus far. Keep going. You are so strong and brave, and you can do this.
Daughter of the King by Jamie Grace
I play this song on repeat a LOT. I love it so much. It is so comforting to me. No matter where you are or what you are going through, you are loved.
Jamie Grace, along with her sister, Morgan Harper Nichols (who happens to be my absolute favorite poet), remind girls everywhere of this on the track. In His eyes, you are good enough. You are beautiful; you are loved. Rest in that.
Who You Say I Am by Hillsong Worship
Like I said, God is the greatest designer ever, because he created you. He made you perfectly and in His image. Hillsong's "Who You Say I Am" is a great reminder of that, and its peaceful melody calms me as I focus on the words, hearing God's voice and promise in them. I hope you can do the same.
You Say by Lauren Daigle
This song has recently blown up on the radio, but I heard it for the first time in 2016 at PointFest in Sandusky, Ohio. As soon as Lauren sang it, I went over and purchased the shirt that she was selling based on it, and to this day it is one of my favorite shirts.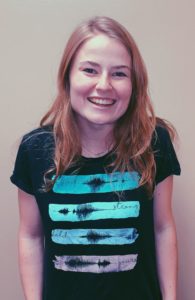 I was so ecstatic when this song was finally released and love that it has gained so much attention. Every word of it is absolutely true. We tend to see ourselves through a judgemental lens: we see ourselves as weak, insignificant, unequipped, invisible, unworthy, not good enough, not smart enough, not pretty enough, and so much more.
Lauren's song is God working through her to remind us that we are each loved by Him and perfect in His eyes. We are loved, strong, held and His. Believe what He says about you.
So with these verses, quotes and songs, I hope you are able to see yourself in a different light. Let this knowledge be a gift to you this holiday season and always: you are loved and worthy and created for a purpose.
Dress yourself each day in these promises and reminders, and you will shine and inspire others. It doesn't matter what you wear on the outside, as long as your inner clothing — your traits — display the image that God has made you in.
He is the ultimate designer, and nobody could ever come close to His success. He has designed and styled you to be exactly who you are. I hope you never forget that, and that knowing this can help you to inspire others to feel the same. You are so loved and the world is so blessed that God created you to be exactly who you are.
Happy Holidays and stay fabulous.