A very exciting time in Nashville is upon us! Coming up quickly is CMA Fest in which tons of country music fans will head downtown to see their favorite singers perform all of those country songs that make summer so much sweeter.
While I am not in Nashville for the summer, I can only imagine how exciting the festival will be, and I am dreaming of the ensembles I would wear to the festivities.
Looking ahead to the forecast for June 6-9, you're looking at some pretty hot days, with temperatures in the high 80s. There are also chances for thunderstorms. With all of that being said, here are some outfit suggestions for the festival that is sure to be a fun time.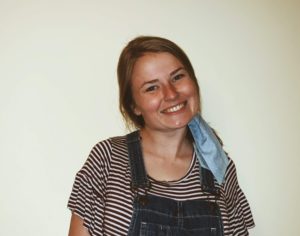 I am a huge fan of short overalls this summer and think there are plenty of options with them. Personally, I love putting a short-sleeved striped shirt underneath them, but you really can't go wrong. I have a few graphic tees that would also be cute with the denim shortfalls. With this outfit, I'd probably wear sandals or Converse. You're going to want to be comfortable since you'll probably be standing most of the day, and I think these would be good options. For accessories, depending on what top you choose to wear with the overalls, maybe add a bandana either as a headband or neck scarf.
If you'd rather wear shorts, there are plenty of options. I love flowy patterned shorts. These are great to wear with a solid color shirt so that the focus of the outfit is the bright shorts. This combination will be lightweight and perfect for a long day outside. If you choose to go with jean shorts instead, a vintage tee or a tank are great. Since there is a chance of storms and rain during the festival, maybe go with a flannel at the waist. Not only will this keep you warm if the rain starts, but it will also look really cute and show off that country vibe. I am a huge fan of baseball caps. If you are too, one of these would look great with any of these outfits. If you're looking to go with the traditional country vibe, wear some boots. However, I'd also suggest Converse or sandals with any of these ensembles. I think those will be your best choice since you'll be on your feet and it'll be hot.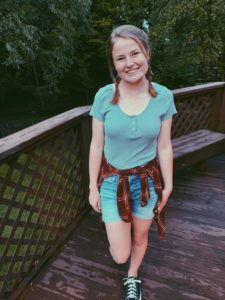 For something a little in between a cute and casual look with shorts and a tank and a fun and flirty sundress, go with a skirt and top. I love denim mini skirts and think they can be paired with numerous tops. You can go more casual with a distressed vintage tee or a flannel, or go more dressy with a nice top.
I absolutely love sundresses, and if you do too, they are also a great option. Pair these with sandals or short boots. Sundresses are especially great for the heat since they are so lightweight. A ball cap could also be worn with one to give a cute, country look.
One of my favorite items in my closet is my blue -and-white pantsuit. I love how lightweight and cute it is. It can easily be paired with boots or sandals, and if it's cold, a jeans jacket can be added to the look. I love the current trend of rompers and jumpsuits and think that these would also be fun for the festival.
For accessories, I'd try to keep them pretty light, since it'll be crowded and hot. That way, you won't lose your favorite bracelet or get tired of those heavy earrings halfway through the day. Take a pair of sunglasses to make standing under the Nashville sun a little easier.
During the summer, I often find my hair sticking to the back of my neck when it gets too hot. Although I hate wearing my hair up, there are numerous ways to get the hair off your neck when it's too warm out. High ponytails are super cute. I especially like to add a little flair to them with a ribbon. I love braids and think that they'd be really comfortable for a long day outside. When I can get it to look how I want it to, I also really love a good messy bun. Any of these would be adorable and a way to cool down a little bit on a long summer day.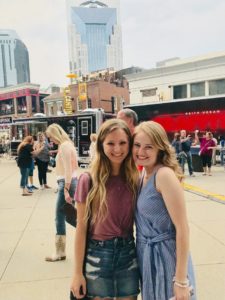 Since the festival is multiple days, you can mix it up and try a different look each day! Whatever you decide to wear, I hope you stay cool, dry, and stylish and that you have an awesome time! Enjoy the festival and make wonderful memories with friends and some of Nashville's biggest stars.
Stay fabulous,