I know I've already done a column about winter in the South, but since there is a possibility for some snow this week, I thought it might be good to circle back to this topic.
While my fellow Clevelanders and Midwesterners are preparing for negative double digit temperatures this week (shoutout to you winter warriors, and prayers that you stay safe and warm!), Nashville's supposed to experience some snow and cooler-than-normal temperatures that might be causing some wardrobe worry.
Therefore, I figured I would give some advice from a lifelong-Northern girl on how to conquer the snow and cold in style.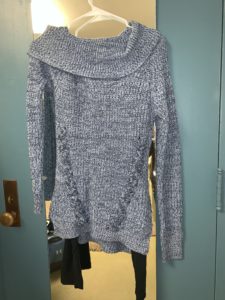 Long sleeves are probably the best idea for when the temps plummet and the snow starts to fall. Even with my heavy red peacoat that I love, I still get cold outside.
Wearing a long sleeved top or a sweater helps with that, allowing me  to stay warmer as I walk to class or spend time outside.
If you do not like long sleeves or are worried you might get too hot, try some layers. I love cardigans and kimonos to wear over short sleeved tops, and they're great for if you get hot because you have the ability to take the long sleeves off.
Not only do layers keep you warm and give versatility to an outfit, but they also allow a few pieces to create multiple looks! I got a new floral cardigan over break that I just absolutely love.
It has quickly become a staple in my wardrobe because I can wear so much with it. It's floral, so it has multiple colors in it, which allows me to wear several different short sleeved tops underneath it.
Jeans are my go to in the winter, but I know that not everyone is comfortable with them. Try a long sweater or a longer cardigan with a short sleeve top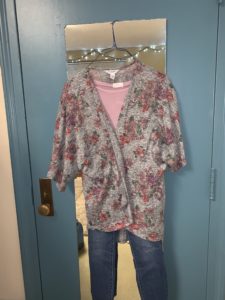 underneath and pair it with some leggings.
If you tend to get very cold or want to guarantee that you don't feel the biting wind and winter chill whatsoever, try some fleece leggings instead. And if you're fan of jeans but feel like they aren't warm enough, you can have the best of both worlds — layer some thin leggings underneath your jeans to give you that extra warmth.
Going short distances outside shouldn't be too bad in a quality pair of jeans, but if you aren't used to the cold temps, leggings might be a good idea underneath.
Leggings are also good when wearing dresses or skirts. While most students tend to try to avoid the dressy outfits when it's cold and snowy out, it can be done. I wore dresses or skirts every single day for two years of high school — which included below-zero windchill days and feet of snow!
Get yourself some good, sturdy boots that will keep your feet dry and warm from the snow, and some leggings to keep you warm. Although tights will work, they're a lot thinner than leggings, and you'll probably still be cold, so leggings are better.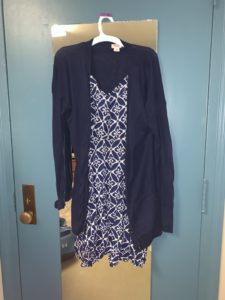 The brand Hue has a lot of great colors and patterns of quality leggings, but leggings can be found almost anywhere. (I'm personally a fan of Target's cheap leggings). Pair a sweater with that summer dress that you love (even if it's a sundress!) to fulfill that layering concept.
For shoes, please cover up! I promise you that the cold will turn your bare feet red and freeze your toes if you wear open-toed shoes or even just canvas shoes that expose the top of your foot.
Plus, if there is snow, stepping in it will make matters worse. Snow is bound to make contact and will straight-up burn because it's so cold (crazy, right?!
It's true though). You don't have to have a fancy pair of Uggs or Timberlands or anything like that. Any pair of boots — even if they aren't necessarily snow boots — is better than an open shoe because they protect your whole foot.
Tennis shoes are also a dangerous choice, because that little sliver of skin between the end of your pants and the top of your shoe is exposed, and it will hurt after the cold hits it.
I have multiple pairs of boots so I have a variety for different outfits, but every pair does its job of keeping my feet warm in the cold. If you want an extra layer of protection, put on some fuzzy socks.
Be careful though, because wearing anything too thick might widen your shoe to the point that wearing them without thick socks on makes the shoe too big.
As for coats, get something warm! I have a heavy navy jacket that I absolutely love that keeps the cold out. Although it does protect from falling snowflakes, I learned the hard way that it does not protect from torrential rain.
Find something that'll keep you warm. Mine is plain and navy, but it gives me the opportunity to accessorize.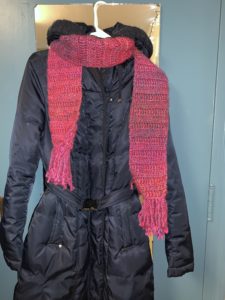 My sweet roommate made me a scarf over Christmas. It's bright pink, but has hints of purple and blue in it that coordinates with my coat. Don't be afraid to accessorize. Even if everything doesn't match color-wise, you'll be warm, and that's what is most important.
Get a hat, too, if you'll be outside for prolonged periods of time. I love my gray hat, but patterned, colored hats are also a lot of fun to make an outfit pop.
Most of all, do not be afraid to wear what you are comfortable in! If you're reading through this and thinking that it'd be so much easier to wear sweats and a sweatshirt, go for it.
Wear whatever will keep you warm and happy, because the worst thing about winter temps is being uncomfortable and cold in what you're wearing.
I'm simply saying that there are alternatives and ways to stay warm while maintaining a fantastic style. Whatever you choose to wear, I hope you stay warm, comfortable and true to yourself! Stay warm this week and fabulous always, Bisons.