College students are often described as "broke," with our piling loans and obsession of trying every restaurant in Nashville.
And yet, if you're anything like me, you're always wanting some retail therapy to escape from the stresses of college. But living the stereotype of "broke college student" makes purchasing cute clothes a struggle. Or so it seems.
I'm going to let you in on a little secret: you don't have to buy the name brand products from the fancy stores. You can get good quality clothes at low prices from many different places. So here, my fellow broke college students, is how to shop for less while still looking super cute.
1. ALWAYS shop the sale racks
There are some stores that I only go into to look at the sale rack. There is still cute stuff you can get without paying full price. Check online or stores anywhere, especially in the high-end stores for good deals.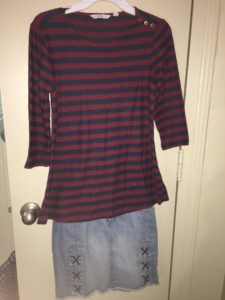 2. Thrift Shop
As much as you may not want to go and sort through secondhand clothing, there are actually some really great finds in there. Give them a wash or customize them to make them your own, and nobody will ever know that you didn't buy the piece brand new. There are some great finds at shops around Nashville.
My favorites are Thrift Smart and Plato's Closet. These will give you some options. While Thrift Smart has more of a variety, Plato's is more picky on the quality of clothes it accepts, but you're bound to find something you like at both places.
Nashville has tons of great thrift stores. The reason I like Thrift Smart is because of the opportunity to volunteer there, as well as the student discounts that are offered weekly. When I volunteered, I found an Isaac Mizrahi top for $4 (in the image) and an Altar'd State top for $2.50. Go. You'll find something for sure.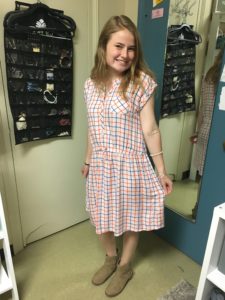 3.  Target and Walmart
Okay, you guys might think I'm cheap, but honestly, there are some quality clothes in these stores. I got a $7 sweater at Walmart the other day that is so fall. Nobody ever has to know that that's where it's from.
And with Target, you can never go wrong. Their brands like Knox Rose and A New Day are always fashionable and never too expensive. And the plaid dress in this photo came from Target's kid's section! Plus Target always has great clearance. 
4. Make Your Own!!
It sounds a little crazy, but I'm telling you that wearing something that you yourself made is so much more rewarding than just buying it in the store. JoAnn Fabrics and Walmart both offer a lot of great solid and printed fabrics and lots of cheap patterns.
Try a new hobby and make yourself something out of it. I made the dress in the featured image of the column for my senior photos! Sewing is so much fun and rewarding. Guess that's why I'm a fashion major!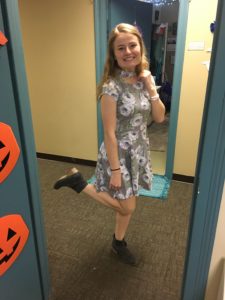 5. Kids Clothes
Okay, you guys might (probably) think I'm crazy, but hear me out here. I first started doing this when I worked at The Children's Place. At first it was just because of the employee discount, but then I actually started paying attention to the things we have.
If you're a size 7/8-ish or below in shoes, turns out you can wear kids shoes! They're so cute and so much cheaper. The majority of my boots are from TCP, and I have no shame. Target has great kids shoes, too. You're going to save yourself a lot of money and still look super cute.
Some of my favorite articles of clothing are from The Children's Place, too, like the floral dress and boots in this image. If you can fit into it, go for it.
I'm not trying to sound like Angela from "The Office" fitting into size 10 kids clothing, but sizes 14, 16 and 18 tend to run a bit big, so you might be able to fit into them. Nobody has to know that your cutest clothes are from the children's section.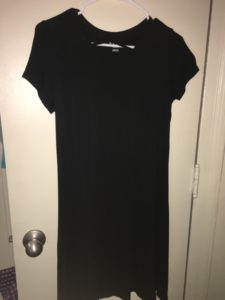 Target also has some cute stuff. Especially when I need clothes for a specific event (ex. neon clothing for roller skating), I'm not going to spend a bunch of money on something I won't continually wear.
Checking the kids' section for a cheap alternative to a more expensive women's piece is a smart idea. It'll save you money for something you actually want to wear.
Target has great pieces that you'll want to continually wear, too. I have no shame in saying I own two dresses from the Target kids' section, one of them being this black T-shirt dress. They're cute and they fit, so why not? You'll save yourself so much money in the long run.
We have a lot of expenses in our lives right now, from college to food to gas money to concerts that we just have to go to. There often isn't much money left for clothing shopping, but where there is a passion for fashion, there is a way.
Hopefully one of these will help you when you're in the shopping mood and don't have a lot to spend. Whichever you choose, I just know you'll rock whatever you find.
Happy shopping and stay fabulous!