The 90 degree days seem to be coming to an end here in Nashville, but with a few 80 degree days still in the forecast, it's not quite time to fully transition to a fall wardrobe of boots and jeans.
I love fall styles, but with the hot weather, it's not the easiest to wear them comfortably right now. Therefore, here are a few ideas for how to incorporate your summer pieces into fall looks.
Combine your t-shirt dresses with a part of ankle boots or a fall scarf. I have an Old Navy orange t-shirt dress that I absolutely love. While a plain dress might be good and light for summer, it could look too plain for fall. I have a thin rope belt that I love to pair it with to add a little flair to the look, and tan ankle boots will heighten the look even more. Adding a fun pair of earrings will enhance the fall look, even more, all while keeping you cool on the warm days still ahead.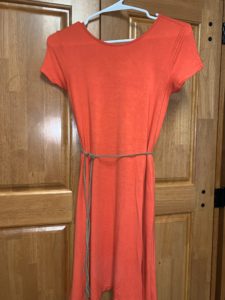 I am a huge fan of jean skirts, and while I think that they are great for all year round, I especially love them in the fall. I recently got a red floral blouse at Loft. It's super cute with buttons up the back and tucked into my favorite dark wash jean skirt, it's the perfect fall look! If it's too warm for boots, continue to wear your sandals!
I have so many pairs of fun jeans that I love, and I can't wait to wear them! I also have a white and brown kimono that I love to wear with an orange or brown tee. Paired with one of my favorite pair of jeans, it's such a cute fall outfit that's perfect with canvas shoes, like the gold ones I have. I am not a big jewelry person aside from earrings, but I do love the look of a brown printed choker with this look. 
If you're wanting more of a cute and casual style, try ripped jeans and a flannel with a cute plain tee underneath, and maybe a long necklace. That way, if it gets too warm outside, you can go with the traditional flannel-around-the-waist look and still look super stylish. 
With the heat of Nashville right now, it might not be ideal to start wearing boots quite yet, so substitute those with sandals, canvas shoes, or some other type of flat to look cute and ready for fall without getting too overheated. If the day is starting out chilly, you can always take an essential jean jacket along and take it off later as the day warms up.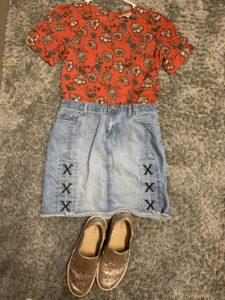 I know that now that it's October, I am totally in the fall mindset, but the weather makes that kind of difficult to embrace when it comes to fashion. I hope that these ideas will help you prepare for the fall season while also staying comfortable in the varying weather temperatures ahead. Whatever you decide to wear, always be sure to express yourself and stay fabulous.