With long days in the classroom quickly approaching, one of the best things about school starting back is the new clothing.
Ever since the first grade, back-to-school fashion has been a beacon of hope for students.
Over the years, style has changed, returned and changed once again. For fall 2017, DIY (Do-It-Yourself) fashion has made a reappearance with the help of websites like Pinterest and Instagram. From new accessories made from old jewelry to plain white shoes used as a canvas to express personality with paint, this fall is already seeing how individualized style has become.
"I think guys are able to have more of a voice in fashion now, which is exciting with the coming of a new school year," Lipscomb senior, Daniel Collier said. "I've been cutting old jeans to make shorts, so I'm excited to try those out."
Along the lines of bespoke fashion is vintage clothing. Shopping at thrift stores like Goodwill has become a favorite pastime of most millennials. This allows shoppers to find unique and one-of-a-kind fashion statements, which is important especially among students.
Current trends include anyth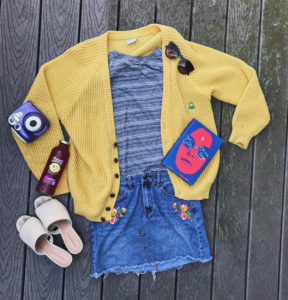 ing denim (especially overalls), ironic sayings on baseball caps and T-shirts, leather backpacks, anything Warby Parker, Adidas Superstar Shoes and, of course, the Converse comeback.
Style has become so broad and has broken off into so many sub-cultures that it's hard to pin-point one set trend. People have attached to their signature "vibe" or "item" and have run with that, pulling everyone's look apart from each other.
One main style that is predicted to come back in full force with the start of the school year is the "era look." Rebels Market explains how the 60s, 70s, 80s and 90s looks are reappearing and being reinvented. Students are latching onto this "era look" and bringing it back to school with them.
"It's important to have fun with your style and know that trends aren't forever, and there are no boundaries in fashion," Collier said. "People get so caught up in looking like other people that they forget what the purpose of style is."
If one needs help getting inspiration or finding clothes that fit different facets, magazines such as Seventeen offer good style advice. These magazines also include fashion advice for both genders, inviting everyone to the stylish back-to-school party.
---
Olivia Waldorf, a senior at Lipscomb University, is introducing a new, regular fashion column, "Olivia's Way." If you have ideas about fashion, particularly anything from the student viewpoint, you can reach her at oawaldorf@mail.lipscomb.edu.