The Nashville Predators' historic season has sparked new growth in the hockey community in Nashville, with Lipscomb's own club hockey team eager for the transformation.
The Preds' inaugural season was in 1997, while Lipscomb's team is less than a year old. The Nashville Predators are racing towards the Stanley Cup Final against the Pittsburgh Penguins this week, and the Lipscomb Bisons, although young, capped off this past season with a strong 4-2 victory over MTSU.
Army veteran, Lipscomb engineering student and Defensemen Nick Morris is one of the founding members of Lipscomb's club hockey team. Although not a Predators fan, he said he's excited to see what the Preds' Stanley Cup quest will do for the hockey community in Nashville.
"I'm always excited for hockey to take a little bit more of a forefront because it's an absolutely fantastic sport," Morris said. "I would like to continue to see Nashville become more of a hockey town and more of a hockey community."
Lipscomb coach Ryan Patterson started playing hockey at the age of 7 and has since devoted himself to the sport, serving as Lipscomb's coach, and as a coach for Blackman high school the past two years and also working for the Predators for the last 12 seasons as a video coach assistant.
"I actually stepped away from my job with the Preds to start a new adventure with this team, and feel it's the most positive and goal-oriented team I've ever been a part of," Patterson noted. "It's refreshing actually, and something that you don't see everyday."
Patterson added that he is glad people are recognizing Nashville as a hockey town as the Predators' season has put it more in the spotlight.
"I'm very excited that people are considering Nashville a hockey town," Patterson said. "It's actually always had a lot of talented players here but hasn't been publicized that much. Hockey in general is moving towards non-traditional — you now see draft picks coming from Arizona, California, St. Louis and Florida. Guys are playing hockey everywhere now, and Nashville is finally getting some well-deserved credit."
Junior business management major James Nally is a Right Wing for the Bisons.  Nally first played at Penn State for two years prior to joining the army and continued to play when he could while in the army.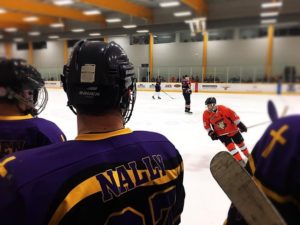 "I initially was looking at Belmont — several green beret friends of mine were getting out and said Belmont had a great business school," Nally said, adding, "then I saw one of my good friends taking the head coaching job at Lipscomb — immediately I called him and asked questions. Then I looked into the school and was blown away. The veterans office has been awesome.  A lot of the professors at Lipscomb are extremely helpful and very approachable."
Although a Boston Bruins fan, Nally said he's rooting for the Preds to win the Stanley Cup, yet is predicting a Penguins victory.
"For them [Predators] to win, they have to continue to stay hungry and win the battles in the corners and to lose pucks," Nally said. "They have to play physical and be very smart. Pittsburgh is a well-seasoned team with multiple Stanley Cups and is very good on the road too."
Patterson countered this stating that this prediction is a tough one, but he ultimately wants to be optimistic and thinks the Preds will win.
"Preds will have to play fast and consistent — whoever is more consistent will win the series," Patterson said. "They [Penguins] were embarrassed one game in each of the last series, and that can't happen this round."
Morris is not a Predators fan, nor is he a big fan of the Penguins, yet said he thinks the Penguins will ultimately prevail.
"If I was really pressed to make a decision, I think I would have to unfortunately say it's probably going to be a Penguins victory," Morris said. "Honestly, I could see it going both ways; I think the Preds may have a fair chance at it. Pekka Rinne has played absolutely fantastic, but one of the things they're going to have to do is take a little bit of pressure off the net. The defense definitely needs to be a little bit more logical — tight — in how they play. They need to play aggressive — really be able to grind out with a very talented and experienced Penguin lineup up front."
As many are gathering to watch the Preds' run to the Cup — whether that be in the arena or outside at Walk of Fame Park for the "Party in the Park" tailgate — Nashville is gearing up for the final battle in this historic Predators season. Despite his prediction for a Penguins' victory, Morris said a Preds' triumph could benefit the Nashville hockey community in countless ways.
"I do think a Predators victory in the Stanley Cup would help solidify hockey at Lipscomb University," Morris said. "That's a huge plus for the local boys. The better the Predators do, the better it's going to be for college hockey in the city of Nashville."
Game one of the Stanley Cup, Predators versus Penguins, starts at 7 p.m. tonight. For more information about Lipscomb's hockey team, visit the Lipscomb Hockey Club website.
Photo by Ryan Patterson