During my time at Lipscomb, I was a student in the IDEAL Program. When I began my first year moving into the dorms, I didn't know anyone who was a student or who was in the program. I was excited about finally being able to get a real college experience and making new friends after moving from another state. My experience during Quest Week didn't exactly go as I wanted it to be. It was hard being able to make friends with the freshmen who were already younger than I was.
When I started classes I was able to meet new people and get to know them. One day in class we were talking about photography and after the class one of my classmates took me to meet the Lumination editor-in-chief. I had expressed interest in taking pictures for Lumination Network. I started getting assigned sporting events to take photos for. I had started making a few friends and then IDEAL assigned peer mentors for the IDEAL students. Two of my mentors happened to be on the women's soccer team and I had no clue until one night I was taking photos for one of their games.
Riley with Lumination Network editor-in-chief Mckenzi Harris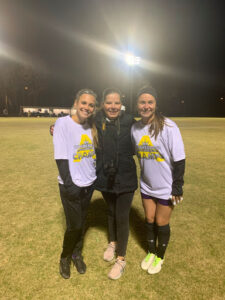 Riley with her IDEAL peer mentors from the Lady Bisons soccer team
I started becoming good friends with my mentors, players on sports teams, and students in my classes. Most of my favorite memories are with my friends on the soccer team because we became really good friends. Before spring break of my first year, I joined a social club. I was able to join Gamma Lambda, but after two days of joining the club, everyone got sent home due to COVID. One of the last things I did before leaving was getting coffee with one of my friends on the soccer team who was one of my mentors.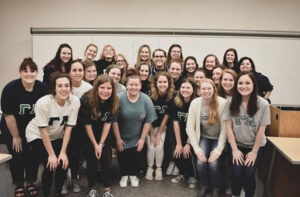 Riley with her friends in Gamma Lambda
When my second year started in the program, my parents had me go virtual because my family was at high risk of getting COVID. It was hard not being able to go back on campus to attend classes and not being able to see my friends. Luckily, my friends were able to come to visit me because I live close enough to campus. Originally I wasn't going to be able to go back in person, but my family was able to get vaccinated and I was able to go back on campus for two weeks. With the time I had, I spent most of my time seeing my friends. The IDEAL Program will help me start finding and applying for jobs.