Thomas Rhett and Kelsea Ballerini both came from Lipscomb in recent years, and Lipscomb student Peytan Porter is making plans to follow in their footsteps.
Porter started her singing career at the age of 12, but she said it wasn't actually something she wanted to do at the time. She only wrote songs about how her mom was mean for giving her chores.
"I didn't take it seriously until at a church camp, and my mom was having to sing and act at the same time," Porter recalled. "She was terrible. Then she was like, 'Well then you do it,' and I said 'Noo!' They ended up giving me a microphone behind the curtain. So I sang, behind the stage, and our music director came back and was like, 'You're a singer; you are doing this.'"
Ever since then, Porter has been focusing on her songwriting, including her job as a full-time staff writer at Sea Gayle Music and doing a songwriting internship.
She said she has always dreamed of becoming apart of the Nashville music scene, and even called it her "Disney World vacation" when she was able to visit at fourteen.
"I would not be at Lipscomb if it was not in Nashville," Porter said. "I chose to come here when I was young. My mom was like. 'You can go on a cruise to Cozumel, or you can go to Nashville.' My sister went on the cruise, and I came to Nashville."
Porter said she chose Lipscomb over Belmont's music program because she liked how Lipscomb's program felt like a small, Christian community. She is no longer a music major, however. She said she decided there were business aspects of the industry she wanted to know, but that she has learned more from working in the music industry now than when it was actually her major.
"It showed me that I want to be on the business side," Porter said. "It showed me that I appreciate theory and how you create music, but I wanted to know how to get people to come to see me and how to be articulate when I'm speaking to fans or parents."
Porter said her songwriting has been inspired by two main aspects: the women of country music today and her own personal experiences. She added that country music is a special genre to her because of the deep lyrics, and though she has tried to fight it, she is a "country girl at heart."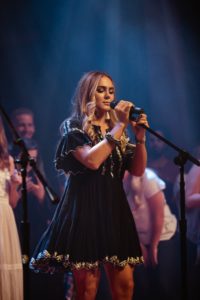 Porter's other guide to getting her songs on paper is just "life."
"My string of bad luck with guys," Porter said. "It's definitely all personal. There have been times when I've been with a guy, and I'll get in my car and have half of the song in my head because just something happens good or bad."
Around Lipscomb, Porter is known for her performances at the Cowboy Show, Singarama and her collabs with Lipscomb's Hudson Parker. This includes helping direct the Tau Phi Cowboy Show last year, which she said taught her a lot about bringing music to life visually.
"We pulled it off, so that was good, but it taught me as an artist that I can dream up the stuff that people can see," Porter said.
In terms of what's next for the singer-songwriter, she's got a few ideas in mind.
"…Hopefully, my immediate goal is to get someone else to record one of my songs," Porter said. "I have some that I am thinking about releasing, but I go back and forth."