Whitney Houston fans: this is the musical for you.
Even if you are not the biggest Whitney Houston fan, you will still love TPAC's latest show, The Bodyguard. Deborah Cox and Judson Mills bring to life Rachel Marron and Frank Farmer in the incredible new production.
Frank Farmer, a former Secret Service Agent, is hired to protect music superstar Rachel Marron from an elusive stalker. Both headstrong and wanting to be in charge, they never expect to fall in love with each other.
The Bodyguard is a musical based on the 1992 film The Bodyguard with the score featuring Whitney Houston songs such as hits like "I Wanna Dance with Somebody," "I Have Nothing" and her cover version of Dolly Parton's "I Will Always Love You." It is also based on a book by the Oscar-winning Alexander Dinelaris.
Grammy® Award-nominated and multi-platinum R&B and Pop recording artist and actress Cox made her Broadway debut in the lead role in Aida. From there she has gone on to create platinum selling albums, which led her to receive an American Music Award nomination. From One Wish, her second album, came the double-platinum single "Nobody's Supposed to Be Here," which held the record for longest running No. 1 R&B Single for 14 consecutive weeks. Cox even collaborated with Whitney Houston in 2000 to record the duet "Same Script Different Cast" for Houston's Greatest Hits CD.
But one actor who might have stolen the show was Douglas Baldeo, who plays Rachel's adorable son Fletcher. Baldeo is a triple threat: he can sing, dance and act, and he proved that on opening night.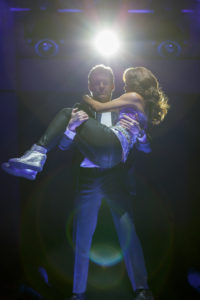 When the show began, you could tell that everyone had some opening night jitters, but those clearly went away within a few minutes of the show starting. When you close your eyes as Rachel (Cox) sings, you might even think that it's Whitney Houston singing. Frank (Mills) charms both Rachel and the audience, and The Stalker (Jorge Paniagua) will give you nightmares. The audience will feel the joy, sorrow and fear the characters feel. It was a brilliant performance by everyone in the show, not to mention the exceptional music.
Yes, it was originally a movie, but the director, cast and crew somehow turned that into a stage show that you can still follow just as easily. The set design was simple but not boring. The concert scenes will make you feel like you were actually at a Rachel Marron concert, and the video projections on the backdrops really help move the story along, giving more detail to each character.
The Bodyguard offers a new light to the theatre world, the music is incredible and the story is one you won't forget.
The show runs March 21 through March 26. To purchase tickets and see show times, visit TPAC's website. For more information on The Bodyguard, visit its website.
Rating: 3.5/4
Photos courtesy of Joan Marcus