It's a little like High School Musical.
Thursday night, Lipscomb men's basketball takes on Texas in the NIT championship at Madison Square Garden (MSG) in New York City. But back on campus in Nashville, students are also gearing up for opening night of Singarama, a song-and-dance competition that's been going on for decades.
A large chunk of Lipscomb students participate in Singarama, especially those in Greek Life. And while some students are taking advantage of the bus Lipscomb sponsored to MSG, students who are in Singarama are preparing for opening night of the anticipated show.
Luke Shoulders (second from left in featured photo) is possibly one of Lipscomb basketball's biggest fans. He's been dedicated to dressing out and cheering on the Bisons all season.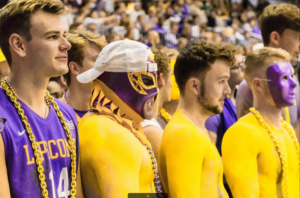 But he's also heavily involved in Singarama and has a main role in this year's show, playing "Dad (Jim Foster)" in the "Wonder Years" show, so he won't be making the biggest trip of the season to watch Lipscomb play in the championship.
"I love the Lipscomb student experience," Shoulders said. "I believe in joy and excitement in abundance where people are gathered. Both basketball and Singarama give me that experience. I get the excitement of cheering on a sport that I've grown to love in basketball, and I get to perform with people I love in Singarama. Basketball and Singarama are two of the most significant experiences that I will remember in college for the rest of my life."
Singarama opens on Thursday night and has a show on Friday evening and two shows on Saturday. The Thursday night show was pushed back to 8 p.m. to allow students to watch at least some of the game.
"I will be able to watch most if not all of the game," Shoulders said. "I know that we go on pretty early on Thursday which is tough, but the show must go on. I'm grateful that they moved the show back so that we can watch most of it, if not all of it."
While he said he's grateful Lipscomb pushed the show back to 8 p.m., Shoulders said the ideal situation for him would have been if the Thursday show had been moved to Sunday evening.
"To be honest, [moving it to Sunday] would have been best-case scenario for myself," Shoulders said. "To be the furthest that Lipscomb has ever been and having a chance at winning the NIT title means a lot for our school. The publicity, the excitement and energy at school has been incredible."
However, Shoulders added that it's probably for the best that he go ahead and do the show on Thursday.
"At the same time, I probably would have lost my voice yelling at the game so it would have been bad for the show. "
Ultimately, he said he's still very excited to go out on stage and perform.
"To put in as many hours as all of the shows have, we want this performance to be one of the best Singarama's ever," Shoulders said. "We've put in our time, now it's time for us to reap our rewards much like our basketball team is now."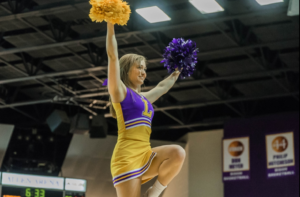 But student Lindsay Bradshaw is on the opposite side of Shoulders. She's a cheerleader for the basketball team and will be cheering for the Bisons in MSG on Thursday night instead of making it back to campus for Singarama's opening night.
She may be the "Troy Bolton" in the whole High School Musical (or "College Musical" is a more appropriate name for it), as she still plans to make it back in time for Friday and Saturday's shows to perform.
"You could say I'm basically Troy Bolton, because even though I will be cheering on the Bisons in NY for the first show, I'll be back singing and dancing for Friday and Saturday," Bradshaw said. "I just feel bad for my couples dance partner! I guess that makes him Gabriella?"
Bradshaw said that although she's sad about missing Singarama, she is more excited to cheer for her team.
"I'm more excited about cheering on the Bisons," Bradshaw said. "I feel a little bad for letting down people in my show, but they'll do great without me."
She added that she's looking forward to seeing the Lipscomb community gather together tomorrow in two big ways — for basketball and for Singarama.
"Both events bring together the community of Lipscomb – for basketball, people come together to cheer on the Bisons," Bradshaw said. "In Singarama, people come together to put on a fun show for the rest of the Lipscomb community."
Featured image by Ben Davis
Basketball photos by Mckenzi Harris