After applying for the Fulbright Scholars Program with the support of numerous friends, professors and others, Lipscomb graduate Lauren Borders, along with four out of seven semi-finalist Lipscomb students, was accepted by the program. 
"The application process and being given this has been one of the most humbling experiences of my life, because the people that I asked to help me do this delivered beyond what I could've ever expected," Borders said. "So many people helped me out… I'm just very grateful for all the people in my corner and what they did for me."
The Fulbright Scholar Program is sponsored by the U.S. Department of State's Bureau of Educational and Cultural Affairs and offers scholarships for students to live abroad while teaching English or conducting research. 
For Borders, who recently graduated with a strategic communication major and international studies and Spanish minors, this means living in Uruguay for nine months and researching the country's political climate. 
"My project is a journalism-based research project about political broadcast journalism and its effect on political division within the state and the culture," Borders said.
Borders plans to focus her research on "what kind of measures Uruguayan press takes to present a diverse opinion… [The basis of my research is] the relationship between political journalism and how divided the people are politically."
"Basically, [it's] how you talk about politics at your dinner table with your friends, and how your sources of journalism enforce those ideals," Borders said.
Borders's background in news and politics inspired her research project idea.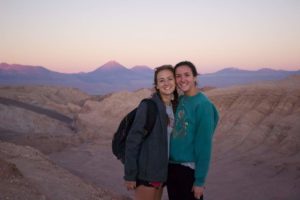 "I obviously love journalism, but I also work in politics," Borders said. "In college, I also did an internship at CNN, and it was a really fantastic experience where you got to have an insider view of the internal choices that especially a broadcast entity makes about how they're going to present news and what kind of language they use… nobody else gets to see those kind of choices."
Borders chose Uruguay out of over one hundred countries in which to study because of her interest in its unique political climate, as well as her previous travel experience in South America, including studying abroad in Chile in 2016.
"It's a lot more progressive than a lot of countries in South America, and that's a progression that's happened very rapidly, so people tend to come to a consensus very rapidly," Borders said. "It's also, as I understand it, a place where talking about politics is not as inflammatory as [it is in] the United States. It's not often that those two things exist in harmony."
Borders said she wants to have a memorable result from her time in Uruguay, potentially including something she can use in future educational opportunities.
"I'd like to turn this into something meaningful, whether that looks like a publication in a scholarly journal, or a some kind of book or masters thesis," Borders said. "I'd like to create something concrete from this, instead of just going to observe and absorb."
Borders said another goal for her is to experience seeing politics from a different perspective.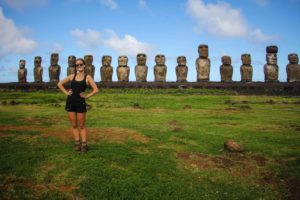 "We live in a world where our news sources are our scapegoats in our own crisis of political division, so I just wanted to kind of get outside of the United States and look at it from a different perspective in a country that doesn't seem to have quite the same issues that we do," Borders said.
Borders leaves for Uruguay in March of 2020 and will return to the U.S. that December. She said she is most excited about more genuinely experiencing the culture of the city she'll be living in than she did when she studied abroad.
"I'm excited to experience what it's like to truly live in a different country, and do all the normal things it takes to live, like… [to] create a community over a long period of time in a different country," Borders said. "I think it will be an experience that I will carry with me through the rest of my life."
You can read more about the Fulbright Scholars Program in our previous article on Lipscomb's Fulbright semi-finalists.
Photos provided by Lauren Borders