One year after winning its first ASUN title, the Lipscomb men's basketball team has earned a chance to defend its crown.
The Bisons (25-6) dominated NJIT in a 78-55 ASUN semifinal victory on Thursday in Allen Arena. That sets up a rubber match with Liberty (27-6) on Sunday at 2 p.m. CT for the ASUN tournament title and a spot in the Big Dance.
The game will be televised by ESPN – Lipscomb's first-ever national television appearance at home. The Bisons topped Florida Gulf Coast 108-96 in last year's championship, but this time, the big stage is coming to Green Hills.
"It's a big day for our campus, our program and everybody that cares about our school," Lipscomb coach Casey Alexander said. "I'm happy that our players have put themselves in a position to be here and enjoy that moment."
Lipscomb guard Garrison Mathews came out of the gate hot. He scored 10 points in the first four minutes of the contest and finished with 22 total to lead the Bisons. The senior also had nine rebounds and five assists.
After Mathews sank a three in the early going, Alexander looked behind the bench to exchange a smile with Lipscomb athletic director Philip Hutcheson.
"I turned around and looked at [Hutcheson], and we both knew what the other was thinking," Alexander said. "[Garrison] can score the basketball, and he does it in pretty impressive fashion. He's always been able to score, but now he scores a little bit deeper and a little more on the move."
NJIT kept pace with the Bisons thanks to shooting 48 percent in the first half. Lipscomb held a 48-37 advantage at the break, but a lackluster offensive showing in the second half doomed the Highlanders.
"When you're on the road, especially in tournament play, you want to give yourself an opportunity at the end of the game," NJIT coach Brian Kennedy said. "Towards the end, we just let it slip away."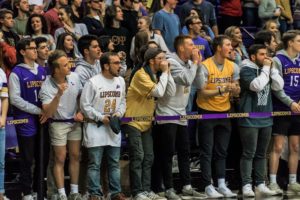 Lipscomb's defense, which has struggled down the stretch, delivered one of its best performances of the season. The Bisons finished with eight steals and three blocks and held NJIT to just 18 points in the second half.
"We've had lapses defensively over the past few weeks," Mathews said. "We really pride ourselves on defense, and that's really what's been winning us games. It feels good to get back to that a little bit."
The Highlanders were forced to pay extra attention to Mathews, which opened opportunities for other Lipscomb players to find the basket.
Seniors Eli Pepper and Rob Marberry both had 10 points, while Matt Rose tied his season high with 17.
Rose entered the night averaging 5.5 point per game, but he continued his hot shooting against NJIT. The senior scored 17 against the Highlanders on Jan. 16 and had 12 more when the two teams met for Senior Night on Feb. 25.
"He has great numbers against [NJIT]," Alexander said of Rose. "It's really weird, I don't know. But I like it."
NJIT senior guard Diandre Wilson led his team with 13 points, while sophomore Zach Cooks also had 10. NJIT forward Abdul Lewis was slowed by an MCL injury and managed just seven points.
The Bisons were weary of NJIT because the Highlanders nearly beat them on Feb. 25. Several late free throws from Mathews helped Lipscomb squeak out an 81-77 victory.
"We know NJIT's a great team," Marberry said. "It wasn't really a fluke that it was a close game the last time. We just had to come to play in this game."
Liberty beat North Florida by a score of 71-63 Thursday to advance to Sunday's title game. The Flames recently dealt Lipscomb a 74-66 home loss on Feb. 13, just two weeks after the Bisons crushed them in a 79-59 blowout on Jan. 29 in Lynchburg, Virginia.
Marberry said duplicating Thursday's fast start could go a long way in how the title game is determined.
"We've got to jump on them early," he said. "Most teams, if you jump on them early, they're kind of on their heels for the rest of the game."
Photos by McKenzi Harris
Video by Erin Franklin and Mckenzi Harris