Every restaurant has pros and cons. For The Dotted Lime, the con is that the restaurant is located one hour from Lipscomb, but thankfully the pros are…everything else.
Friends, The Dotted Lime is where gluten-free dreams come true. I'm half-convinced Willy Wonka actually works there. Not because they have a chocolate river in the restaurant (honestly, I believe they can do anything), but because their gluten and dairy-free cinnamon rolls are on the Wonka-level of being unbelievably good. (It's a real level…look it up.)
I'll admit that Columbia, Tennessee, the cute small town in which Lime is located, may not be the tourist destination of the year. My hope, however, is that reading this will encourage you to think of it instead as a gluten-free pilgrimage, with The Dotted Lime as the ultimate destination. A journey, to be sure, but worth it, in my humble opinion.
One of the most noteworthy elements of The Dotted Lime is that the entire restaurant is gluten-free, so you don't have to worry about cross-contamination. It's also lovely to be able to choose from 100% of the menu items, instead of 10%-50% of choices on a typical restaurant's menu. What a win-win for my gluten-free people!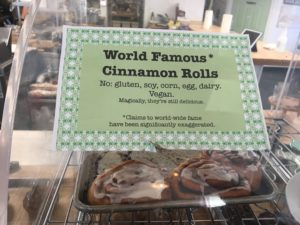 My second Lime spotlight shines on its "world famous" cinnamon rolls. If you ate one without knowing it was gluten-free and dairy-free, you'd probably never guess it was. Yes, the cinnamon rolls are that good. Mysteriously gluten-like in their chewy texture, perfect to pull apart/unroll (the only correct way to eat a cinnamon roll, by the way), and comforting, with an addicting flavor and sweetness, Lime's cinnamon rolls are absolutely in contention for the best cinnamon rolls I have ever had.
They simply taste like the real deal.
A third spotlight goes to Lime's gluten-free flatbread, which they use for sandwiches called panzzinos. Their flatbread has a soft, pillow-y texture, making it pita bread's gluten-free cousin. Since pita is one of the main things I miss on a gluten-free diet, biting into Lime's panzzinos is a dream come true for me.
Our fourth spotlight recognizes Lime's wonderfully diverse breakfast and lunch menus. The breakfast sandwiches are simple but yummy, the hot chicken salad is spicy (what a shocker) but delicious, the tacos are wonderfully inventive and colorful, and the soups pair nicely with a side of flatbread.
And, of course, the dessert is (always) where it's at. So, when you go, put on your adventurous socks and try a variety of dishes. You'll want to make the trek worthwhile anyway, so just load up on goodies and take them home to eat throughout the week.
The final spotlight goes to the comforting atmosphere that Lime's owners have created. Besides being refreshingly allergen-free, Lime is family-centered, even to the extent that the restaurant is mainly run by one, large family. You and your allergies (or even lack thereof) will feel right at home at this popular, welcoming eatery.
If you need one extra push to get you to Lime and you want to drool a little (it's probably therapeutic in some way), check out The Dotted Lime's lovely food-filled Instagram account. And, if you are a Marketing major, learn from Lime's humorous Insta stories. They make the restaurant even more endearing.
What are you waiting for? Enjoy this chilly weekend by loading up the gas tank and hitting the country roads with friends. Sometimes all you need to make a weekend magical is a little gluten-free road trip.