Siran Stacy, former NFL running back turned evangelist, delivered a Gathering message on Tuesday that left several students upset.
Stacy was hired by Lipscomb Academy athletics in November to be the spiritual formation coach.
Stacy said that he felt God had sent him to address students who were "struggling."
"If you're struggling right now, I don't care where you are, if you're struggling at living another day, stand to your feet, stand up right now, unashamed," he said. "You're in this place; you're wayward. You know you're not living the way God called you to live."
In a prayer, he said, "There is forgiveness, there is grace for the homosexual. There is forgiveness through the blood of Jesus; there is nothing you can't change."
Konnor Davis, a sophomore musical theatre major from Selmer, picked up on Stacy's comment that "there is grace for everyone."
"Thank you, but I don't need it because I'm gay," Davis said. "And hearing things like that, it really re-introduces a lot of the trauma I went through and that I'm still relentlessly trying to work through because I was trying to change myself and people were trying to change me."
Many students on both sides of the issue declined to comment to Lumination, some mentioning that they did not want to have a target on their back.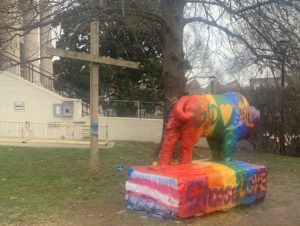 Some students followed the chapel talk by painting a rainbow on the bison in Bison Square. Overnight, it was painted over with a tribute to the late Kobe Bryant on one side and "I Cor. 6:9" on the other. That one was then painted over with another rainbow.
Assistant Vice President of Public Relations and Communication Kim Chaudoin told Lumination Network that the Office of Student Life team has met with several students following the Gathering on Tuesday.
"They continue to be available — as always — to meet with and listen to students who want to discuss yesterday's chapel talk," Chaudoin said. "Tomorrow [Vice President of Student Life and Dean of Students] Al Sturgeon will hold a special break-out chapel that will be an opportunity for additional discussion on this matter."
Not all students are blaming this issue on Lipscomb. Davis had nothing but positive views on Lipscomb.
"He was supposed to speak on something that he obviously didn't," Davis said. "There is nothing on his website to make anyone feel or think that he would speak on homosexuality. He completely blindsided the entire chapel office and every student at Lipscomb University whether they were in favor of what he was saying or not."
Davis said that Stacy himself deserves grace.
"Now as I've slept on it, I see that, his entire family was killed by a drunk driver," Davis said. "A lot of times during grief and hard things, people blame others so they don't have to hurt as bad, and I feel he might have been projecting that on my community.
"Just because you're hurting doesn't mean you get to hurt others," Davis said, adding that he would appreciate an apology.
At the beginning of the academic school year, Sturgeon — who joined Lipscomb last March — created five statements he wanted to stress this year:
    I am part of a bigger story.

    I am an important part of this community.

    I am loved.

    I am equipped.

    I am not alone on this journey.
Sturgeon sent an email out yesterday after chapel to discuss the challenges that had been made to those statements and to apologize.
"I have received some emails and texts from students not sensing that those statements [the five statements above] are true," he wrote. "With that in mind, I wanted to stop and write this short note to every student to apologize for anything that communicates otherwise to any student." 
He said that students are welcome to attend any break-out chapel they prefer.
"But if anyone wants to come instead for an open conversation with me on how we can make real progress on those goals," he wrote, "I will be in the Shinn Center at 10:55 a.m. just to talk and listen (and you will get chapel credit, too!)."
Lumination Network will continue to update this story as it unfolds.