The odds were in favor of the Lipscomb men's basketball team during Monday night's ASUN quarterfinal matchup against Kennesaw State.
Not only were the Owls without head coach Al Skinner, who recently resigned, but leading scorer Tyler Hooker (19 points per game) also missed the contest after taking an elbow to the face last week.
Despite 25 points from Danny Lewis and 18 more from Bobby Parker, the No. 1 Bisons were able to fend off the pesky No. 8 Owls for an 86-71 victory at Allen Arena. The win propelled Lipscomb (24-6) to the ASUN semifinals, where it will host No. 5 NJIT on Thursday at 7 p.m.
Lipscomb guard Kenny Cooper registered a rare triple-double by scoring 15 points, grabbing 10 rebounds and dishing out 10 assists. It was just the second triple-double in the program's NCAA Division I era — the first came when Josh Slater had 10 points, 12 assists and 10 steals on Feb. 17, 2011 against USC Upstate.
"I'm really proud of Kenny," Alexander said. "Our team's a lot better when he's aggressive and making plays. He had seven assists at halftime, which is the most impressive part of it to me. That shows that he's engaged, pushing the tempo and making plays for himself and others."
ASUN Player of the Year and Lipscomb senior Garrison Mathews dropped 26 points and nailed five three-pointers. Fellow senior teammate Rob Marberry finished 8-of-9 from the field in a 16-point effort.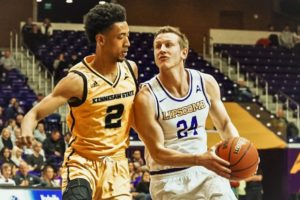 "It's tough to beat us when Rob plays great inside and goes 8-for-9," Mathews said. "You can go down the list…Eli [Pepper], [Michael] Buckland, Ahsan [Asadullah], all of them. They're great guys, and I'm fortunate to have them playing on my team."
Kennesaw State (6-26) managed to keep the game close for much of the 40 minutes. But there was a stretch late in the first half when Lipscomb went on a 19-3 run and the Owls did not score for nearly six minutes. That gave the Bisons a 42-26 halftime advantage.
"That was really the difference in the game," Alexander said. "They came back and made it a game after that, but it gave us some breathing room and took the weight off our shoulders a little bit."
Fifteen of Parker's points came in the second half, while Lewis had 17 in the final 20 minutes. Although the Owls cut the lead to 63-57 with 7:30 remaining, Lipscomb's defense did just enough to pull away and build a 12-point lead by the final media timeout.
"Defense is the key for us," Mathews said. "We've been so good all year long, and when we've struggled over the past couple of weeks, it was [defense] that really hurt us. When we play well defensively, it gets our offense going as well."
NJIT (21-11) is set to return to Nashville just 10 days after providing a scare in an 81-77 Lipscomb victory on Feb. 25. The victor will play the winner of No. 2 Liberty versus No. 3 North Florida for the ASUN Championship on Sunday at 2 p.m. CT.
"It will take a better defensive effort," Alexander said of what his team must change. "In the second half [last week], they were picking us apart. We really lost all confidence. [NJIT] is a good team that has won 21 games and [11] games on the road, so we'll have our hands full."
Photos by McKenzi Harris