Lipscomb hosted its first "Day of Giving'on Tuesday in an effort to reach 500 donors in 24 hours so that an anonymous donor would match it with a $100,000 gift. But by 8 a.m., Lipscomb had already surpassed this goal, eventually reaching 2,741 donors, raising $542,164 by the end of the day.
To help bring in the donations, Lipscomb set up multiple stations throughout Bison Square where people could give, say thanks and/or pray. In addition, the day included games, food and a photo booth. "Lipscomb Leads" is the initiative behind the event.
Stephanie Carroll, assistant vice president for annual giving, said she thinks it's important to bring the community together to donate.
"[Day of Giving] is about working together and is a way to energize our community," Carroll said.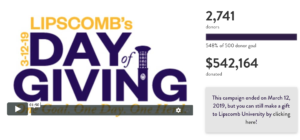 Carrol also said that she thinks surpassing the initial goal of 500 donors is encouraging others to donate funds to any department. Most of the donors were Lipscomb's alumni. However, Lipscomb also asked students to donate.
Rebecca Bennie, who graduated eight years ago from Lipscomb, is now the donor relations coordinator of Lipscomb Leads.
"It's really encouraging to see the Lipscomb community come and donate," Bennie said. "It's been mindblowing in the best possible way, and it's great that is going to the students."
Anna Caroline Rowland, a graduate student working in the Office of Advancement, said that she was glad Lipscomb offered a station where students could thank donors by writing thank you notes.
"It's been cool to see alumni who have graduated in the past 20+ years who are still investing in Lipscomb and giving back," Rowland said.
Rowland said she has been writing "Thank You" notes to her former professors, because she thinks they are one of the strongest aspects of Lipscomb.
Freshman Anna Powell said the amount of giving to Lipscomb in 24 hours was remarkable.
"It shows how trustworthy Lipscomb is, the great reputation that it has, and it shows that people are willing to invest their money," Powell said.
Lana Tidwell, the administrative assistant in the office of advancement, said she was stunned with the amount of support Lipscomb received in such a short period of time.
"One of the things that impressed me more about Lipscomb is to see how proud everyone is to go here and how much everybody can just talk about God throughout everyday life," Tidwell said. "The significance of today is how much money we raise for the students…It shows what you can do when you put God behind something and when you have faith in that."