Jesica Beaty, a former sports writer for Lumination, now has a new beat: Major League Baseball wife.
Beaty, a 2015 journalism and new media alumna, married her high school sweetheart and Belmont alum Matt Beaty. Matt played baseball for the Bruins and for the last few years has made his way up through the Los Angeles Dodgers' minor-league organization. Jesica and Matt have been married for two and a half years. After the two got married, Jesica left her full-time job as a managing editor with The Aransas Pass (Texas) Progress and Ingleside Index to follow Matt.
The couple has moved around quite a bit. Currently, the Beatys reside in Oklahoma, home of the Triple A Oklahoma City Dodgers.
Matt was drafted by the Dodgers in 2015 and has played in the Rookie, Single A, Double A and Triple A leagues. Matt was added to the Dodgers' 40-man lineup back in November. This year the Dodgers used one of his options and sent him to the minor league during spring training; this allows him to be called up and down at any time this year.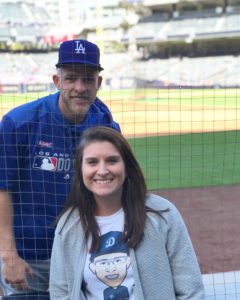 Matt was called up by the Dodgers earlier this month for a game against the San Francisco Giants.
"It was about 12:30 at night, and the Triple A manager called Matt," Jesica said. "I was so excited for him and just so excited it was finally happening."
During that game, in his first at-bat in the major leagues, he got a hit and his first RBI. He was then recalled and brought back down to Oklahoma City Dodgers. Last week, Matt was called back up for a game against the Cincinnati Reds, where he played first base.
"To see him play at the highest level was such a surreal moment," Jesica said, "and really made everything that we have been through worth it."
So far, Matt has recorded two hits and a run batted in during his four appearances at the plate.
Jesica manages a blog called Dreams and Seams, where she uses her sports writing background and tells the story of her husband as well as making podcasts and interviewing others in the baseball world, all while keeping up her resume.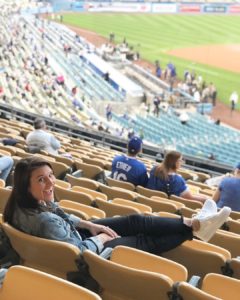 "I wrote about the draft process and what it was like for him," Jesica said. "That one kind of took off, and that was when I realized people might be interested in what the baseball life is for us and what it is like behind the scenes."
Jesica said the favorite parts of writing her own baseball blog are…
"Being along for every step"

"I'm gonna be able to look back and say I was there when things weren't going our way, and I was there whenever he got his first phone call that he was going up."

"Just being able to be here for him. It has just made us so much stronger."

"Traveling. In the big leagues, we're getting to go to all of these cities that are just incredible and these ballparks are incredible and just being able to see and do that because Matt is in the dugout is super cool."

"The people we get to meet."
As of May 20, the Dodgers had a five-and-a-half-game lead in the National League West.
Photos courtesy of Jesica Beaty.