CMA Fest is one of the biggest events in Nashville and visitors are arriving from all over to attend. While tickets to the main nighttime concert can be expensive, there are many free stages around town.
During CMA Fest, fans can hear hundreds of artist, enjoy the downtown Nashville scene and attend six stages of free concerts. Organizers of the festival have said there will be more than 300 artists performing on the free stages this weekend. Some are up-and-coming artists, but there are many big name artist as well. A few of the big names include: Billy Currington, Gavin Degraw, Scotty McCreery, Lauren Alaina, Chase Rice and Ashley McBryde.
Free stages are as follow…
The Chevy Riverfront Stage

is the largest daytime stage at the festival and is located in Riverfront Park.

Nashville Acoustic Center

is a small stage located in the glass tower of Nashville visitor center just inside Bridgestone Arena.

The Chevy Breakout Stage

showcases the so-called next big country acts and is located in Walk of Fame Park.

Budweiser Forever Country Stage

is inside Forever Country Park behind Ascend Amphitheater.

Maui Jim Broadway Stage

is on the corner of fifth and Broadway and contains a lineup of an emerging artists.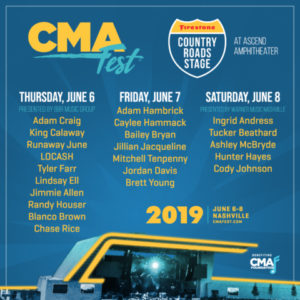 Along with the many free stages, there is also a cheap night show going on at Ascend Amphitheater at the same time as the big headliner concerts at Nissan Stadium. The Firestone Country Roads Stage  at Ascend is a $10 admission for lawn seats and $25 for reserved seating.
The Xfinity Fan Fair X is another cheap event to attend, costing $10 each day or $25 for a four-day pass. This is where you can meet the stars and listen to panels. The event is located inside the Music City Center all 4 days from 9:30 a.m to 5:00 p.m. The biggest featured artists of this event are: Trisha Yearwood (Thursday), Old Dominion (Friday), Chris Young (Saturday) and Tracy Lawrence (Sunday). There will also be performances by Billy Rae Cyrus, LOCASH and many others.
This year's main festival stage will be hosted by the returning host and Lipscomb alums  Kelsea Ballerini and Thomas Rhett, with Bobby Bones tapped as the special guest host. Lumination will have staff out all weekend to cover the events, so don't fear if you can't attend, we have got you covered.
Photo Courtesy of the CMA website.