Disney has re-entered the world of ice, castles, and comedy with its long-awaited sequel, Frozen 2. In the past, Disney has admittingly had trouble with remakes and sequels. However, the animation giant seems to be regaining its quintessential magic with its newest release.
The last two Disney sequel releases, Incredibles 2 and Toy Story 4, shattered box office records to become the top two highest-grossing animated features of all time and the Frozen sequel is already right on their heels. Currently, the film is taking the third grossing spot and outpacing these two films in presale tickets alone.
Despite a nearly six-year gap since the first Frozen release, Frozen 2 seems to recognize that the fan base itself has grown while leaving room for younger kids to also enjoy the film. Both Elsa and Anna lose their signature braids and dresses in favor of sleek ponytails and pants, seemingly to mark the transition from innocent young girls to courageous adult women.
Their quest: to find the origin of Elsa's ice powers and reunite the kingdom of Arendelle with its mysterious enchanted forest counterpart. Over the course of their adventure, Princess Anna (voiced by Kristen Bell)  worries that her sister's ice powers aren't enough to protect her from the world beyond their safe home. Queen Elsa (voiced by Idina Menzel) battles the elements to learn that she's valued and deserving of a greater purpose than just being queen. Olaf, the living snowman, is given youthful humor that peaks at naivety while Kristoff and Sven, the former iceman/reindeer duo, figure out how to pop the question to an unsuspecting Anna. And just like a warm hug, the film's themes of romance, sisterhood, and sacrifice will leave you feeling very cozy.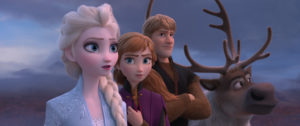 Additionally, the film does an excellent job of reminding us why we fell in love with the music of the original Frozen. If you couldn't get "Let it Go" out of your head, just wait until you hear "Into the Unknown", written by the Grammy award-winning couple, Kristen Anderson-Lopez and Robert Lopez. This song, along with four others, each makeup emotional power ballads that narrate the film. In a fashion more notable than the first film, the characters in Frozen 2 spend an awful lot of time singing. The most jarring song is Kristoff's, with superimposed shots of him and his reindeer friends serving up the background vocals. The bizarre romantic tune was framed like a music video, with a clear nod to the '80s. It was comically awkward and didn't seem to move the plot along at all.
However, visually, Frozen 2 might be Disney's best. The animation is truly breathtaking. The film takes you back over the snowy fjords and into the fabled forest with a rich autumn palette. It brings an entirely new perspective beyond the icy surface that made up the first franchise. Even, the hair and freckles on Anna and Elsa's face look more real than ever. At some points in the film, I truly forgot I was watching the animation.
Yet, you can't judge a film on its animation and singing alone and Frozen 2  isn't without its faults. The plot was messy and at times struggled to balance the past and present storylines. It raced by at breakneck speed, with Olaf's side quips adding a dose of kid-friendly humor but no pacing. The film's biggest moments are clearly predictable in the first hour of the story and even mirror exact scenes from the original film. To say any more than that would invoke spoilers. The music, although emotional, was corny. It felt more like a Broadway musical that ultimately lacked the depth and originality of Disney. New characters popped up with little to no explanation then quickly left, giving you an empty feeling that undermined the familiar characters' backstories. The climax of the film disappointingly settled into mediocrity that neatly tied every plot point into a bow. The end is another beautiful wrap up of Disney imagination but lacks depth. It's almost too perfect, or maybe just too safe.
Overall, it's these hiccups that make the sequel feel flat. Frozen 2 delivers a beautifully animated film, but one that falls just short of greatness. Maybe Disney will make it up to us with a third film but, until then, we've just got to let this one go.
Frozen 2 comes out in theaters on November 22.
Photos courtesy of