With Nashville's weather being as unpredictable as *insert typical Southern phrase here*, Berry Hill's Juice Bar is a welcome sanctuary of healthy choices for all eaters.
Juice Bar, located only two miles from campus, offers more than just refreshing, vitamin-filled juices. With various food choices, like spring rolls and sandwiches, smoothies/smoothie bowls, and even shots (don't worry–they're non-alcoholic), Juice Bar is a local hero for everyone who wants to be healthy and/or stay that way.
One of my personal favorite menu choices at Juice Bar is the dragonfruit smoothie bowl. First off, the color of the smoothie bowl is a stunning deep pink, which I think only enhances the whole eating experience. The bowl tastes bright and spunky, with its sweet mango complimented by the zingy dragonfruit, all topped off with honey, bananas and strawberries. If you're gluten-free, make sure to ask for no granola—maybe they'll be nice and sub cacao nibs or another gluten-free treat for you instead.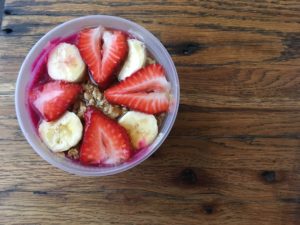 Another favorite for me is the Pad Thai Noodle Bowl. The noodles are made from sweet potatoes, which provide a light yet sturdy texture that works well as noodles. The sauce is sweet and perfectly seasoned, with seeds and cashews on top, making it a protein-rich, gluten-free meal. 
If you are feeling under the weather, but you're still not quite brave enough to try one of Juice Bar's Power Shots, like the Ginger & Cayenne shot, go for the Sweet Greens juice. Sweet Greens contains the perfect combination of fruits and vegetables, including lemon, kale, spinach, cucumber and parsley. Yes, parsley. I'm not about the parsley-eating life, but if you can hide it in a drink that might as well be lemonade, I'm good with that. And Juice Bar does it beautifully. 
Don't stress about the crazy weather affecting your health over spring break. Instead, make the quick trip over to Berry Hill on your way out of town and drink in the goodness of Juice Bar's healthy options.