Additional reporting by Cavin Jacobson, Mckenzie Utley and Erin Franklin
Hurricane Florence has continued its path over the Carolinas. Lumination spoke with Lipscomb students who call the affected area home.
Inland, North Carolina Governor Roy Hopper has said that "emergency crews have rescued 2,600 people and more than 300 animals." The death toll of the hurricane has reached 24 with more life-threatening floods still forming.
The main concern for most areas are flooding, as well as power outages — approximately, 460,000 in North Carolina and 10,000 in South Carolina, NPR reports. According to a CBS news report, Wilmington, North Carolina, has experienced both of these, with floodwater so severe that it has cut off roads, making it difficult for support to come help. Charlotte Observer reports the hurricane reached 4.11 feet over high tide, breaking the previous record set by Hurricane Joaquin by more than one foot.
Michael Buckland, a High Point, North Carolina, native and Lipscomb basketball player said his family was experiencing power outages as recently as Sunday. Buckland's sister lives in Charleston, a city where Florence was going straight through.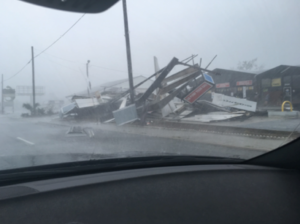 "She had to evacuate to Orlando and still hasn't returned," Buckland said. "We still don't know the impact that it's had on her and her husband."
Buckland was also concerned for the well-being of his friends.
"The scariest part for me was when it was a category four, and it was going to Wilmington, which I have a lot of friends that live there, and the devastation that could happen to that city."
Amidst the destruction, Buckland said he can see where God placed his hand.
"Ultimately, through a lot of prayer, I saw the work of God," Buckland said. "When you see the Lord's hand in an area that's so close to your life and the people in your life, it's really neat."
The Lipscomb junior won't be able to go back to his home until November but is anxious to get back and help where he can.
But Buckland is not the only Lipscomb student being affected by the hurricane. Lumination staff writer Mckenzie Utley is also from North Carolina. Utley said her family has a beach house in Beaufort.
"From the pictures my family has sent me, our dock is gone and will have to be completely redone," Utley said. "There are massive sinkholes in the road which makes it unsafe for anyone to drive on; there are gas stations that have been completely blown away, and there are fallen trees everywhere. There have even been some images of the wild horses crossing the roads because they have been pushed out by the storm."
Student Will Huff said he lives about an hour from the coastline of North Carolina, and his small town was split down the middle by the projected path of Florence, which has had major flooding. He said the sand dunes have been washed out, and there's as much as 3-4 feet of sand sitting on the roads in Topsail as well as dock wood, boats and debris scattered.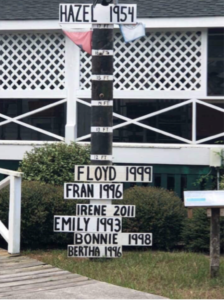 "My family prepared by bunking themselves in our basement and gathering supplies and food to last through the expected multiple-day power outtage," Huff said. "Last I heard, they're doing well and have the generator running when necessary. Even my sister had her 24th birthday bunkered down for Florence."
Huff said I-40 is completely blocked where he lives and his friends can't come home from college or leave to go back.
"I was concerned about not being there with my family while this was all going on," Huff said. "I knew ultimately we have dealt with things like this before, but of course you can never be too sure when dealing with Mother Nature. I am mostly worried for the farmers in our area since I've seen their fields washed out, crops flooded, animal enclosures ruined and equipment and barns damaged.
Huff said Lipscomb has not reached out to him about Hurricane Florence.
"I would be planning to return home to help my family and community, but I am currently studying abroad in Vienna, Austria," Huff said. "It's been great being here, but it's been hard watching my community struggle with the aftermath of Florence while I can do so little abroad."
Lumination will have more on this story as it's developing. 
Photos courtesy of Utley