DAVIDSON, N.C. – Any thought that the Lipscomb men's basketball team wouldn't be interested in the NIT was dispelled Tuesday night at John M. Belk Arena.
Despite trailing for 27 of the 40 minutes, Lipscomb pulled off a late comeback for an 89-81 victory over Davidson in the first round of the NIT. The Bisons will travel to UNCG for the second round at a to-be-determined date and time.
"We have a lot of old, experienced guys, and it hasn't shown necessarily in the previous games," Lipscomb junior guard Michael Buckland said. "You could tell that a lot of us didn't want that game to not finish in our favor. So yeah, just a lot of resolve from our guys – a lot of experience showed tonight."
Senior forward Eli Pepper hit a dagger three in the corner with 34 seconds left, but it was Buckland who stole the show in the final minutes.
Buckland, a native of nearby High Point, North Carolina, swished a three with 5:12 remaining to give Lipscomb a 74-71 lead, which the Bisons never relinquished. He followed that with eight more points down the stretch to finish with a team-high 19 points, including four makes from long range.
"[Buckland] shot it great and made timely baskets," Lipscomb coach Casey Alexander said. "He doesn't get any notoriety for what he does defensively. But [Davidson's] two guards are as good as any we've played all season long. And he guarded those guys all night."
Davidson recruited Buckland during his time at Wesleyan Christian Academy, but the Wildcats never extended an offer. In front of plenty of family and friends, the junior guard played with an extra edge and produced his best outing of the season.
"This game meant a lot to me," he said. "[Davidson] is the school I wanted to go to. I had a little chip on my shoulder."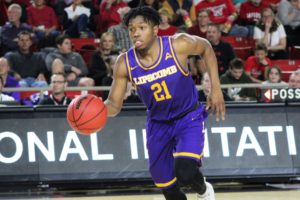 Lipscomb senior Rob Marberry had 17 points on 7-of-10 shooting, and fellow senior Garrison Mathews scored 14 points and grabbed seven rebounds. Davidson limited Mathews to just four points in the first half, but he found other ways to affect the game.
"Gary stepped up big-time on defense," Buckland said. "I thought he was really dialed in. And the big difference in the game was him defensively, just being willing to sit down and guard his guy."
The Wildcats began the night on a torrid shooting pace and hit seven of their first 10 shots from three. Much of that production came from guards Kellan Grady and Luke Frampton, who finished with 26 and 19 points, respectively.
But after shooting a blistering 62 percent with a 47-42 lead in the first half, Davidson shot just 40 percent in the final 20 minutes. Fatigue set in for the Wildcats, while the Bisons turned to their depth and used six bench players.
"I do think fatigue was a big part of the second half," Alexander said. "We played more guys… we always play more guys. [Davidson's] conference tournament just ended three days ago. And I think all that played an important factor in the game."
Lipscomb's scoring was rounded out by Ahsan Asadullah (10), Kenny Cooper (8), Eli Pepper (8), Matt Rose (7) and Andrew Fleming (6). Davidson forward Luka Brajkovic also finished in double figures with 15.
The Lipscomb-UNCG game will not be played Thursday, March 21 as originally expected. The NIT is still determining a date for the matchup based on the tournament's TV slots.
UNCG dominated Campbell in an 84-69 victory Tuesday night to advance to the second round. The No. 1-seeded Spartans were the first team left out of the NCAA tournament.
"Their season's been a lot like ours," Alexander said. "Most people think they were ahead of us on the bubble, so it should be a great game.
"But I love our team. If you can come to Davidson and win, you can win at a lot of places. We'll go give it our best shot."
Photos by author