Nashville songwriter Tyler Russell has made a lasting impression on his teachers, and not just because of his talents.
This Lipscomb alum wants to let God use him to bless others.
Russell, a 2015 musical theatre graduate, intentionally chooses to live with joy. Whether it is in his music or while meeting new people, Tyler tries to let God help him to spread joy and love.
"Now or Never," which was released on August 17th on all major music streaming platforms, is Russell's latest single.
While the song isn't specifically a Christian song, Russell said he and songwriting partner, Alexandria "Zandy" Fitzgerald from The New Respects, placed emphasis on "choosing joy."
"The Bible says there's a time and a place for everything," he said. "It's just important to remind people to dance and have a good time."
Russell recalled his experience at Lipscomb as having a positive and inspirational impact on his songwriting.
"The skills that I learned at the (Lipscomb) theatre department taught me so many things that I'm using now with songwriting," he said. "I got to learn about so many different people's stories, where people came from and what they go through.
"I'm someone who loves to be inspired by what people go through, and I feel like God really puts inspiration through the people around me. I feel like lots of songs came from my time at Lipscomb."
Beki Baker, Chair of Lipscomb's Theatre Department and one of Tyler's old professors, was excited to hear Russell's new single.
 "The song itself is such a great representation of Tyler," Baker said. "It's upbeat, it's positive and it's looking for the good things in the world, and that's really who Tyler is."
Baker is not only proud of Tyler because of his musical success, but she also appreciates Tyler's efforts to regularly check in with his former professors.
"He was a student who really thought about his professors as people," Baker said. "He would often come and ask me, 'How are you doing?' When I think of him, I think of a really sensitive guy who really saw everyone as a person."
Another one of Tyler's previous professors and directors, Dean of the College of Entertainment and the Arts Mike Fernandez, also praised Tyler's personability and work ethic.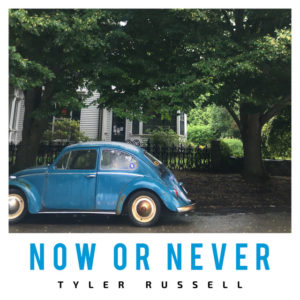 "From day one, Tyler brought a humble spirit and a workman-like attitude to everything he did," Fernandez said. "To have someone that you know you can count on, that's him every single time.
"I consider him one of our top students in the ten years that I've been here, because of the intangible things like that."
Fernandez said he also admires how Russell intentionally lives out his faith, both as a student and now in his career.
"He was not outspoken, but he lived his faith genuinely in front of people," Fernandez said. "I just appreciate that he has always been steadfast in his faith and never wavered.
"Once you get out into the real world, some people might compromise a bit. And what I love about him is that he's found a way to be successful and not compromise who he is as a believer."
Russell said he is excited to see the song bring happiness to people while also spreading a message he deeply believes.
"Everything we do should come out of a place of wanting to spread the Gospel," Russell said. "It's just been really cool to see how we had this idea of saying, 'Let's write [music] that we hope God can use to bring joy to people.'"
"Now or Never" can be heard by clicking HERE.