It's Thursday, March 1, in Allen Arena. The Bisons have just trounced the Jacksonville Dolphins in the conference tournament to stamp their ticket to the ASUN championship game for the first time in 12 years. Now, it's time to celebrate.
The cheerleading team is screaming so loud my ears are ringing beccause we all know what happens next. We have one day to prepare to jump on a plane and takeoff for Ft. Myers, Florida, to take on the No. 1 seeded Eagles.
Head cheerleading coach Sherie Eubanks quickly hands out our flight assignments with itineraries, and I run home to start packing for my 5 a.m. flight on Saturday morning. I can't sleep that night because I am so excited about getting the opportunity to cheer in the Conference Championship game my senior year.
On Saturday morning, my teammates roll into the airport one by one, exhausted but so ecstatic for this new opportunity. Our flight takes us to Chicago where we have a three hour layover, and then we are just hours away from our destination and warm, sandy beaches.
We arrive at our condo on the beach around 8:00 that night, and we are all so pumped up about the big game on Sunday, we rush to bed like kids on Christmas Eve awaiting their many presents.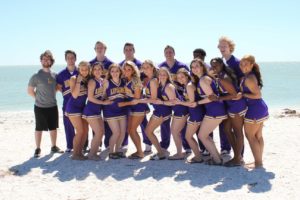 This is what we have been dreaming of all season, and it is just within our grasp.
The Sunday of the game is hectic. We drive to eat, and the streets are flooded with blue and green in anticipation for the championship game. People along the streets and in restaurants glare at us and tell us we are about to get pummeled as we happily stroll along. We keep smiling and wave the angry fans off because we have faith in our Bisons.
None of us were prepared for what was next.
We pull in to what appears to be a beautiful community with sandy beach volleyball courts and blue and green flags lining the streets and flapping gently in the wind under the Florida sun. Florida Gulf Coast University is even more beautiful than any of us imagined, and we are all in awe of how gigantic this campus is. 
After what seems like hours of waiting, we are finally escorted into the gym among angry fans. We ignore their booing and shouting at us while we pass through. We don't care what they say to us, we are here to represent our school and cheer the Bisons on to victory.
It's 10 minutes until tip-off and there is not an empty seat in the gym. The student section is filled with screaming college kids waving pool noodles at us and telling us to go home. The older people in the stands scowl and make choking gestures at us from the stands. I think it's funny, so I continue to smile and wave.
My fellow senior captain Hayden Brown noticed it as well.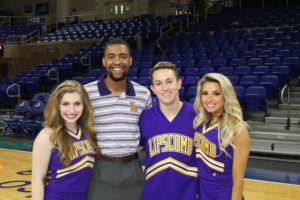 "My favorite part of the game was seeing the dramatic gestures from the FGCU fan base," Brown said. "It fueled me to cheer even harder."
The first half of the game couldn't have gone better for the Bisons. You could see the fire in the eyes of our guys, hungry for the trophy.
Halftime came quickly, and just when the cheerleaders thought we could relax, we are challenged to an old school mascot dance-off. Of course their mascot is cheered heavily for, while ours is yelled at, but he ignores the crowd and hits every beat. The FGCU cheerleaders then sprint onto the court to challenge our team to a dance-off so we gladly accept and ignore the angry fans while we have the time of our lives. We continue to cheer to our small clusters of fans and dedicate every stunt to them. It was absolutely amazing to see our familiar purple and gold in the stands 12 hours away from home.
Junior Hayden Hall said his favorite part of the trip was this very moment — "stunting on FGCU's court and cheering to our amazing fans that traveled so far to support the Bisons."
The second half had all of us in shambles as the Eagles chipped away at a 30-point-deficit. FGCU comes within five points of the Bisons, but we don't lose hope. The last few possessions are all purple and gold with every bounce coming our way.
"When Michael Buckland hit that insane shot at the end of the game I knew it sealed the win. I was overcome with joy," Brown said.
Our team kept fighting ahead until the very last second on the clock, and then our fans and cheerleaders stormed the court like it was our own.
"Storming the court after the win was my favorite part," junior cheerleader Janiah Knight said. "The atmosphere of the game was amazing, and it was so exciting to be out there on the court with the team and fans after the win." Freshman Tori Smith agreed that her favorite part of the trip was sprinting onto the court and celebrating with the team after clinching the title.
The players are all weeping and rejoicing as they approach their childhood dreams of going to the Big Dance. They are reunited with their parents and families who are all crying tears of joy as well.
Head basketball coach Casey Alexander stands over his ASUN Champions and wipes a small tear and shakes his head in disbelief. He looks out at his team and nods his head in approval before punching his fist in the air and screaming in celebration.  
The angry mob of fans clears out of the gym as Lipscomb takes over and dances for joy until the ASUN trophy is brought out.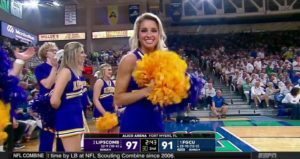 For the seniors on the cheerleading team, this moment is priceless. We have been supporting this team and working hard since early summer, and our journey isn't finished quite yet.
"The beach and bonding is all fun, but I've been filling out March Madness brackets since I was a kid, and now we are in March Madness, which is just wild," junior cheerleader Caroline Stack said.
We have all been dreaming of this moment since we were little, and now we get to be the ones cheering on ESPN as kids sit in class watching our every move.
As the excitement winds down, and we all begin to realize that our hopes are becoming a reality, we gather our things and head back to the bus that carried us into the jam-packed arena just hours before.
We celebrate like champions, with crab legs, fish, steaks and endless desserts. Most importantly, we all take a moment to sit back and thank God for how richly he has blessed our team this trip.
The amazing part about being a part of the Lipscomb community is that we cheer for a greater purpose. The Bisons' win put us all on Cloud 9, but we knew this was our opportunity to show the world what Lipscomb stands for and call people to Jesus through our platform. Not only is this accomplishment huge for the program, but it's a chance for Lipscomb University to get on the map and show people Christ's love.
After full bellies and thankful hearts, we bus back to the beach where we continue to celebrate how richly God has blessed us, and we thank Him for giving us the chance to glorify Him through college basketball.
Going to the NCAA tournament is bigger than just basketball, and it's far greater than the chance to be on national television.  
Going to the NCAA tournament is a chance to show the world what Lipscomb's mission is all about and band together through sports.