Coach Casey Alexander and his Lipscomb team capped their season with an 81-66 loss to Texas in Thursday's NIT championship game in New York.
Naturally, the questions about Alexander's future have already begun. He's an obvious candidate for the open Belmont job after spending 20 total seasons with the Bruins – four as a player and 16 as a coach.
But Alexander has been noncommittal in his public statements about the coaching vacancy so far.
"Obviously there's a lot of people talking about that," he said at Lipscomb's welcome home ceremony Friday afternoon. "I'm glad I'm the Lipscomb coach. We'll deal with that when it happens, if it happens."
Alexander's mentor and longtime Belmont head coach Rick Byrd announced his retirement Monday morning after 33 years on the Bruin sidelines. Alexander has routinely credited Byrd for impacting his life both on and off the court.
"Belmont is important to me," Alexander told 104.5 The Zone's 3HL show Wednesday. "I spent 20 years there, I graduated from there, my wife graduated from there. I've got a history of 20 teams of players that were important to me. Hardly anybody's more important to me than Coach Byrd is."
Before entering the coaching ranks, Alexander was a star player in his own right. He was a three-sport standout at Brentwood Academy and won two state championships.
He later starred for Belmont's basketball team (1992-95) and is among the school's all-time leaders in assists and steals. Alexander was inducted into the Belmont Athletic Hall of Fame in 2005.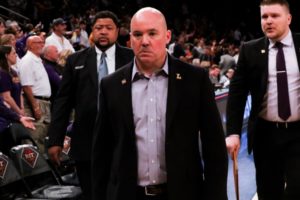 Two of Alexander's current staff members – associate head coach Roger Idstrom and assistant coach Steve Drabyn – also have Belmont connections.
Idstrom served as a Belmont assistant for 11 years, which overlapped with Alexander's tenure on the Bruin staff. Drabyn played for the Bruins from 2000-04, tallied 1,237 career points and led the NCAA in free-throw percentage (95 percent) as a junior. He joined Belmont's Hall of Fame in 2016.
Belmont athletics director Scott Corley has already said Byrd's replacement doesn't need head coaching experience. That likely opens the door for current Belmont assistants Brian Ayers and James Strong to also be candidates for the job.
However, Alexander has the most proven track record. After going 24-36 in two seasons at Stetson, he has led Lipscomb to 113 wins over the last six seasons, including three straight 20-win campaigns.
The Bisons also made their first NCAA tournament appearance in 2018 and followed it with a deep NIT run this year. Combine that with Alexander's long history at Belmont, and there's a chance for a coaching circus in the coming days.
"I don't even know what's in the cards, I don't know what they want," Alexander told 3HL. "I don't know how that will all go.
"But no matter what, I'm interested in Belmont because Belmont's played a significant role in my life. That doesn't mean that I'll be coaching their team next year by any stretch. We'll just wait and see what happens there."
Photos by Erin Franklin and Mckenzi Harris
NIT Return gallery by Mckenzi Harris