Student Life and Campus Ministries co-sponsored a special screening of the new film Forever My Girl in Shamblin Theater on Tuesday night.
Produced by LD Entertainment and Roadside Attractions, the film features a small-town love story and the road to forgiveness.
Originally a novel, Forever My Girl tells the story of high-school sweethearts Liam Page (Alex Roe) and Josie (Jessica Rothe). The tale begins on their wedding day in the small town of St. Augustine, Louisiana. Josie learns only minutes from the ceremony that Liam decided to pursue his new-found music fame, leaving his family and her behind.
Fast forward eight years and Liam Page is a heart-throb country star living the dream on stage. But Liam is unhappy with his life when he is not in the spotlight. When an unexpected death brings him back to St. Augustine, Liam finds out he left behind not only Josie but also a daughter, Billy (Abby Ryder Fortson).
Liam is immediately drawn to the funny and adorable Billy, and he decides to stick around his hometown and get to know her. While re-discovering his roots, Liam faces the ghosts of his past and his insecurities about being back in Josie's life and being a father to Billy.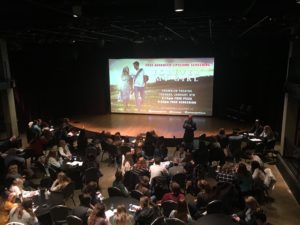 The emotional and heavy issues brought to light in Forever My Girl are complemented by light-hearted humor and cheesy romance. The film showcases the same themes of love and redemption seen in classic romantic comedies, and for sophomores Haley Cable and Leah Hampton, the film exceeded their girl's-night movie expectations.
"I thought it was a really cute movie," Hampton said. "It had a great storyline and was relatable. You pull for the characters' stories and root for their relationship. It shows the importance of forgiveness and being able to extend that to other people in your life, even when it's hard, because sometimes it works out."
During the special screening, the film completely engrossed the audience, causing tears and cheers by the time the credits rolled across the screen.
Cable added that Forever My Girl is now up there with some of her favorite films, with the emotional aspects of the story especially standing out to her.
"This movie was right up there with some of my favorites," Cable said. "It was really, really great because you cry, and you laugh, and you root for the characters. I really caught on to the theme of patience through all of it. They both do a lot of waiting and figuring themselves out first, and we got to see how they ended up growing back together."
Forever My Girl is the perfect Friday night movie and opens in theaters on January 19th.
Rating: 3/4
Featured image courtesy of LD Entertainment and Roadside Attractions