JACKSONVILLE, Fla. – The Lipscomb men's basketball team just keeps on rolling through the ASUN.
After five straight losses at UNF Arena since 2014, the Bisons easily dispatched North Florida, 92-55, with a dominating performance on both ends of the court Wednesday night.
"If we play like we did [tonight], we'll beat a lot of teams," Lipscomb coach Casey Alexander said. "(North Florida) is in a tough spot right now, but regardless, it's good for our team to come in here and take care of business."
The victory extended Lipscomb's win streak to 10 games – a  record in the program's Division I era. The Bisons won nine consecutive games during the ASUN portion of their 2008-09 schedule.
Garrison Mathews led the team with 22 points and five three-pointers. Junior Michael Buckland was a perfect 5-of-5 from beyond the arc and set a new season high of 15 points.
"We have a lot of really good scorers on this team," Buckland said. "The ball doesn't always come my way, but when it does, I have to be ready."
Lipscomb last won at UNF Arena on Feb. 1, 2014. The Ospreys hold a 13-5 advantage in the series over the last eight seasons, but the Bisons have now won the last three meetings.
"All of our nerves were kind of up," Mathews said. "Coach pounded in our heads that none of us have ever won here. It was good to get a win."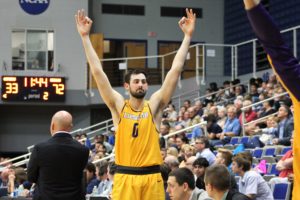 The Bisons (19-4, 10-0 ASUN) began to slowly build a lead in the early minutes before ending the first half on a 26-9 run to take a commanding 47-23 advantage into the break.
North Florida struggled from the field and shot just 34 percent (20-of-59), but Lipscomb's tenacious defensive effort routinely forced the Ospreys into bad shots. According to KenPom.com, the Bisons rank 14th in the nation in defensive efficiency (points allowed per 100 possessions).
"I had a lot of anxiety about this game, because I know what North Florida can do," Alexander said. "But I learned that when our guys show up to play, they're pretty good."
Senior forward Eli Pepper put an exclamation point on the victory with a two-handed slam off an alley-oop pass from Mathews with 11:10 remaining.
Ahsan Asadullah (12 points) and Andrew Fleming (10) also finished in double figures for the Bisons. North Florida was led by Wajid Aminu's 15-point outing, while J.T. Escobar and Noah Horchler each had seven.
Lipscomb returns to Nashville this weekend for a date with Jacksonville (11-14, 4-6 ASUN) Saturday at 4 p.m. The Bisons escaped Swisher Gym with a 77-74 victory on Jan. 5 while Mathews sat out with a leg injury.
"They've given us fits at times in the past by making it ugly," Alexander said. "We're playing better now, and obviously having Garrison back is important for us."
Photos by author